Vancouver BC Canada is home to a growing number of microbreweries. Big Rock Brewery has three breweries in one, plus a family-friendly restaurant with delicious food and, of course, great beer. This turned out to be one of our favorite Vancouver BC breweries.
The craft beer scene in Vancouver BC Canada is, forgive the pun, hopping these days. There are more than 100 Vancouver BC breweries, and many offer tours and tastings, as well as full restaurants. During our road trip to BC, the first spot we visited when we settled into Vancouver was Big Rock Urban Brewery.
Jump to:
Big Rock brewery tour
We started with a tour of the brewery before dinner.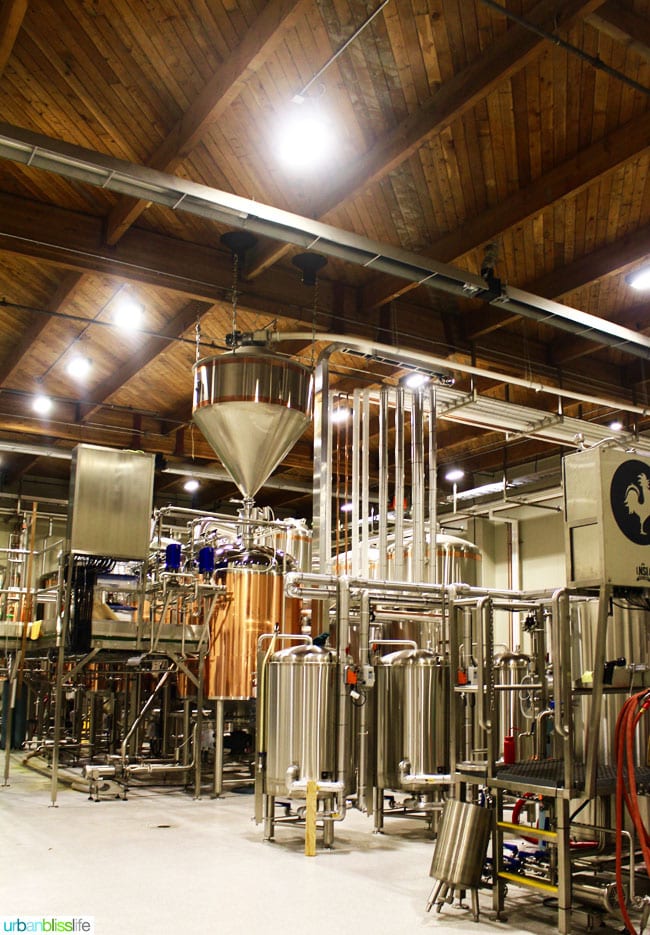 Big Rock Brewery has been crafting beer and cider in Alberta, Canada since 1985, and the company opened up Big Rock Urban Brewery in Vancouver since 1996.
It is Canada's largest independent craft brewer, and the Vancouver location we visited now actually has three breweries in one: the main brewery, the small Kaspar Schulz brewery, where they craft innovative beers, and the Nano Brewery (pictured below), which was custom built for their barrel program and where customers can also brew their own.
Because of what I do for a living and where we live (Portland: microbrew capital of the world, y'all!), our kids have been on plenty of brewery tours all over the US. We love how they get to learn about different local ingredients and how different communities work so closely together to create local food & beverage products. At this tour, my daughter even got to help close the door to their cold storage keg room using the cool pulley system in place. She was pretty excited about that!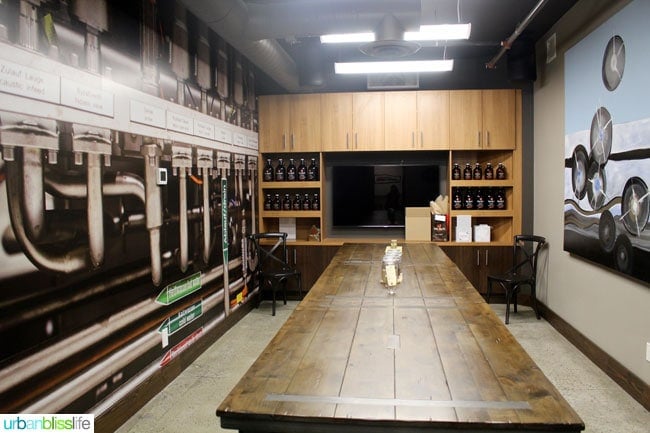 Tours run every Friday, Saturday, and Sunday at 12 noon, 2pm, and 4pm. They are approximately 45 minutes long and include sampling. Be sure to book your tour online in advance, or you can schedule your tour in person.
Tours with 3 4-ounce samples are $10 per person. Tours without samples are $8 per person.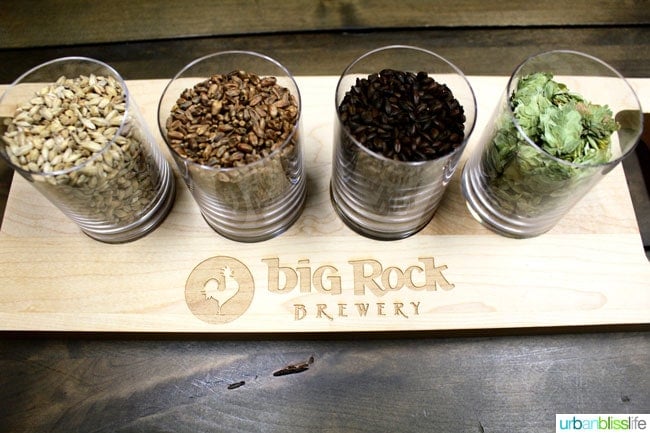 Bog Rock Beer
Big Rock's mission is to "deliver delicious craft beer that is authentic, masterful and audacious." They are committed to using ingredients that are mostly from the lower mainland BC, and in addition to their traditional favorites in their Signature Series, they brew seasonal beers, a barrel aged porter, ciders, a fun nostalgic pull-tab series, and the Big Rock Urban brewery location also offers a Brewer's Edition series of beers that are small-batch brews.
During our visit, we tasted a few different beers, and my favorite was the Citradelic Single Hop IPA. True to the name, it's full of citrus flavor and and is a great beer to pair with pizza on a hot day.
I also enjoyed the Midnight Rhapsody, which has roasted malts and hints of raspberry jam. This one paired well with the steak frites I had for dinner.
Big Rock Eatery
After our brewery tour we enjoyed dinner in the adjacent restaurant. The setting is classic brewpub: brick walls, worn wood tables, dark wooden bar chairs, and low lighting. I did like the open feel to the space, as opposed to brewpubs that have high back booths which make them feel even more closed in. It's a casual, laid back atmosphere that's perfect for meeting up with friends after work or on the weekend.
I ordered the Steak Frites ($17), which features Newport strip steak, hop salt, and shoestring fries, with a choice of anchovy compound butter or gorgonzola creme. The steak was wonderfully seasoned and flavorful, and we all loved the shoestring fries here. They had just the right amount of crispness to them.

My husband and son split a Pizza Margherita ($11) with fresh basil, Pecorino Romano, Fior di Latte, and extra virgin olive oil. The crust was a little uneven, but the cheese to sauce ratio was spot on and the fresh basil was a delightful tasty addition.
My daughter enjoyed a plain grilled cheese and fries, which was served in a fun fry basket. We loved the presentation!
On our next visit, I would love to try the Lamb Carnita Tacos ($12) or the Ancho Pork Tacos ($13), and I wish we had the appetite that night to try a large portion of their Lamb & Goat Cheese Poutine ($9). If you go there and try other dishes, please let me know what you think!
As you can see from the photo above, we were a little loopy at this point in our travels, but we had a great time during our first night in Vancouver BC at Big Rock Urban Brewery. The service was fantastic, and we thought it was a great place to grab a delicious craft beer and some classic brewpub food.
Big Rock Shop

If you visit Big Rock Urban Brewery, don't forget to stop by their shop, where you can pick up all kinds of logo gear and apparel, as well as fill your growlers - or pick up a new growler with the Big Rock Brewery logo on it!
Visit
310 West 4th Avenue
Vancouver BC V5Y 1G9
604.708.8311
http://bigrockurban.com/
Have you had any craft beer from Vancouver BC? If so, what was your favorite? If not, have you been on any brewery tours before and what did you think?
---
More British Columbia travel ideas
Thanks to Big Rock Urban Brewery for the complimentary tour, tasting, and dinner. We really enjoyed our time here, and think you will, too! As always, all opinions and photos are my own.