The Rodney Strong Vineyards Master Blender Sweepstakes includes wine, fine dining, and luxury accommodations. Take a look at a sneak peek at the winners' experience.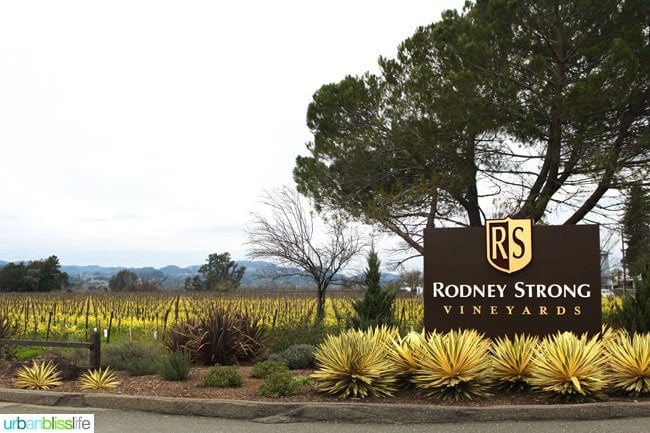 Oh, Sonoma County. How I love thee. (You can read all about my previous Sonoma Wine Country travels).
Sonoma County Wine Country is such a special place. With hundreds of wineries, incredible restaurants, and beautiful vineyard views for miles it is an amazing place for a wine getaway.
And now, you have the chance to win a dream wine country long weekend getaway thanks to Rodney Strong Vineyards!
Jump to:
Master blender sweepstakes
A leader in the California wine industry since 1959, Rodney Strong Vineyards is dedicated to crafting world-class wines that capture the true essence of Sonoma County.
This month, the wine powerhouse is hosting the Master Blender Sweepstakes. Three grand prize winners will be selected to enjoy the ultimate Sonoma County vacation!
I was invited to get a sneak peek of the grand prizes in this sweepstakes. And I am thrilled to be able to share with you what you could win!
Travel to Sonoma County
Each winner will receive round trip air transportation to Sonoma County.
I took a direct flight on Alaska Air from Portland International Airport to the Charles Schultz Santa Rosa Airport. It was a quick hour and 40-minute flight. I love that those flights include complimentary northwest wine or beer.
Also: when you fly out of the Santa Rosa Airport, you're allowed to check a case of wine home for free!
Where to stay
We stayed at the Vintner's Inn, a four-diamond luxury hotel located in the heart of Sonoma County, just a few miles away from Rodney Strong Vineyards winery. You can read all about this beautiful, peaceful retreat in this full hotel review.
Each winner and his/her guest will also stay in this gorgeous wine country inn. Trust me: you will LOVE it! And, if you aren't feeling pampered enough by the setting and relaxing rooms, in addition to your three night's stay, you and your guest will also receive complimentary spa treatments at the hotel. A great way to unwind after being wined and dined all day!
Where to eat in Sonoma County
During our stay, we were treated to incredible gourmet meals. We ate at local hotspots such as Catelli's, Jackson's, John Ash & Co. restaurant, and the Vintner's Inn Cafe (amazing breakfast!).
We also enjoyed meals prepared exclusively for us by Rodney Strong Vineyards Chef Tara Watchel.
In the spirit of the wine weekend getaway, we also enjoyed a variety of wines from the vast Rodney Strong Vineyards portfolio at each meal.
Rodney Strong wines
Pictured here are two of my favorites that we enjoyed over lunch at Catelli's: the 2013 Rodney Strong Chalk Hill Vineyards Chardonnay and the Davis Bynum Jane's Vineyard Pinot Noir.
I also found myself enamored with the 2012 Rodney Strong Symmetry wine. We enjoyed this wine over our first night's dinner at John Ash & Co. This is the wine we would later try to emulate during our wine blending session.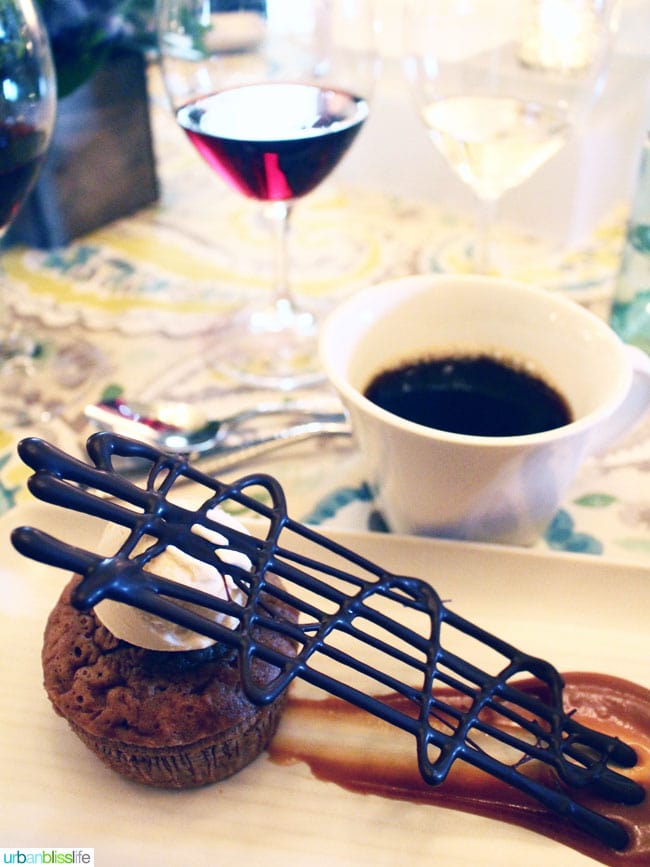 Winners of the sweepstakes will also be treated to gourmet meals at local hot spots, as well as by Chef Watchel. Watchel is a talented chef. She does a lovely job of incorporating fresh, local, seasonal ingredients – many from the winery's own garden – into her delicious dishes.
VIP vineyard and winery tour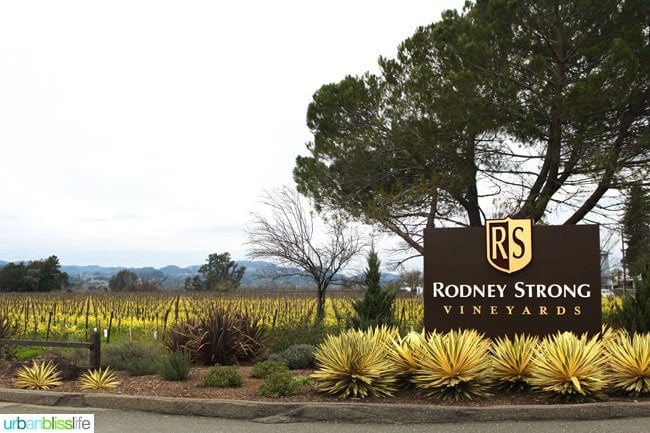 In between meals, we were whisked away to VIP vineyard and winery tours... and, of course, more wine.
If you win the sweepstakes, your weekend will kick off with an exclusive behind-the-scenes tour of the key Rodney Strong Vineyards. The Rodney Strong team will share their expertly crafted, lovely wines with you at each vineyard stop.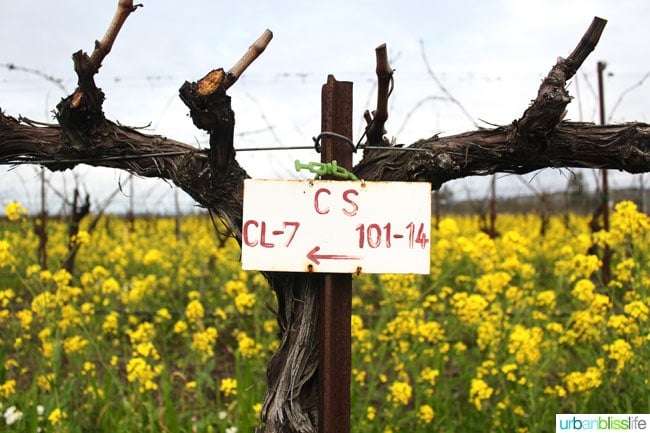 You'll also have the pleasure of meeting Viticulturist Manager Ryan Decker, who is a wealth of wine knowledge. Rodney Strong Vineyards is one of the first vineyards in Sonoma County to have a sustainability program. And Ryan does an outstanding job of managing the vineyards in ways that allow each site to flourish in the most sustainable way possible while yielding the best grapes possible.
The main Rodney Strong Vineyards
We toured Rodney Strong's Chalk Hill Vineyard and the picturesque Alexander's Crown.
Then we drove to my favorite vineyard: Rockaway.
Here, in this gorgeous setting, we enjoyed the latest Rodney Strong Rosé Malbec. We admired the beautiful outdoor space with benches and bocci ball courts while enjoying this summery wine.
Then we walked up to the top of the hill. There, we enjoyed the Rockaway Single Vineyard Cabernet Sauvignon while soaking up the breathtaking views of the valley, including the vineyard's olive trees.
Winery tour
In addition to the vineyard tours, we were also treated to an exclusive, in-depth winery tour.
Winemaker Justin Siedenfeld shared how the winery secured these imposing 20,000-pound square steel tanks from Canada. These tanks are able to store more wine than the traditional round tanks used in most wineries.
It took about two years to design the tanks and properly fit the space. That included securing appropriate flooring and ensuring proper drainage.
The tanks are not only more efficient, they are also super high tech. Winemakers can easily manage the tank controls remotely, whether they are out at one of the vineyards or on a beach vacation.
During our tour, we did some barrel samples of the 2014 Symmetry and the 2014 Rockaway.
Then we returned to the wine tasting room, where we proceeded to sip our way through about 50 wines.
Just kidding! Although it might have felt like that many at the time, I believe we tasted about 10 wines in total.
Remember: when wine tasting, the spit/pour bucket is your friend. It's not rude to pour out wine from your glass before trying a new wine.
When you're tasting out in the vineyards, it's perfectly acceptable to spit out your wine on the ground. More than likely, your vineyard tour guide will be doing so. If you're uncomfortable being the first person in your group to spit out wine, take your cue from the guide.
The Master Blender experience
At last, we come to the main event of the wine country weekend: the custom blending session.
You will have the opportunity to create your own custom blends using a variety of Rodney Strong Vineyards wines.
Our goal was to try to create a Meritage red wine blend. We were to use the five varietals that make up Rodney Strong's Symmetry wine. These are Cabernet Sauvignon, Malbec, Merlot, Cabernet Franc, and Petit Verdot.
Meritage wines are red or white wine blends crafted solely from these specific Bordeaux grape varietals. Plus the rarer varietals of Saint-Macaire, Gros Verdot, and Carménère.
Symmetry wine is a Cabernet Sauvignon-driven Meritage wine. It's artfully blended to capture the essence of the Alexander Valley AVA.
Now, I had never done a custom blending session in my life before. So I was basically along for the ride on this one.
I blended what I thought might be a tasty red blend... But in the end, I think mine turned out to be one of the worst of the bunch!
The art of blending wine
Head Winemaker Rick Sayre donned his official lab coat and taste-tested each of our final blends. Too much Petite Verdot in my blend, was the verdict. Luckily for everyone, I do not have any plans to make my own wine anytime soon.
This blending seminar experience was absolutely the highlight of my experience. I relished the opportunity to learn more about how winemakers create their blends. It was an incredible education to experience and taste for myself what each varietal brings to blends. And to learn how just a teeny tiny amount of a varietal can completely change a wine.
This was an experience I will never forget. And, if you win the sweepstakes, I am betting you will not forget it too quickly either.
Final gourmet meal at Rodney Strong Vineyards
Coming off of our wine blending seminar high, we were treated to one final gourmet send-off. Winery Chef Tara Wachtel prepared a meal for us in the beautiful private room above the wine tasting room.
She prepared an exquisite sous vide beef dish. It was served with a cauliflower steak. Then, we each received a decadent dessert to send us all home smiling.
To experience a wine country weekend with friends is one thing. But to experience the Master Blender sweepstakes prizes is truly an elevated, dreamy experience for wine lovers.
Winners receive:
complimentary airfare
a weekend itinerary filled with delicious gourmet meals
exclusive tours and private time chatting with the key players in one of California's most distinguished wineries
accommodations at a four diamond luxury hotel.
Many thanks to the incredible team at Rodney Strong Vineyards for sponsoring my visit. As always, all opinions and photos are my own.