Looking for great food in Sonoma County wine country? Stop by Catelli's for hearty, classic Italian fare and exclusive local wines. It's one of our top Geyserville Restaurants.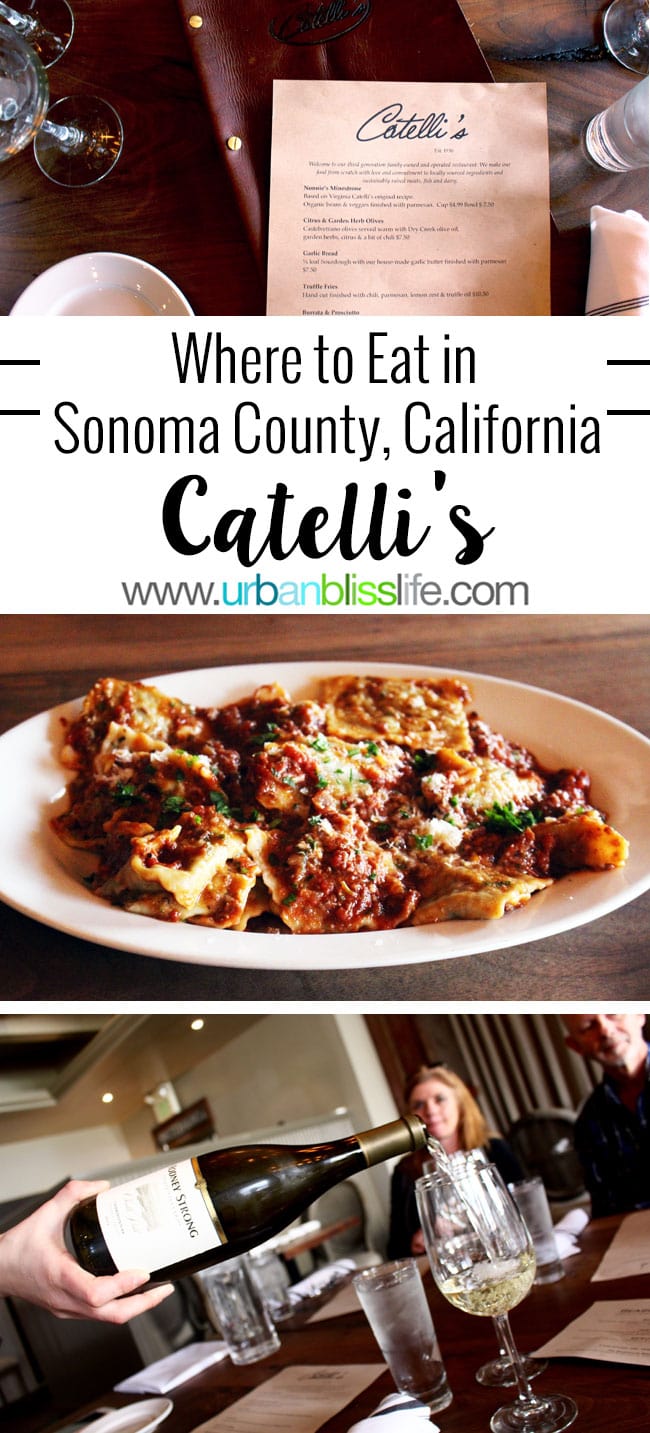 Wine tasting isn't complete without an excellent meal to help your body absorb some of that luscious vino, am I right?
While picnic food is fine and dandy for a day visiting one or two wineries, if you've put forth the time, effort, and money to travel to wine country for a full weekend or week of wine tastings and vineyard visits, you'll want to make sure you take the time to sit down and enjoy a full meal between wine tasting stops.
During my trip to Sonoma County wine country with Rodney Strong Vineyards, we enjoyed lunch one day at Catelli's in Geyserville, California.
Jump to:
Catelli's
Ask locals where to eat in the Geyserville/Healdsburg area, and Catelli's will likely be one of the top options.
A third-generation family-owned restaurant, Catellie's is located in Geyserville, in the heart of Sonoma County, between Dry Creek and Alexander Valley.
Stepping into Catelli's is like stepping into quintessential Sonoma County: more casual than its wine country cousin, Napa, yet more upscale and luxurious than its wine country distant cousin to the north, the Willamette Valley (Oregon).
The interior is warm and rustic, with touches of brick, reclaimed wood, and copper throughout.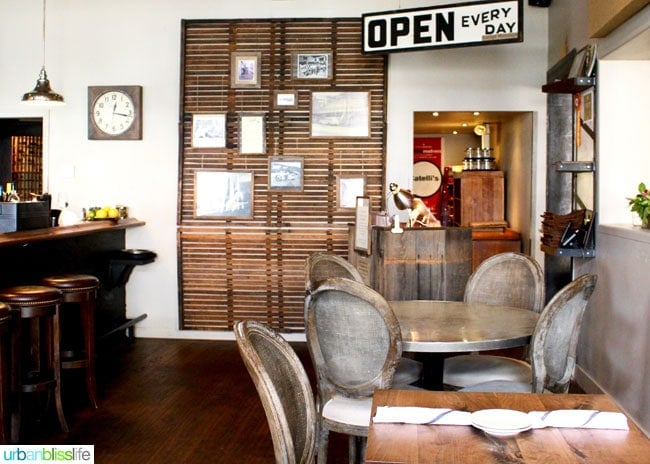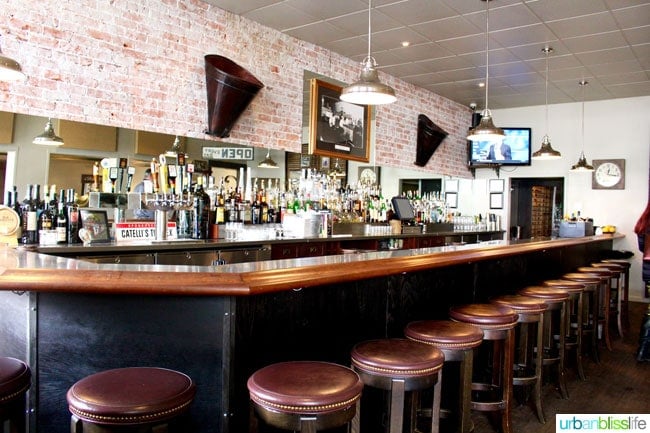 Walking in, you are greeted by the bar area to the left, along with smaller, more casual tables, and then you step into the larger dining area room. Catelli's also offers event space indoors and outdoors.
The food
The lunch and dinner menu are similar at Catelli's, and we ordered many of their longtime customer favorites, as well as some specials, to get a full taste of what you can expect at this wine country eatery. Once we started eating, it was clear why this is one of the best Geyserville Restaurants.
We started with the Burrata and Prosciutto ($17.50). A wooden plank topped with triple-cream mozzarella, San Daniele prosciutto, and baby arugula was served alongside a plate of grilled bread and Dry Creek Olive Oil. It's a classic wine country starter, beautifully presented.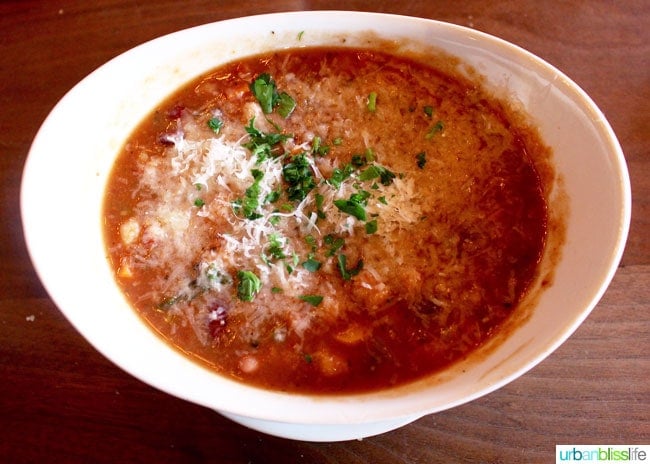 Nonnie's Minestrone ($5.25 for a cup/$8.50 for a bowl) was a warm, hearty bowl filled with cannellini, navy, and garbanzo beans, packed with veggies and finished with a healthy dose of parmesan. I could eat this minestrone every day. It was a thicker, richer soup than most minestrones I have tried at restaurants, and it perfectly complements the main entrees at Catelli's.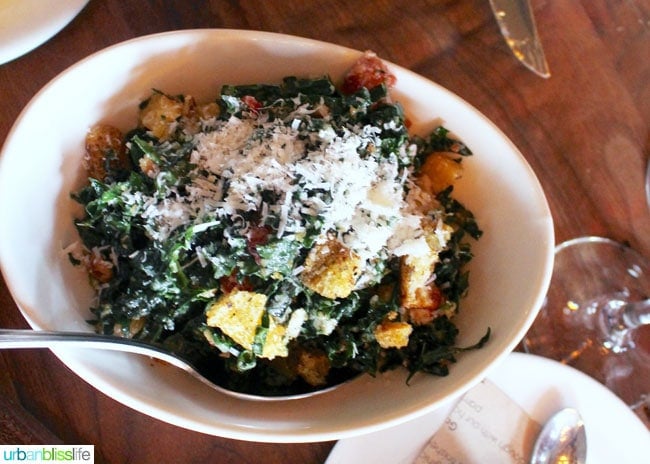 One of the Rodney Strong Vineyards hosts swears that Catelli's Kale Salad($14.75) is the best they have ever had, and I must say: it is very tasty! The organic kale is massaged beautifully into a nicely palatable texture and mixed with a citrus blend of meyer lemon and blood orange. It's finished off with crushed croutons, crushed nuts, parmesan (another healthy dose!) and Dry Creek Olive Oil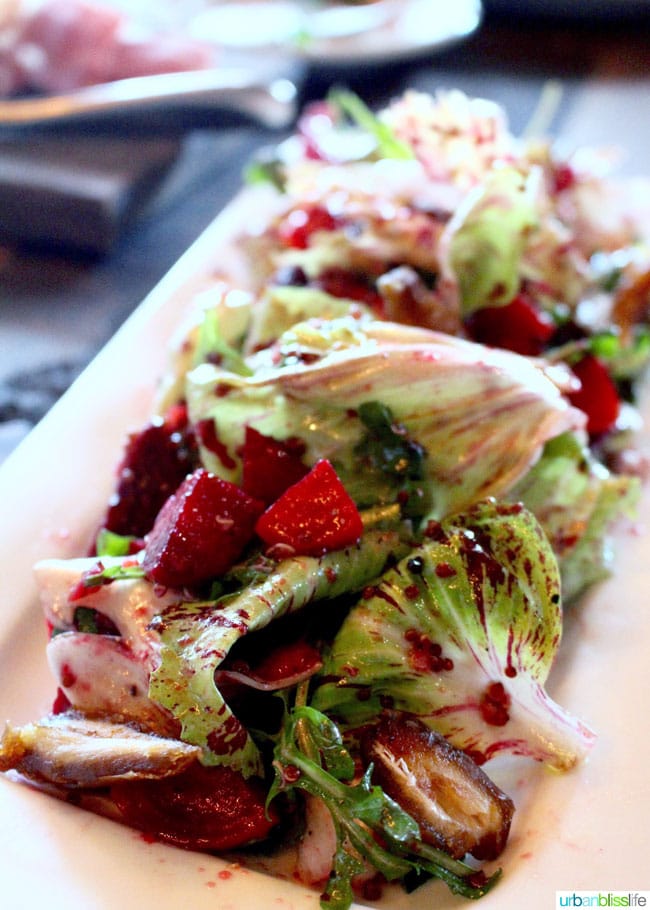 Meanwhile, another one of our hosts heartily recommended the Baby Beet Salad ($8.50 half/$14.75 full). This was another delicious, light salad of organic beets & arugula with Sparrow Lane Golden balsamic, Dry Creek Olive Oil & crispy prosciutto.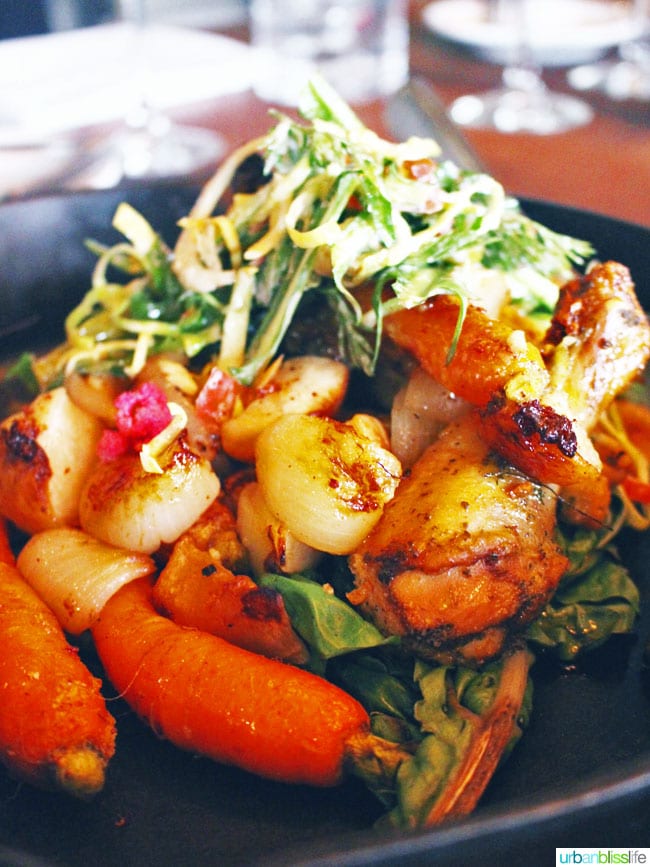 One of the specials of the day when we ate lunch at Catelli's was a local chicken prepared with fresh local vegetables. Talk about farm fresh! I had a taste of this entree and the chicken was so tender and flavorful, the veggies perfectly prepared and lightly seasoned. Loved it.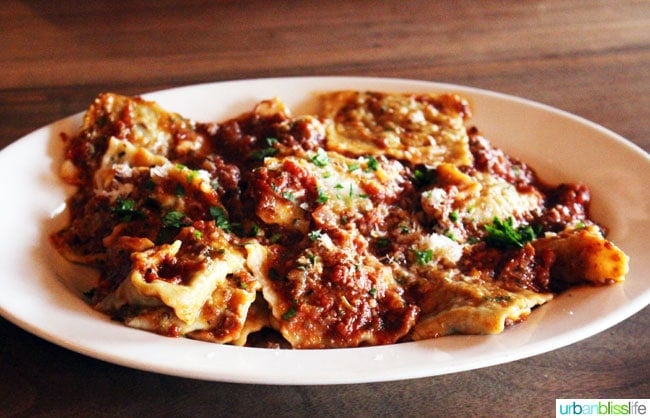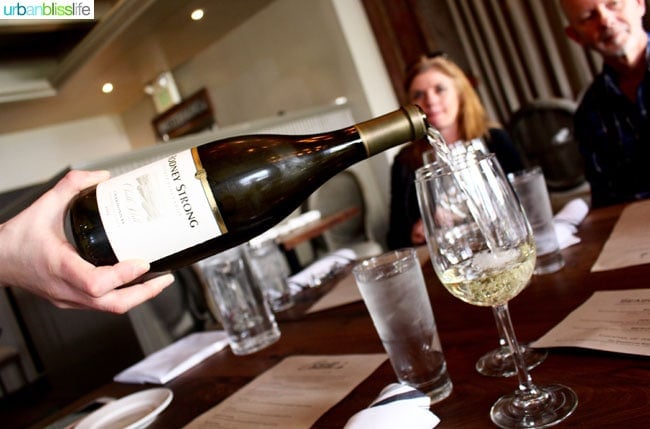 To start, we enjoyed the Rodney Strong 2014 Chalk Hill Chardonnay ($39). This paired beautifully with the burrata and prosciutto appetizer, as well as with the kale salad.
We also enjoyed the Davis Bynum Jane's Vineyard 2014 Pinot Noir ($53), which was a smooth medium-bodied red wine with big red berry flavors and a hint of cola. I really enjoyed this wine with the pasta and the minestrone.
Visit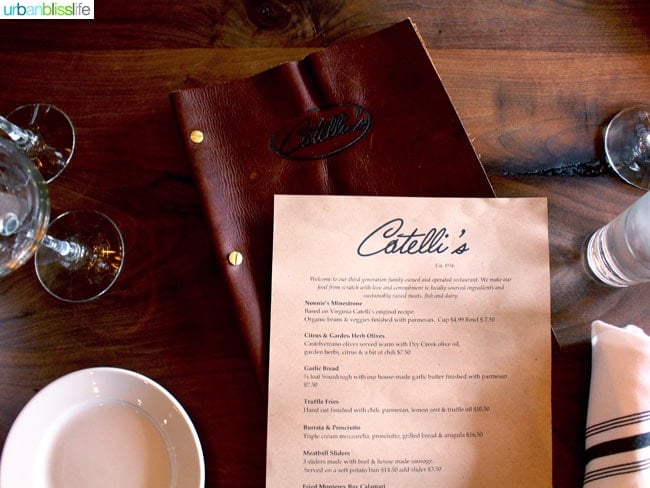 Catelli's is open for lunch and dinner Tuesday through Sunday each week, and I definitely recommend stopping by here while you are in Sonoma County wine country. There are several wineries and tasting rooms nearby. Their menu is classic and straightforward, full of hearty, delicious meals, and they do a beautiful job pairing the delightful dishes with wonderful local wines.
21047 Geyersville Avenue
Geyersville, CA 95441

HOURS:
Monday: Closed
Tuesday: 11:30am to 8:30pm
Wednesday: 11:30am to 8:30pm
Thursday: 11:30am to 8:30pm
Friday: 11:30am to 9:30pm
Saturday: 12:00pm to 9:30pm
Sunday: 12:00pm to 8:30pm
CATELLISEVENTS@GMAIL.COM
1-707-857-3471
http://www.mycatellis.com/
Have you been to Geyersville, California? Where did you eat/drink when you visited?
More Sonoma County wine ideas
I attended a complimentary lunch here as part of my press trip with Rodney Strong Vineyards. As always, all opinions and photos are my own. I only write about places, experiences, events, and products that I personally enjoy and believe you will enjoy, too!