A Sonoma County, California travel guide wouldn't be complete without wine tasting. In Part 3 of our Sonoma Travel Guide, we visit a trio of vineyards, staring with Lynmar Estate, a beautiful winery near the Russian River.
(In Part 1 of this Travel Bliss series, I shared transportation, lodging, and general visitor tips. Part 2 featured some of the area's top restaurants in Where to Eat in Sonoma County.)
Jump to:
About Lynmar Estate
3909 Frei Road
Sebastopol, California 95472
877.282.3441
www.LynmarEstate.com
Driving up to Lynmar Estate in Sebastopol, California, located in the Russian River Valley, you are greeted with a stunning landscape of rolling hills, vineyards, and colorful gardens.
The 100-acre property was purchased by Lynn Fritz in 1980, and includes vines that are more than 40 years old. Everywhere you turn, the view is postcard-worthy.
There is a grand seed barn that just begs for a visit.
Step inside, and you'll find touches of rustic nirvana all around. From the barrels of housemade olive oil. . .
. . .to ingredients that will be used in the day's menu . . .
The barn is a delightful representation of the heart and the soul that powers Lynmar Estate.
Walking back to the main building, you can explore the chef's garden. When we visited in November, it was still so lush and glorious with vividly colored vegetables.
Lynmar Estate grows seven kinds of kale that almost look too beautiful to eat.
But eat and drink you must when visiting Lynmar Estate. You can do so inside their large tasting room, but if the weather is nice, I highly suggest enjoying a tasting and stroll through the culinary gardens. Club Members have the opportunity to enjoy exclusive tastings outside on the beautiful veranda.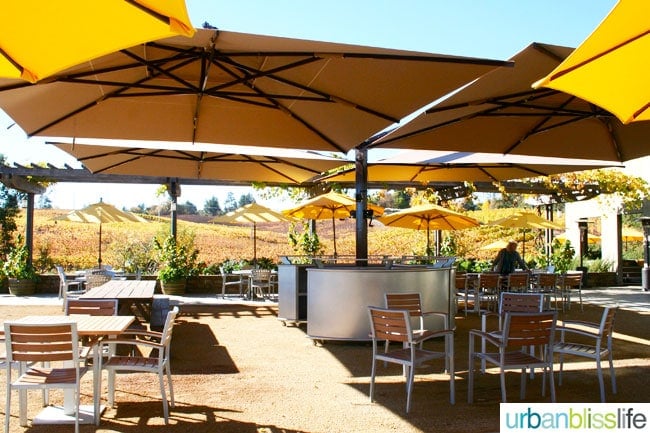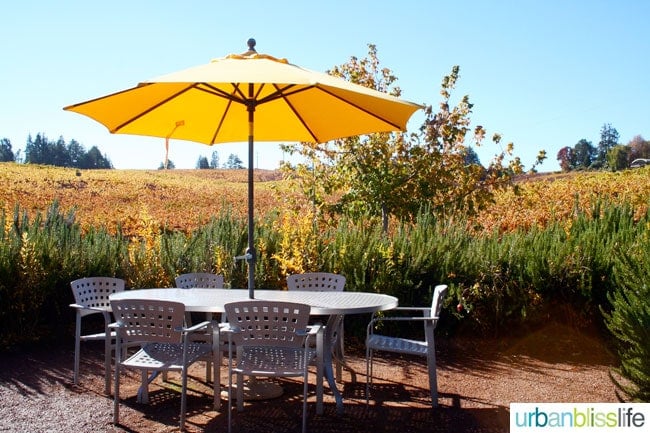 The Wines
Lynmar Estate's Quail Hill Vineyards possesses some of the oldest Pinot Noir and Chardonnay vines in the Russian River Valley. Declared as one of the best Pinot Noir vineyards in Sonoma County by Wine Spectator in 2011, the vineyard currently is planted to 70% Pinot Noir and 30% Chardonnay; there are 14 Pinot Noir clones and and four selections of Chardonnay.
When you visit, you have three wine tasting options:
1. Signature Tasting for $15 person (reservations required for parties of 8 or more)
2. Reserve Tasting for $25 per person (reservations required for parties of 8 or more)
3. Luxury Seated Tasting for $50 per person (reservations required)
Lynmar Estate wines range in price from $25 - $70.
Our Favorite Wine
Lynmar Estate's 2011 Russian River Valley Pinot Noir ($45) is a gorgeous ruby red wine is aged in French Oak for 15 months. It welcomes you with big fruit flavors up front, and then has a big but smooth darker finish.
The 2012 Block 10 Pinot Noir is also notable. From vines planted on the estate's most east-facing block on Quail Hill Vineyard, this Pinot Noir features dark aromatics of blueberries, cola, plum. It's delicious, and has a nice bold finish.
Lynmar Estate Menu
During summer months, you can enjoy select picnic pairings, featuring fresh selections from the estate gardens as well as local food artisans.
Lynmar Estates also offers a daily bar menu, which includes a cheese plates, nuts & olives, and fantastic truffle popcorn. You may think popcorn and wine do not pair well together. You would be wrong. The truffle popcorn we sampled on our visit was a beautiful complement to the 2011 Russian River Chardonnay.
Final Notes
Lynmar Estates is a stunning mix of sleek modernity and serene countryside. You'll find contemporary furniture and decor in the main tasting room, and rustic farmland goodness as you start to walk out toward the barn. The Lynmar Estate team is warm and welcoming, and they are all happy to answer any questions you have about their wines, the history, the property, and the gardens. You'll want to plan for at least an hour here for your wine tasting here. Be sure to venture beyond the main tasting room and out onto the grounds for the full LynMar experience.