And the award goes to... YOU! For hosting such a FABULOUS Oscar party! :)
The 2020 Academy Awards are coming up on Sunday, Feb. 9. If you're planning on hosting an awards show party, here are some super easy, inexpensive, and fun Oscar themed party ideas to get you started.
DECORATIONS
When it comes to an Oscar party, or any party for that matter, I love decorations that can be reused for other events, such as simple plain, striped or polka dotted napkins, thick treat cups and party nut cups, and straws in various colors. The silver ones you see below have been used for a Golden Globes party, for Christmas, for a kid's class party photo booth, and for New Year's.
The cupcake toppers are part of the new Oscar party printables set that I designed. You can download these Oscar party printables for free! The set includes the cupcake toppers (which can also be used as gift tags, party favor tags, turned into stickers -- so many possibilities!), plus editable food tents, menus, and a VIP list that you can customize with your own details to help make your party extra special!
The trophies you see below can be used for all kinds of awards parties -- from televised awards shows to kids' sports celebrations. The gold foil banner and the black and gold star pinwheel and paper lantern decorations that you see behind the statue can also be used again at birthday parties, anniversary parties, and for Christmas.
It wouldn't be an awards show without a red carpet. You can either make your own with red felt, as I did for my Skinnygirl Cocktails Golden Globes Party:
Or you can rent or purchase an inexpensive red carpet.
TIP: Make sure you secure the red carpet down to the floor with masking tape. It's easy for folks to trip if the carpet gets bunched up, and the last thing you want your guests to take home are bumps and bruises as mementoes to remember your party!
FOOD
When it comes to awards parties, keep food simple yet stellar. It's easy to use a star-shaped cookie cutter to cut out "star-studded" sandwiches, cheeses, cookies, and more.
I love my best brownie recipe (because who doesn't love brownies?) and using edible gold spray to dust over them and make them superstar gold brownies.
AWARDS BALLOTS
And of course, it wouldn't be an awards party without a little friendly competition to see who can guess the most award winners. Check out the official list of 2020 Academy Award Nominees - you can print out the sheet and use it as a ballot.
OSCAR PARTY PARTY IDEAS: INSPIRATION
I created a little inspiration board for you with some of the ideas I mentioned above, along with links to resources for these items.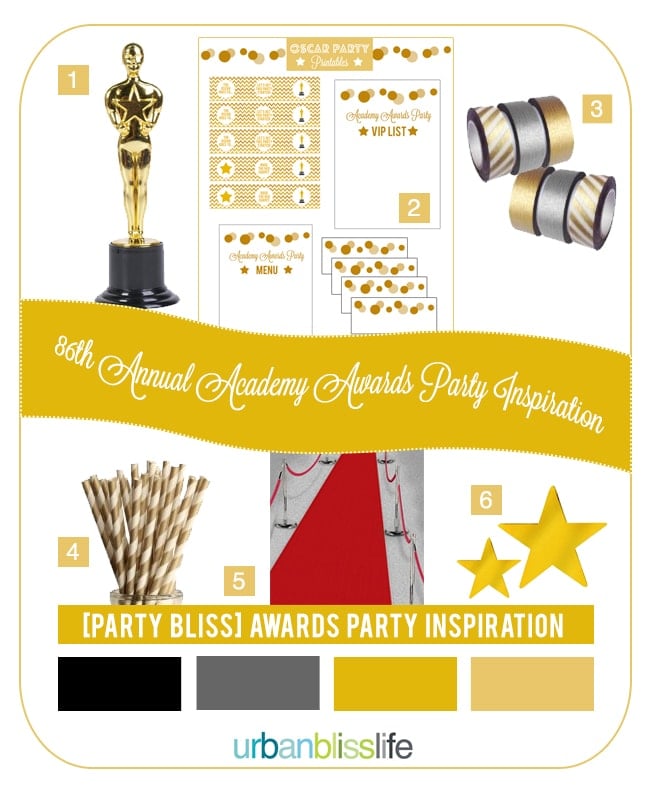 1. Gold Trophy Statues - 12 for less than $15
2. Urban Bliss Academy Awards Party Printables
5. Red Carpet
I'd love to know: which movies do you want to see win the Oscars this year? Will YOU be hosting an Oscar Party on Sunday, March 2nd this year? If so, what other party tips would you add, and what will you be serving?
Disclosure: this post may contain affiliate links. All opinions are my own, and as always, I only write about events, products, services that I believe my readers would be interested in.