It's Valentine's Day! NOBODY PANIC!
Unless you're like me, and you spend days and weeks planning things, only to find out that you totally forgot one key component that could throw the whole plan off. And that's when, like me, you need some last minute assistance.
Hey, no worries, mama. I've got your back.
I love sharing last minute printables. You and me, we like to live by the moment, right? So now we're in the moment of breathing a sigh of relief, thinking (and maybe verbalizing out loud), "Thank God the kid's Valentines are done! D-O-N-E! High five, mama! Time to veg out with Pinterest, and... oh. OH." That's when you get on Pinterest and see super cute teacher gift ideas.
Oops. You didn't forget those awesome teachers who sacrifice, slave away, and give great care to our kids 6 hours a day, did you?
These, my friends, are just for you: two large candy bar wrapper designs in one free PDF printable. Bonus: you can EDIT these to include the teacher's name on the front!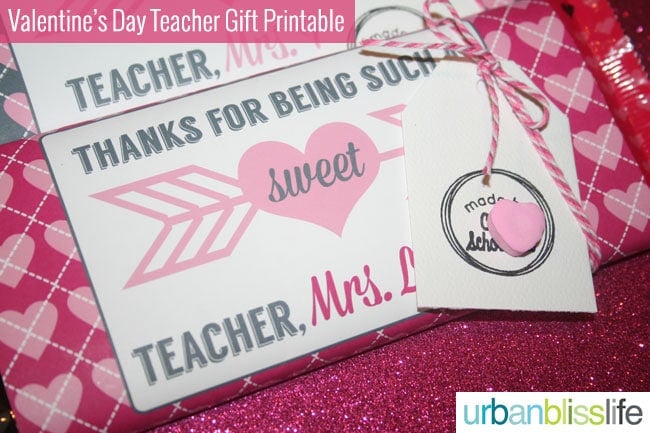 Download these FREE customizable teacher printables for Valentine's Day, edit the text boxes to include your kid's teacher's name, print, cut, then wrap them around a large sized candy bar that you buy on the way to school for your kid's class party or parent pick-up.
You get two editable designs with this PDF file: one grey background with pink hearts, and one fuschia background light pink hearts.
Instructions:
You will need Adobe Acrobat to open and edit this printable file. You can download Adobe Acrobat for free from Adobe.com.
Open the file in Adobe Acrobat. Click Command+E (Mac) or Control + E (PC) to open the text toolbar.
Double click the text box that says "Insert Text" and replace with the teacher's name. NOTE: you can only use fonts that you currently have in your computer's font library.
Save the document to your desktop.
Print using your home computer.
Using a straight edge paper cutter or scissors, cut around the edges of the candy bar wrapper design.
Wrap around a LARGE SIZE candy bar, and secure with tape at the back.
Voila! You can wrap some twine around it and attach a gift tag like I did, or just give as is.
We busy mamas have to stick together. Last minute? Me too. Almost ALL the time. Solidarity, mamas.
Final words on this Valentine's Day. . .
I do want to take this opportunity on Valentine's Day to publicly profess my love and gratitude to all of you. I LOVE reading your comments on these blog posts and am so grateful to know that there are folks out there who can identify with these posts, who have enjoyed the recipes, ideas, and printables, and/or have somehow been inspired. Your blog comments mean the world to me. THANK YOU, Valentines! Today, and everyday, I heart all of YOU!
More Printables and DIY Projects