Welcome to the final day of my Week of Teacher Appreciation Printables! All this week, I am offering discounts on printable designs that you can print & use for Teacher Appreciation Week May 6-10!
Be sure to head over to the previous posts for more Teacher Appreciation Week ideas and printables (with limited time discount codes just for YOU!):
1. Teacher Appreciation Week Flashcards Printable
2. Teacher Appreciation Week Smart Cookie Printable
3. Teacher Appreciation Week Poster
4. Teacher Appreciation Week Printable Candy Bar Wrapper
Know of a tea-loving teacher? For Teacher Appreciation Week, share some zen with your child's teacher by putting together a quick tea gift basket and topping with my printable tea gift tags that read "Thank you for making this year tea-riffic!"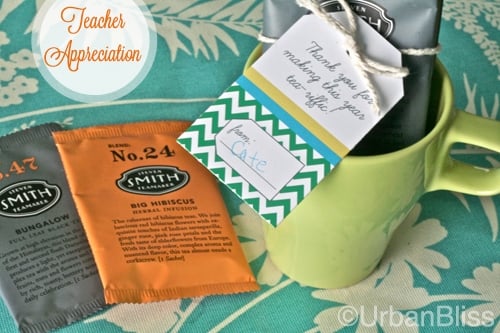 With this purchase, you will receive one PDF file. Download, then print as many as you need to use as gift tags for special tea-inspired gifts to give thanks to teachers!
This week only: get the Teacher appreciation tea tag printable download (normally #3.95) for JUST $1! Use coupon code ZEN2013 to receive the discount at checkout. The code expires at 11:59pm this Sunday, April 28th.