Welcome to Day 2 of my Week of Teacher Appreciation Printables! All this week, I am offering discounts on printable designs that you can print & use for Teacher Appreciation Week May 6-10!
Be sure to head over to yesterday's post for the discount code and link to the most popular of all Urban Bliss printable downloads, my Teacher Appreciation Flashcards.
Today, what better way to say "thank you" for all that teachers do, than to bake (or buy!) some cookies, package them as you please, and then attach one of our "Thanks to you, I'm one smart cookie" printable gift tags!
Each PDF file contains three rows of three of the same design pictured here, for a total of 9 designs per sheet. Download once, then print & cut as many as you need for teachers, principals, staff, counselors, and other key education figures in your child's life!
This week only: get the Teacher Appreciation Week Smart Cookie cookie teacher appreciation printable PDF download for just $1.50! Use coupon code YUM13 to receive the discount at checkout.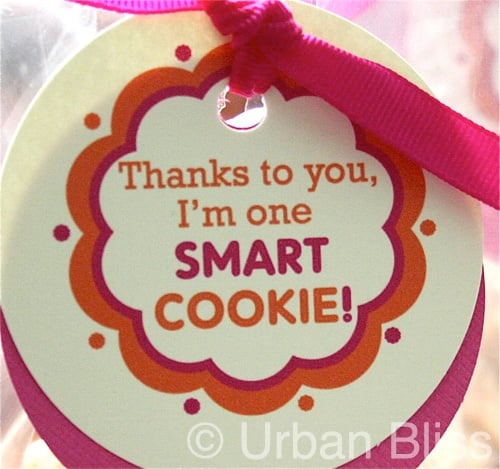 Click here to buy the Teacher Appreciation Week Smart Cookie printable PDF file for just $1. Coupon code YUM13 expires at 11:59pm this Friday, April 26th.
Stay tuned tomorrow for another great Teacher Appreciation Week Printable, at a discounted price just for Urban Bliss Life readers!