I had SO much fun creating this My Little Pony Equestria Girls birthday party with my daughter! IMPORTANT NOTE: I designed everything you see here strictly for personal use and cannot sell or distribute any of the printed items as you see them in these photos.
Jump to:
My little girl turned seven recently. While she has long since shunned wearing dresses, loves Legos, wants to be a scientist, and loves the color black, she is also still a girly girl who adores everything pink and purple, hearts, and rainbows.
When it came time to planning her birthday party, she chose to have a My Little Pony Equestria girls theme, which is such a great theme to work with because there are so many options in terms of style and even color combos. We had a great time planning a small slumber party for my daughter and three of her friends.
Here are some of the details we put together for her My Little Pony Equestria Girls birthday party.
Creating Custom T-Shirts
I've definitely gained a great love of slumber parties: they are smaller and less work in many ways, but offer the opportunity to do more personalization since there are fewer kids.
For instance, I don't know if I would have the energy to make 15 custom t-shirts, but I could easily make four.
I purchased blank white tees, then designed an image in Photoshop with a different Equestria Girl for each of her friends. Bliss Girl had fun deciding which Equestria Girl would best represent each friend.
Custom Birthday Party Activity Packs
For larger parties, I am a big fan of having activity stations throughout the house, as we did for Bliss Girl's Lego Friends Birthday Party and Bliss Boy's Lego Star Wars Party.
But for slumber parties, I like making custom activity packs for each child. I made them for my son's Skylanders birthday party, which was a slumber party, last year, and they were a hit with the kids: it gave them something to do if there was ever a break from eating, watching movies, playing games.
Here is the cover of this year's activity packs:
The inside contained Mad Libs that we made, a Match the Cutie Mark with the Pony game, a word search with Equestria Girl terms and party attendee names, About Me pages, coloring pages, and some blank sheets at the end.
Party Decorations
As luck would have it, Party Pail approached me right when we started planning Bliss Girl's party. They sent us so many fabulous items to coordinate with the My Little Pony Equestria Girls theme, and they were absolutely wonderful to work with.
My daughter loved these fun paper decorations, which we hung right above the dining table. They came with some streamers (which you can see in the background), and tabletop decorations.
We got hot pink plates, blue napkins, and these purple paper cups from Party Pail as well. To help the girls keep track of their cups (and so we wouldn't end up wasting cups!), my daughter and I used washi tape to decorate the cups and she wrote each girl's name on the tape.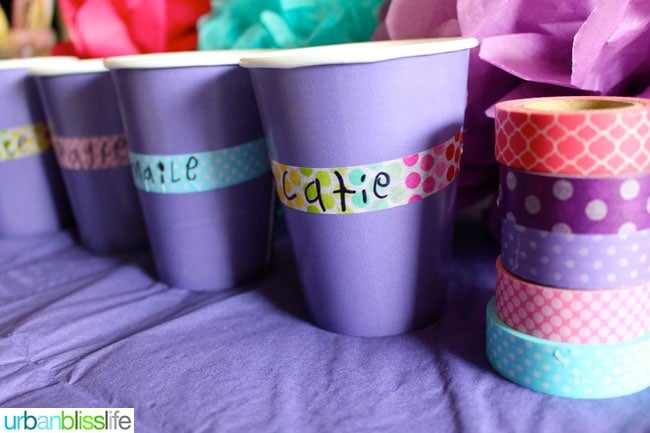 And because I am slightly obsessed with putting washi tape on almost anything and everything, I thought it would be cute to decorate these compostable bamboo forks with color coordinating washi tape.
Party Favors
Each girl received a custom t-shirt, activity book, and favor bag. I found a party store that has lots of great streamers and ribbon. I loved using the curling ribbon to keep the girls' party favors nice and neat until they were ready to tear them open. :)
Inside each favor bag were some pencils, plus My Little Pony hair clips that we bought. I dressed them up with custom clip holders that I designed.
Each favor bag also contained these adorable My Little Pony temporary tattoos. . .
. . . and also these cute My Little Pony hair extension clips.
The Cake
While I am normally in favor of baking cupcakes instead of cakes for my kids' birthday parties, this year my daughter asked for a rainbow birthday cake. It would have been fitting, but I felt 7 layers was a bit much for a small slumber party. We settled on an ombre cake instead, consisting of colors that went from light pink to dark purple.
I was totally nervous making this, and it really was time consuming, but turned out great in the end!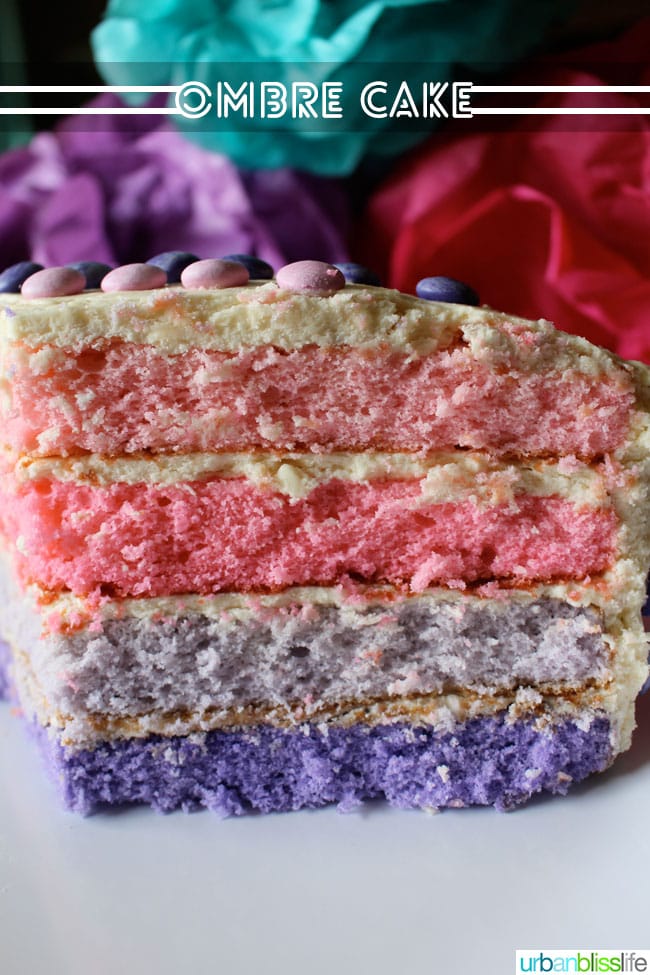 We decorated the outside with vanilla buttercream (because I am PRO buttercream and somewhat anti-fondant) and M & Ms. . .
Then we topped it with M & M's in the shape of a 7 and with fun My Little Pony candles.
PS: you can learn how to make this OMBRE CAKE by hopping over to this Ombre Cake blog post!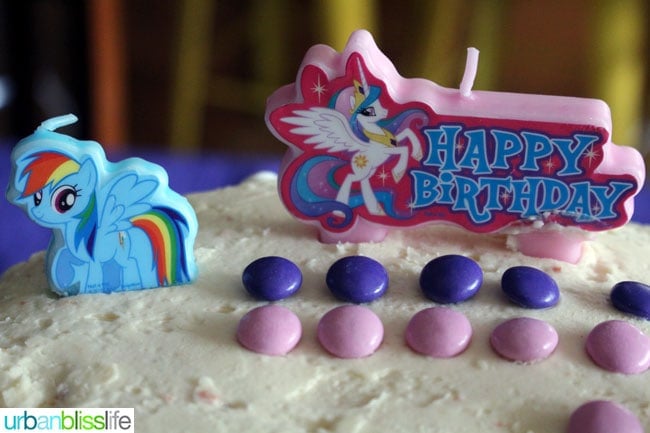 I kept food very simple for this slumber party: each girl made her own pizza, and we had fruits and veggies (lots of carrots for the My Little Pony theme).
All in all, it was a lot of fun for little effort. I can't believe my littlest is already seven years old. I know these themed parties will soon be pushed aside as they get older, so I'm trying to soak up all of the creative fun with the kids now while they are still into them.