It's my birthday week, and do you know what that means?
It's Birthday Bliss Week on Urban Bliss Life, too! WOOHOO!
All this week, I will be featuring birthday parties that I have hosted for my own kids, plus one fun birthday party inspiration post featuring printables. I hope these help inspire you with your own party planning.
So are you ready to celebrate? I know I am! I love a good week-long par-tay! ;)
We're kicking off Birthday Bliss Week with one of my favorite parties that I have ever thrown: a LEGO Friends Birthday Party for my daughter's sixth birthday.
---
IMPORTANT NOTE: I designed everything you see here strictly for personal use and cannot sell or distribute any of the printed items as you see them in these photos. Please visit my Urban Bliss online shop for other party printables and related items that you might be interested in. Thank you so much for your support! :-)
---
Lego Friends Birthday Party
Do you have a daughter or son who is TOTALLY into Legos? Both of my kids are Lego fanatics. We have enough Legos to open up our own Lego store.
For my daughter's 6th birthday, she asked to have a Lego Friends Birthday Party. This was when Lego Friends was still fairly new and there weren't as many existing party options out there so we did a lot of DIY for this one. It turned out to be so much fun to put together, and with 12 kindergarten girls (plus some boys) laughing and chatting away, it was definitely one for our memory books.
Here's a peek at some of the DIY Lego Friends Birthday Party projects that we did.
INVITATIONS
I designed our own Lego Friends Birthday Party invitations, thank you cards, and address labels to be simple and fun, using the Lego Friends characters and colors. Note: I designed everything you see in this post strictly for personal use, and because they contain official licensed characters, I can't sell printables of these (and do NOT buy any party designs using official licensed characters from "designers" on Etsy, my friends! Unless they have clearly stated licensing agreements, which most of those folks do not). Please visit my online shop for printables you can purchase!
FOOD
I love baking, but I prefer decorating cupcakes to decorating cakes. So I will let that be my explanation for the sloppy cake icing job. The Lego birthday cake was made using two 9" x 9" square baking pans for the base. Then I baked four cupcakes with the tops sliced off then inverted them for the LEGO knobs. I made a super easy cake banner from striped straws and a small cake banner I designed.
We served pink lemonade and used adorable striped pink straws.
The Lego sugar cookies are made from simply cutting square and rectangle shapes from my favorite sugar cookie recipe, and then icing them to look like Legos. The lemon icing is just a random mix of meringue powder, lemon juice, and powdered sugar.
My daughter's personal creation: cubed cheese with pretzel sticks. I figured that it works with the theme because it's cubed, right?
I used a Lego chocolate mold and melted colored chocolate discs to make very simple Lego Friends Chocolate Bars.
DECORATIONS
I made a couple of different birthday banners, one over our fireplace and another over the dessert table. They are flanked by some homemade tissue paper pom poms that I made in both fuschia and purple.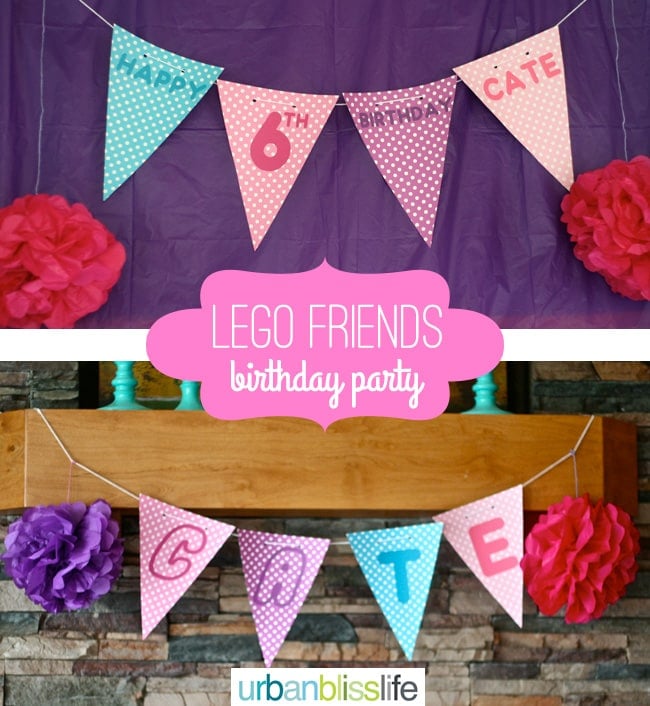 ACTIVITIES
With the younger kids, I like to have a few different activity stations around the house to keep them busy, and to ensure that there's at least one activity that each kid feels comfortable doing and enjoys.
One of my party staples: word searches. I try to make them as age-appropriate as possible: smaller words and bigger fonts for the younger kids, and they get more intricate as the kids get older.
Lego Friends Word Search Station
Lego Friends Coloring Station and Bookmark Station
Coloring stations are also staples at our kids parties. I find some free printables from the official theme websites and print several different blank Lego Friends coloring sheets out, set them out with crayons, and place completed sheets in their favor bags to take home. The kids also take home a craft that they create from the craft station, in this case, we set out materials to make foam bookmarks.
Lego Friends Creation Station
I set up a small Creation Station: a table with Legos set out where the kids could create whatever they wanted.
Our two final activities: a guesstimation jar where kids could guess how many Legos were in the jar (and the closest guess received a small prize at the end of the party), and a Lego Friends Questions game. I created questions based on the characters and this activity we did as a group.
PARTY FAVORS
I bought pink and purple party favor bags from Target (you can find similar party favor bags on Amazon), and tied custom favor tags that I designed to each bag with each girl's name.
PARTY PLANNING TIP: Buy extra bags and use a round hole punch to cut out circles that you can glue or tape to the front of each bag to make them look like Lego pieces.
Inside the party favor bags, were many fun DIY Lego Friends projects, including these fun Lego hair clips that my daughter and I made (guess who did most of the work though?). We used basic alligator clips, covered them with white ribbon, then super glued one Lego piece and added some Lego flowers to the Lego piece. The kids can wear the hair clips with or without the flower pieces.
PARTY PLANNING TIP: If you're looking for a bunch of the same specific piece, you can buy individual Lego pieces at the Lego store and also online.
I also made pink, purple, and white Lego Friendship Bracelets for each party attendee. We drilled holes in flat Lego pieces and weaved the bracelets through them. These took a lot longer than expected, mainly because I am several years (decades!) out of practice in making these. Each friendship bracelet was wrapped around custom cards that I designed.
Finally, I saved the very best for last . . .
DIY Lego Birthday Party Utensil Holder
My favorite DIY of perhaps all birthday party time (at least in our history of birthday parties)? This awesome utensil holder that my son built for his sister's birthday party.
This was by far one of my favorite parties that we hosted, mainly because both of my kids love Legos so much that it was so much fun to design all of the elements with their input. Most importantly, my daughter had a BLAST. Twelve kindergarten girls laughing and chatting and squealing nonstop -- it was so fun to see my daughter having so much fun with her friends! She talked about this party for-e-ver, and THAT is why I love kids' birthday parties.
Planning their parties is something we do TOGETHER -- I couldn't do any of this without their input, because I want these to be their parties, not mine. They, in turn, feel so proud of what we do together, we get bonus family time working on these parties, and I love hearing them proudly tell their friends which parts they helped make.

So what do you think of this Lego Friends Birthday Party? I'd love your comments!
And be sure to check back each day this week for more Birthday Bliss! HEADS UP: I will be hosting a BIG birthday bliss giveaway of brand new birthday party printables on the blog at the end of the week!
Lego Friends Birthday Party Shopping List:
Pink Party Favor Bags | Lego Friends Coloring Sheets | Lego Individual Bricks | Lego Chocolate Mold | Lollipop Sticks | Friendship Bracelet Thread | Foam Bookmarks
More Birthday Party Planning Ideas:
Disclosure: This post contains affiliate links