Birthday Bliss Week continues! If you missed the last few posts, you can catch up here:
Today I'm sharing my daughter's 4th birthday party theme: a Butterfly Birthday Party. When she was turning four, she LOVED butterflies and it was such an adorable, easy theme to pull off. My daughter and her friends LOVED this party, and she had this smile on her face for pretty much the entire weekend :)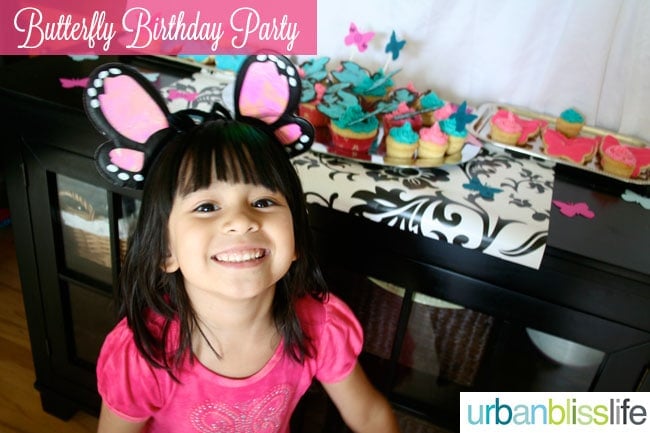 A Butterfly Birthday Party
Butterfly Party Stationery
I designed these enclosure invitations on the fly, at midnight, before I had to fly out the next day because I realized that we needed to get invitations out before we left town. I layered cardstock and used white square envelopements. These were fun to make!
I designed coordinating thank you cards right before the party, so that we'd have them printed and ready to complete and send out shortly after the party. Since these are blank, I've made a FREE PRINTABLE for you that you can download!
Click here to download the free butterfly thank you card printable PDF.
You will need Adobe Acrobat to open the files. Print onto cardstock and cut along the dotted edges. Each thank you card is approximately 3.5" x 5" and fits into a small envelope nicely! You can use these for everyday thank you cards, too -- not just for a butterfly birthday theme! :)
Butterfly Birthday Party Decor
I was totally into making pom poms during this time, so we adorned the ceiling with handmade tissue paper pom poms in the theme colors of pink and blue. If you don't want to make your own, you can buy pre-made tissue paper pom pom kits online.
I also made two banners: one felt banner that hung on our fireplace mantel, which I'm including with a printable and simple DIY instructions at the bottom of this post, and a second banner that was part of a backdrop to the dessert table.
For the banner above, I simply cut out a butterfly-like shape out of 12" x 12" scrapbook solid color cardstock, then cut out the letters of my daughter's name in patterned cardstock in contrasting colors and used double stick tape to adhere the letters to the butterfly backgrounds. Some color coordinating string and a hole punch and voila! Done! Super easy.
Butterfly Birthday Party Food
As you may guess if you've followed this blog or know me in person, I have a deep love for serving cupcakes versus cake at kids' birthday parties. I baked my standard vanilla cupcakes with buttercream frosting tinted in the theme colors of pink and blue. Some of them were topped with custom cupcake toppers that I made using a large butterfly hole punch.
Other cupcakes were adorned with chocolate butterfly toppers that I made. Here's a quick tutorial on Annie's Eats to show you how easy it is . . . if you have the patience. I never do, so mine turned out like this as opposed to her perfect butterflies :)
I also used a butterfly cookie cutter to shape my favorite sugar cookie recipe with colored icing.
PARTY PLANNING TIP: For younger kids' birthday parties, ages 1-5, keep the food super simple. This is not the time to try a fancy new dish -- no matter how many adults will be there. I like to serve fruit, cheese, crackers, veggies with dip, and cookies and cupcakes.
It helped that my daughter's birthday is in the Spring -- you can find a lot of butterfly party goods and decorations between March and May. I found these adorable melamine pink butterfly trays at Target in their Easter section. They worked perfectly not only for her birthday party, but we bring them out for playdates, for Easter, and for picnics! You can find a similar butterfly tray online.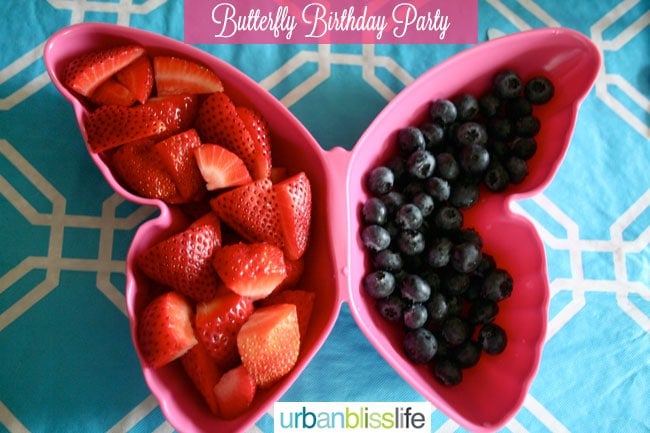 Butterfly Birthday Party Favors
Each girl received a butterfly headband when she walked in, and took one home as a party favor. I lucked out and found these in the One Spot dollar section at Target (again, because it was Spring!), but you can find similar butterfly headbands online.
I also bought some other fun age-appropriate party favors (glittery pencils, bubble wands, bouncy balls) at Target and placed them in clear cellophane bags filled with crinkled paper filling and topped off with custom Butterfly Thank You favor tags.
DIY Butterfly Birthday Banner
This felt banner that I made for my daughter's Butterfly Birthday Party was SO easy and fast to pull together, and it looks cute hanging over a fireplace, above a dessert table, or even use it in a DIY photobooth!
1. Click here to download the butterfly template. Print onto cardstock and cut out the butterfly shapes.
2. Trace the butterfly shapes onto felt squares in the colors of your choosing.
3. Cut out the butterfly shapes from the felt.
4. Holepunch the butterflies in each wing.
5. Thread string or ribbon through the holes, and hang for decoration.
Butterfly Birthday Party Shopping List:
Butterfly headbands | Butterfly food tray | Lollipop sticks | Tissue paper pom pom kits | Butterfly cookie cutter
I have to admit that this post has TOTALLY put me in the mood for SPRING! I'm looking forward to nicer weather and seeing real butterflies out and about :)
Coming up on Birthday Bliss Week . . .
Now I am SO excited for tomorrow's post. I'm sharing a FULL birthday party printable set that you will be able to download and print for just $5 for a limited time! AND, I'll share some sage party planning advice from one of my absolute FAVORITE designing couples. Can you guess who they are? Hint: they have seven kids, their own TV show, and their designs are full of color! :)
Disclosure: This post contains affiliate links.