Birthday Bliss Week continues!
Monday, I shared my daughter's Lego Friends Birthday Party. Today, I'm sharing one of my son's birthday parties.
SKYLANDERS GIANTS BIRTHDAY PARTY
If you have a son between the ages of six and 10, you're probably aware of the mega multi-marketing experience that is Skylanders. It began with Skylanders: Spyro's Adventures, then Skylanders Giants was released last year. This year, there's Skylanders Swap Force. It's a video game that requires players to use their characters on a "portal" in order to play the game. It's actually pretty cool.
My son and his friends were TOTALLY into Skylanders Giants last year. For his first sleepover party, we had a Skylanders Giants party. Since it was a small party, I kept the details limited and low key.
Skylanders Giants Activity Books
Since it was a sleepover, I made activity books with custom covers for each of the kids and gave it to them right after dinner, so that they could have it if they happened to get bored at any point. Here's what I made and included in the Birthday Activity Packs:
Skylanders word searches
Skylanders crossword puzzles
Skylanders coloring pages
Skylanders Mad Libs
You can easily adapt this Birthday Activity Book idea to any birthday theme.
Skylanders Birthday Banner
I took the logo and some character images to design my son's birthday banner. I don't know why, but for some reason I can't host a party without banners. They're so easy to make and they add a nice touch to tie the party together.
NOTE: much like the Lego Friends birthday party designs, I designed all of the Skylanders Giants birthday party elements for personal use only, and cannot share printables of the licensed characters. However, I will be sharing more and more party printables in the Urban Bliss shop, so stay tuned! And if you ever need a custom party printable, let me know!
Party Favors
I bought these blue party favor bags, and filled them with Skylanders stickers that I bought from Amazon, Skylanders giant erasers, pencils, and topped each bag with custom Skylanders favor bag stickers that I designed.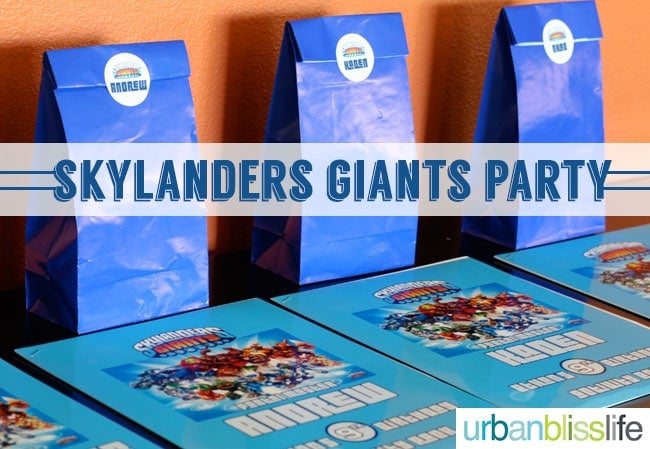 Skylanders Birthday Cupcakes
Cupcakes are my go-to dessert for birthday parties, as opposed to cake. First: there's a better frosting-to-cake ratio with cupcakes. Don't you argree? Second, they are portion controlled, which is important when it comes to kids' parties. Nothing to cut into during the party, just serve as is. Third, cupcakes are a million times easier to decorate than cakes.
I used to decorate cakes in the early years: a Lightning McQueen Cars cake, a barnyard animals cake, a monkey cake . . . all super cute, but with two kids and a million other things I would rather put my time and energy into, I now opt for cupcakes over cakes (with the exception of the easy Lego Friends cake).
Do you prefer cake or cupcakes at your kids' birthday parties?
Skylanders Giants Birthday T-Shirt
I always design a birthday t-shirt for my kids in the theme of their birthday parties. Here's the one I designed for my son, using the Skylanders Giants characters:
Skylanders Video Game
And of course, what Skylanders birthday party would be complete without the actual Skylanders Giants Wii video game? The boys had fun playing. Many brought their own characters, so between all of them, they had every single Skylanders Giants character to play.
This was our first sleepover birthday party, and I have to say that from the party planning perspective, these are SOOOO much easier to plan and execute than the regular day birthday parties! With less people, it's easier to find enough party favor items to make sure each person gets the same thing, less food, less everything. My son and his friends had a great time, and he's already planning another sleepover birthday party for this year's celebration!
So what do you think of this Lego Friends Birthday Party? I love your comments!
And be sure to check back each day this week for more Birthday Bliss! HEADS UP: I will be hosting a BIG birthday bliss giveaway of brand new birthday party printables on the blog at the end of the week!
Skylanders Birthday Party Shopping List
Blue Party Favor Bags | Skylanders stickers | Skylanders giant erasers | Skylanders pencils | Party Favor Bags | Lollipop sticks | Black and White Polka Dot Treat Cups | Skylanders Giants Wii Video Game
More Party Planning Bliss:
Disclosure: This post contains affiliate links