Ahh the Golden Globes. The glamour, the glitz, the gowns! How do those gorgeous women fit into those tiny gowns? Do you think they drink Skinnygirl® Cocktails?
Well, it certainly would be a delicious distraction while trying to find the perfect gown, in my opinion ;) Skinnygirl® Cocktail -- the brand launched by lifestyle brand expert, talkshow host, and Real Housewives of NY alum Bethenny Frankel, then purchased by Beam, Inc. in 2011 -- contain just 100 calories or fewer per serving. You can choose from a wide variety of low calorie beverages from the Skinnygirl Wine Collection, Vodka Collection, or Ready-to-Serve Cocktails Collection.
I had a FABULOUS time hosting a little Golden Globe Awards party with about 15 fun friends, featuring select Skinnygirl® Cocktail drinks. The party started about a week before the Golden Globes, when this lovely package full of BLISS arrived at my doorstep:
You don't know how challenging it was for me to wait until the party to partake in one of those beautiful bottles! But, I had a lot of party planning to do, so I stashed the bottles away out of temptation's reach and started planning Golden Globe Awards party details.
A Very DIY Red Carpet
Along with the drinks, Skinnygirl sent award ballots, wine labels, and sheets to make my very own DIY red carpet backdrop. We don't have a lot of full wall space in our house, so I turned one of our bookcases into the red carpet photo area. I ordered a red carpet online but due to storms back east, I found out Friday that my package would not actually arrive until the day after the Golden Globe Awards.
Luckily, I am a DIY gal and had a lot of red felt left over from various holiday crafts over the years. Voila! Instant red carpet! Take a peek:
We had fun taking some silly pictures in the photo area. [Note: my DSLR is still acting wonky and a bunch of these are blurry. My birthday, by the way, is just around the corner. Hint, hint ;)]


Menu
Work was crazy - CA-RA-ZEE - last week, so I didn't have a lot of time to make a ton of complicated dishes, so I decided to put together a very classic, low-key buffet menu. For the main buffet dishes, I made:
Spinach Dip in a sourdough bread bowl
Bourbon Whiskey Meatballs
Smoked Salmon Canapes
Red Carpet Roasted Herb Almonds
Prosciutto-Wrapped Melon
I'll be sharing some of the recipes for these soon! Friends also brought yummy dishes such as bacon-wrapped dates as well as bacon-wrapped pineapple (do my friends know me, or what?!), adorable caprese bites, colorful veggie trays, cheese and meat trays, onion focaccia, and guacamole dip & chips.
Every party requires something sweet, and for this party I made Glittery Gold Cupcakes (classic vanilla cupcakes with vanilla buttercream frosting and edible gold glitter)...
and Golden Brownies (my favorite brownie recipe sprayed with edible gold mist).
Decor
To complete the Golden Globe Awards theme, I hung stars throughout the party area in all different sizes, some glittery and some glossy foil. The day before the party, I designed and printed a VIP list, cupcake toppers, signs, social media cards, food tent cards, and menu cards. [By the way, if you like these, I'll have the printables ready in time for the Oscars! ;)]
And for a super easy way to tie in your party theme, try this incredibly easy DIY washi tape drink markers at your next party, which I wrote about for Make It Monday.
Beverages
And of course, there were the delicious drinks, courtesy of Skinnygirl® Cocktails.
Now, confession time: I am not the best cocktail maker in the world. So my friends had fun testing out two of the Skinnygirl Cocktail recipes: The Prosperous Predator, and pictured below is my pal Tabitha mixing up a row of the Outer Space Spritzer.
You can grab these and more recipes at SkinnygirlCocktails.com.
Most of my guests had not tried Skinnygirl® Cocktail drinks, or, had only tried one or two. Almost everyone (yours truly included) didn't realize just how MANY Skinnygirl® Cocktail drinks were available. From ready-to-serve cocktail mixes to white and red wines, and a plethora of flavored vodkas, there's something for everyone's tastes and definitely something for every occasion.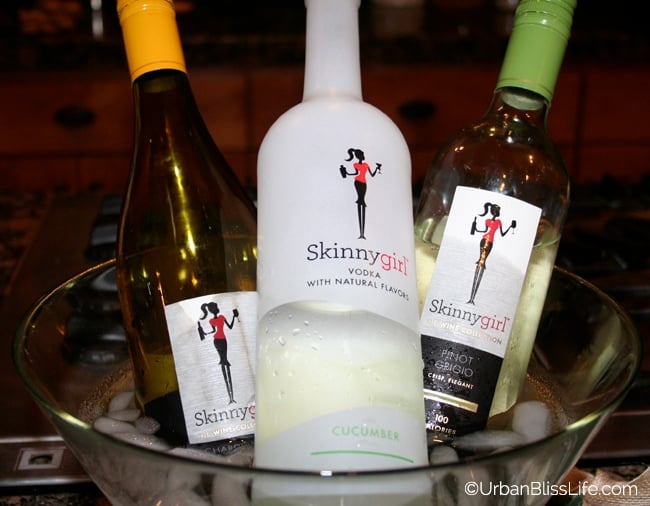 While some guests preferred the whites (Skinnygirl Prosecco, once mixed with limeade, was my fave), fellow foodie pal Rebekah of PDXFoodLove also enjoyed the Skinnygirl Cabernet Sauvignon.
At the end of the night, we were all happy and full, and some folks walked away with some little prizes I wrapped up for those who selected the most Golden Globe Award Winners from their award ballots. And, my kids had fun walking the red carpet after everyone left, doing silly poses. If it weren't set up in our entryway, I might have kept that red carpet there for a while, since the kids were loving it so much :)
And so, that's a wrap! My first Golden Globe Awards party is in the books, and a success thanks in part to the fun Skinnygirl Cocktail drinks, party printouts, and recipes. Cheers, party people!