Happy Monday! Did you watch the Golden Globes last night? Gotta love Tina Fey and Amy Poehler! I hope they host forever and ever.
I'll be sharing a full post of my Golden Globes party featuring Skinnygirl Cocktails later this week. For now, I wanted to share a super simple, inexpensive DIY project that I used at the party.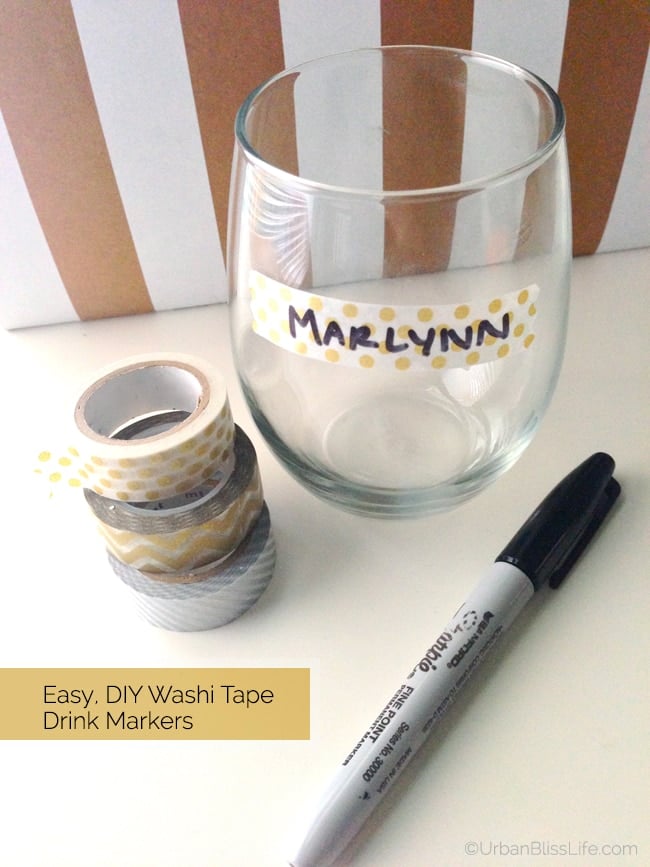 Wine charms and most drink tags are great for glasses that have stems, like traditional wine stem glasses, but how do you know which glass is yours when you are using stemless glasses?
I personally love using stemless wine glasses at parties. They are less likely to result in less wine spills when you have guests over, and especially if there are kids around. Whenever we have used stemless glasses, we've had zero red wine stains to deal with the day after.
One option to mark each person's glass so there's no sharing of drinking cooties (or the dreaded H1N1 virus that is going around -- that stuff is scary right now!), is to simply write each person's name in dry erase marker on the glasses. The problem with using dry erase markers, however, is that the names rub off all too easily. And then Joe is stuck possibly drinking from Mary's glass.
My solution: washi tape and a Sharpie.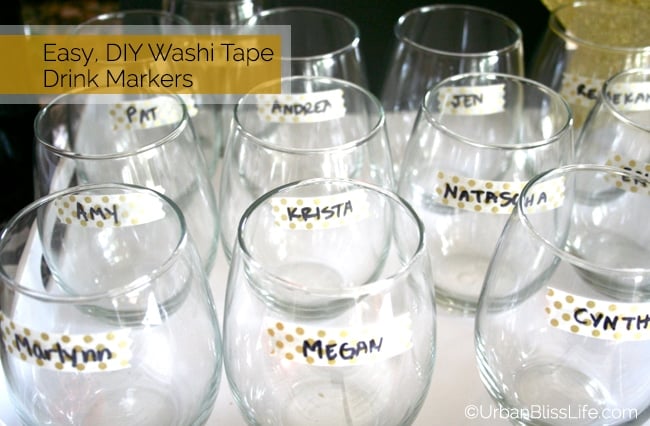 So simple, so fast, and yet SO cute! I love this because it's one more way you can color coordinate with your party decor.
All you need:
* Washi Tape
* Scissors (optional)
* Sharpie Pen
For my Golden Globes Skinnygirl Cocktails party, I used a gold polka dot washi tape, cut each piece using pinking shears in order to get fun and clean jagged edges, and simply wrote each guest's name on the washi tape with a Sharpie pen, and stuck the washi tape on each glass.
I know: you're not supposed to use pinking shears on anything but fabric. The horror! Listen: I highly doubt using them to cut tiny pieces of very thin tape will ruin the shears. And if they do, the world will not end. ;) You could also just use regular scissors or even just rip the tape -- it's up to you.
Then when it's time to clean up, the washi tape is easy and fast to remove from each glass. No muss, no fuss. I love this fun and easy DIY party project, and hope you will too!
Do you have any other fun and easy ways to mark either stemless glasses or stemmed glasses at parties?
More Printables and DIY Projects
DIY Coasters
Printable Thanksgiving Wreath