I am thrilled to be hosting an intimate Golden Globe Awards viewing party this Sunday January 12, 2014, thanks to Skinnygirl® Cocktails!
I've invited a few close friends over to walk the red carpet, pose for the paparazzi, and watch the two funniest ladies on television - Amy Poehler and Tina Fey - host this year's Golden Globe Awards. We'll nosh on tasty star-worthy food and enjoy some of the latest drinks from Bethenny Frankel's brand, Skinnygirl® Cocktails, including
Skinnygirl™ Prosecco
Skinnygirl™ Pinot Grigio
Skinnygirl™ Chardonnay
Skinnygirl™ Cabernet Sauvignon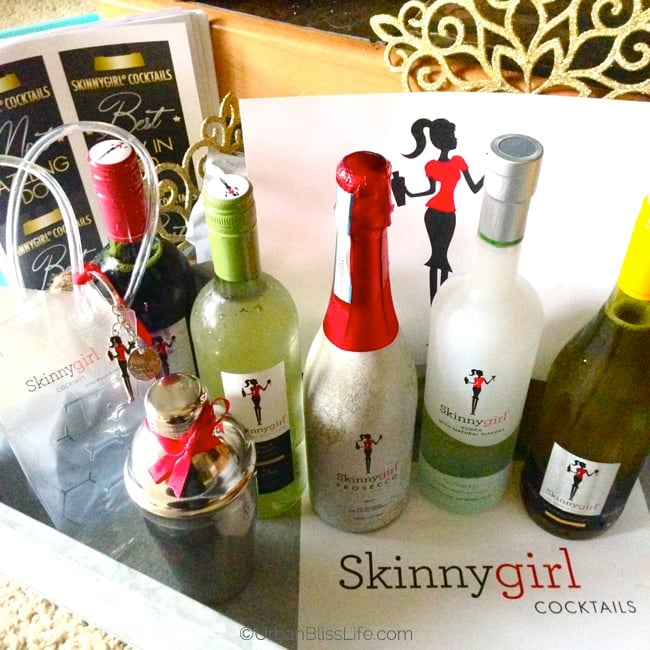 At only 100 calories per serving, these new wines offer a guilt-free way to celebrate like a leading lady. PLUS: we'll be trying out some fabulous guilt-free cocktails using the Skinnygirl® Cucumber Vodka! YUM!
Join the Online Party
During the Golden Globes this Sunday January 12th, my guests and I will also be participating in the #LetsDrinksToThat Twitter party. You can join in, too! If you're on Twitter, be sure to follow @SkinnyGirl, and you can follow me at both @UrbanBlissLife (blog Twitter account) and @UrbanBlissMedia (business Twitter account). Use the hashtag #LetsDrinkToThat. The party starts at 7pm EST, and 4pm PST. Skinnygirl® Cocktails invites you to join us and weigh in on celebs, fashion and of course cocktails.
Bethenny Frankel will be live tweeting along with us, using the hashtag #LetsDrinkToThat throughout the Golden Globes. To add to the evening's excitement, for every Twitter Party participant, Skinnygirl® Cocktails will donate $100 (up to $50,000) to Dress for Success, the brand's long-standing charity partner. Tweet for a good cause -- gotta love it! To be donation eligible, RSVP here: http://clvr.li/skinnygirlrc.
Party Time
I'm spending the next day working on decor, printables, and a menu for the party. Lots of gold, stars, and of course, my favorite: glitter! ;)
Here's a sneak peek at the VIP List I've designed: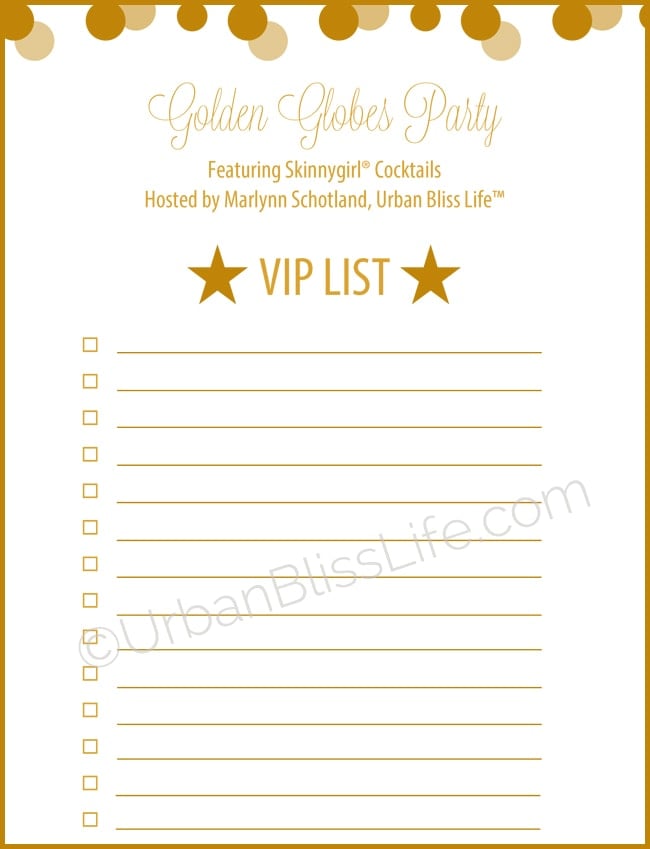 Then, I'll be revealing my Golden Globe Awards Party decor, menu, and printable items (that you can also use for the Oscars!) in an upcoming post. In the meantime, you can host your own fabulous Skinnygirl® Cocktails Golden Globes party! Simply go online to the Awards Season Party Toolkit and you, too, can download ballots, bottle labels and a red carpet backdrop, just like the ones I will be using on Sunday.
Here's to a BLISSful weekend, party people!