It is the eve of Election Day 2012, and I am completely stressed out about the next 48 hours. This is an instance, however, where having children helps keep my sanity. I love involving them in the political process because I feel it is so very important to have them understand early on how the political process works in America, and how important it is to share their concerns, questions, ideas, and make sure their voice is heard by voting.
During the last Presidential election night in 2008, I made maps of the country for my son to color in as race results were called state by state: he colored in blue for Obama/Biden and red for McCain/Palin. This year, we plan to do the same, and I'm excited to have my daughter be old enough to participate and also start to learn the basics of our country's political process.
I designed a new free printable election coloring map for this year, and am delighted to share it with you. You can download my free printable USA Election Coloring Map and share it with your kids too (or print it out for yourself & friends too!)
Political discussion is very, very important to at our house. My son asks wonderful questions, and I love when my husband and I have the opportunity to share with him information about the process, the history, the candidates, the issues. I try to be neutral and also share with him both sides of any political issue/candidate race. But, I'm also very open with him about how I have voted and the rational behind my decisions.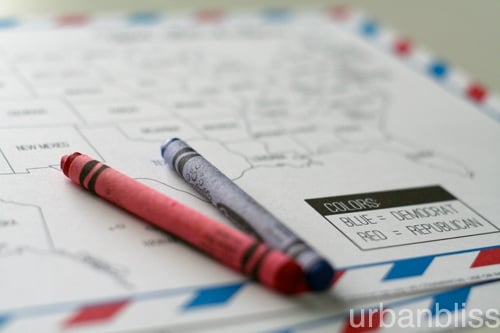 I voted a couple of weeks ago when my vote-by-mail ballot arrived. Gotta love the vote-by-mail process in Oregon! It actually encourages voters to make more thoughtful decisions and also makes it so much easier for people to vote instead of facing the prospect of standing in line for hours in rain or snow.
If you are heading out to the polls tomorrow --and I hope you are if you have not had the chance to vote early -- thank you. Thank you for doing your patriotic duty in making your voice heard through your vote. Regardless of how you vote, please know that your vote will make a difference.
Do you discuss politics with your children? What are ways you involve your kids in the electoral process? Please share in the comments!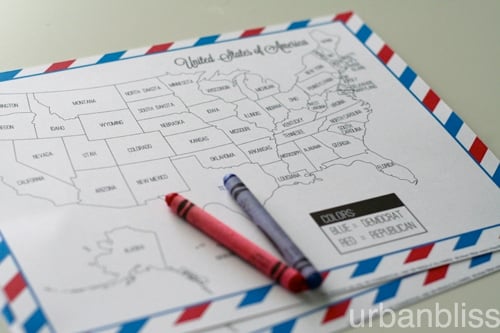 If you decide to share a photo of you or your child coloring the map on Election night, please tag @UrbanBlissMedia on Twitter, Facebook, and Instagram!
COPYRIGHT INFO: All Urban Bliss free printable designs are copyrighted and are available for personal use only. Commercial use or resale of this printable is prohibited. You are free to pin this printable and share it on your blog. Please be sure to link back to this exact post and credit Urban Bliss. Thank you!
More Free Printables and DIY Projects