Have you ever had plans to make something, and you're so excited about it, but it ends up taking you two years to finally DO it?
That's me and marquee letters. I've loved all of the awesome DIY marquees that other bloggers have done, and there are SO many different ways to create these marquees. There is the vintage marquee DIY and also the crazy adorable mini marquee from Oh Happy Day; the wooden marquee letter from Vintage Revival; and this wooden letters on beadboard DIY marquee from The Crafting Chicks.
I love them all! But, I don't have a lot of time, little patience, and I only use power tools during the summer (true story).
So when I was finally ready to make my own marquee, I took inspiration from about a dozen different tutorials out there. It took me about 2 hours total, from start to finish, and here's how my DIY marquee sign turned out:
What do you think? I admit: I was totally over the moon in LOVE once I plugged this baby in and BLISS lit up my office. Gotta love marquees! I want to make them for all of the rooms in our house now!
Here's a quick tutorial of how I made my DIY marquee letters.
EASY DIY MARQUEE LETTERS
You'll need just a few items:
Depending on how many letters you use and how big your letters are, you may need one, two, or even three sets of globe string lights. My BLISS DIY Marquee Letters used two sets exactly.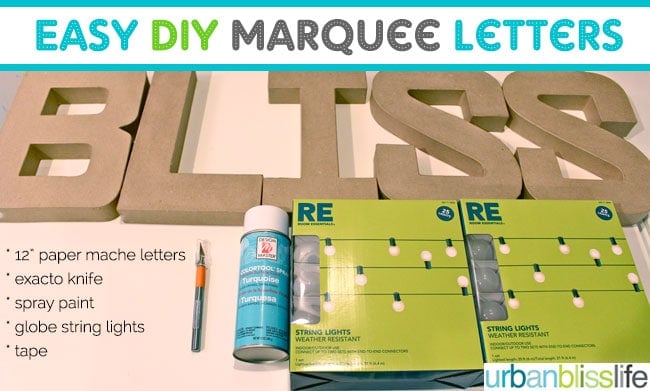 STEP 1: Using an X-acto knife, carefully start cutting out one side of each letter. Since these letters are hollow, once you start to cut, you'll be surprised how easy the rest of the letter will come out.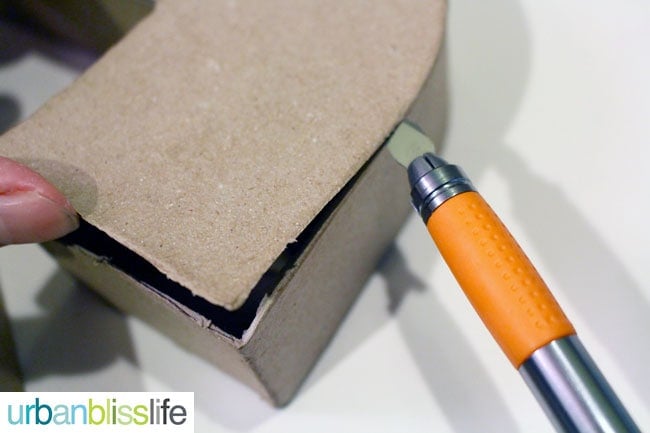 Once you are done with this first step, your letters will look like this: with the top taken off on the left (you can recycle that or use it for another project):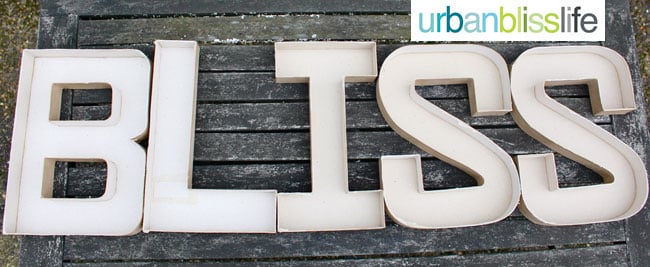 STEP 2: Using your X-acto knife, cut criss cross X's where you want the bulbs to be. Take some time to strategize placement; you can even mark the X's in pencil first if you want, then cut. Then, use the back rounded edge of your X-acto knife to push through those X's, leaving a hole for the bulbs to eventually go through.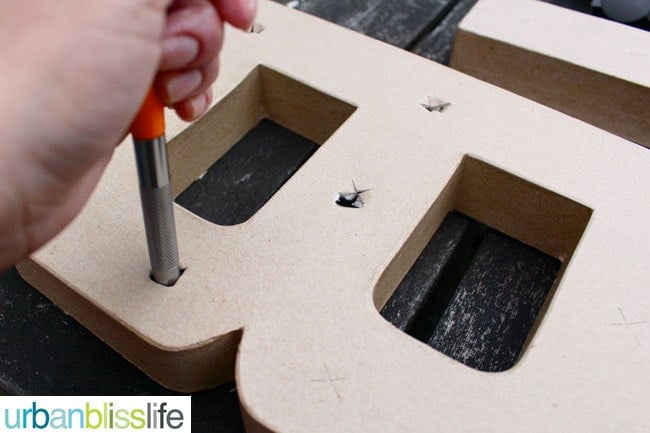 When you are done with this step, it will look like this: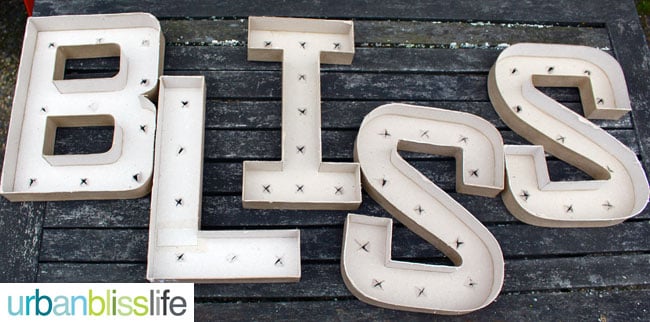 STEP 3: Time to spray paint! Do this outside or in a well-ventilated space inside. I use big flattened old boxes as the base of my spray paint projects, but you can use a drop cloth or newspaper. Just be careful with newspaper, as it can stick to the letters if you use too much spray paint.
STEP 4: First, I want to note the color variances from the photo above and the photo below are from lighting issues. The blue is more of an aqua/turquoise as shown in the top photo, taken outdoors. Okay, moving on . . .
Next, it's time to place the bulbs in. You will want to unscrew the bulbs from the string base first. I used the cardboard separator that came with the lights to hold the bulbs so they don't wobble around all over the table and break.
You'll gently push the string base through each cut hole, then screw bulbs back in. You might want to take a minute to strategize the flow of the string base, as you'll want the string to move easily from one bulb to the next without having to criss cross the string. Does that make sense? Then, you'll want to make sure the last bulb you put in for Letter #1 is at the bottom so that it seamlessly can move to the Letter #2 without too much or too little string.
I should have probably done a video tutorial for this. Ah well. Next time! ;)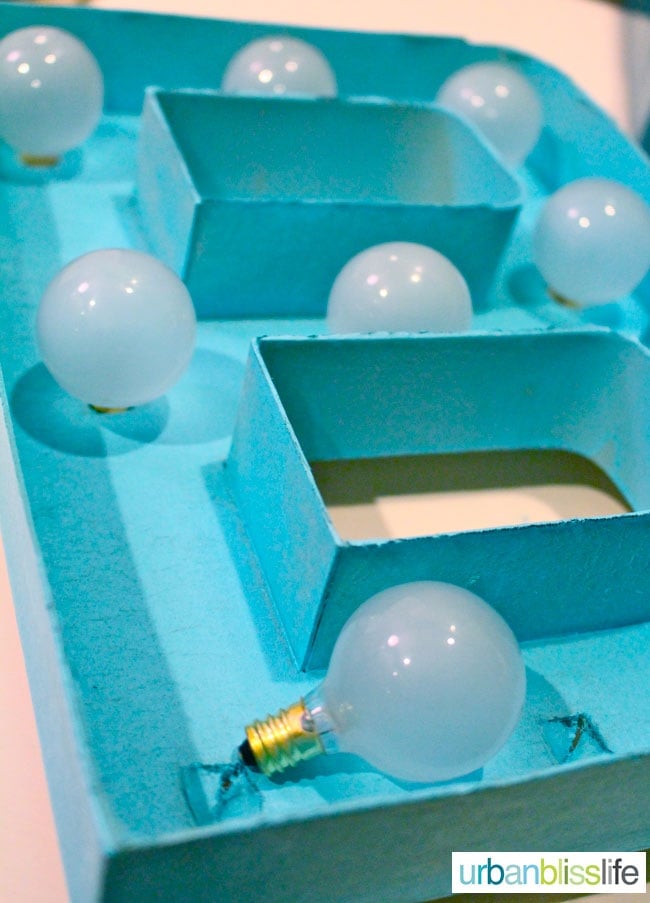 STEP 5: Finally, I taped down the strings in the back as best as I could so that they wouldn't all stick out of the sides. This is trickier than it looks. I used packaging tape but just use any sturdy tape you have.
Then all that is left for you to do is plug that beautiful baby in and stand back, basking in all its BLISSful DIY glory!
It really was easy to make and required no power tools!
What DIY Marquee Letters should I make next? Initials for our bedroom? PLAY for the backyard, so it can light up outdoor dinner parties? CHEERS for our kitchen/dining room? Hmm. . . so many possibilities! What would YOUR DIY Marquee letters spell out?
This post contains affiliate links.
More Free Printables and DIY Projects