It's raining unicorns at Hawks View Cellars. Tasty, tasty unicorns -- and some exciting news for those who plan to go wine tasting in the Chehalem Mountains AVA anytime soon!
The 2013 White Pinot Noir is known as The Unicorn Wine, since it is much talked about but seldom seen! It was just bottled and I was honored to be the first "civilian" wine taster to try this rare glorious wine.
What is White Pinot Noir?
White Pinot Noir is made from traditional red Pinot Noir grapes. It's then fermented in the absence of the red grape skins to give it the light transparent color.
Some people describe White Pinot Noir as the red wine drinker's white wine.
It is a medium-bodied white wine with notes of apple and pear. I love it.
Other New Releases
In addition to the 2013 White Pinot Noir release, Hawks View Cellars is releasing the 2012 La Baleine. Known as The Whale, this vintage is the most daring combination to date for the family-owned vineyard and winery. The 2012 La Baleine includes:
Cabernet
Merlot
Malbec
Petite Verdot
Syrah
Pinot Gris
How's that for a complex wine? I have to say, I'm fascinated by the 2012 Hawks View Cellars La Baleine. Each sip gifted a different note forward. Sometimes I tasted more of the rich Cab and Merlot, other times, the softer Syrah. It's a rich red wine that I think would pair so well with some grilled meats, hard cheeses, and pasta dishes.
Wine Tasting Room Now Open
More exciting news from Hawks View Cellars: their tasting room, formerly by appointment only, is now open to the public each Saturday and Sunday from 11am - 5pm.
As you can tell, owner A.J. Kemp is pretty excited. Here he is holding the new tasting hours sign before it was installed:
The indoor space is warm and inviting, with rich reds, wood, and stone, and a lovely fireplace to warm you up.
Hawks View Cellars also has fabulous outdoor space, perfect for wine tasting on a sunny day (the photo below is from a rainy day -- so UNtypical in Oregon - ha! ;)), and also available for rent for private events.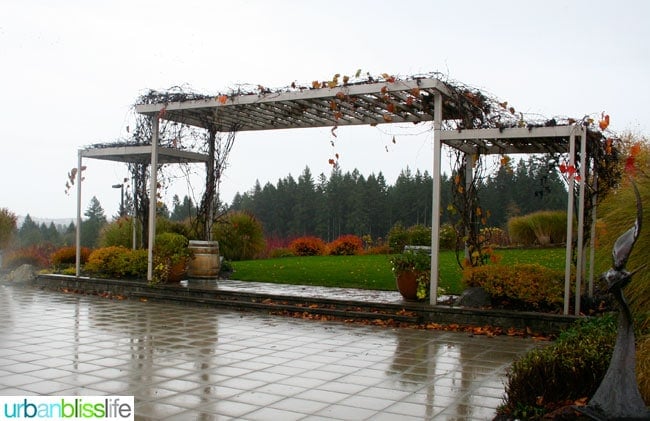 Hawks View Cellars makes some of my favorite wines, and my husband's favorite Syrah. Definitely check them out and add them to your summer wine tasting itinerary!
Visit Hawks View Cellars
20210 SW Conzelmann Road
Sherwood, OR 97304
(503) 625-1591
www.hawksviewcellars.com