For this week's Make It Monday, I designed a free spring printables banner to adorn any home or office with pops of spring color.
Spring in Oregon means sunshine/sprinkles/rainbows/drizzle/wind/showers/grey one minute, then bright and sunny the next. Since the weather is not predictable, I figured it would be nice to have some constant sunshine inside.
So even if it's still snowing where you live (sorry, friends that still have snow!), you can warm things up a bit with these spring printables.
There are three pages in the FREE spring printable PDF file. Each letter is 5.5" x 7".
You can punch holes at the top of each banner letter as I did, and string along your mantle. I also thought it would be cute to Modge Podge the letters onto a canvas and hang it on the wall.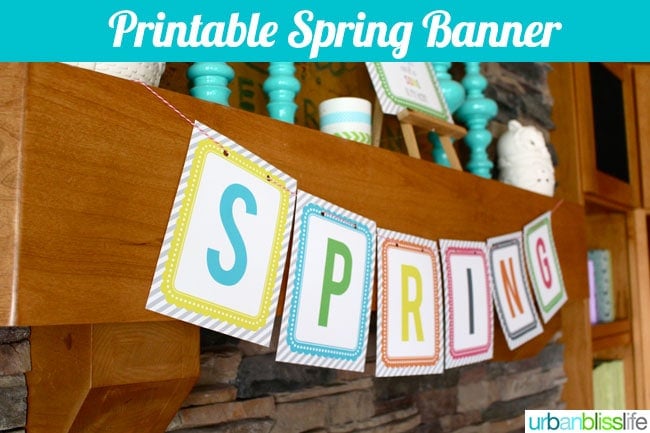 Printable Spring Poster
I also designed a coordinating spring poster that you can print out and either frame or simply pin up somewhere in your home, office, kitchen, or bedroom for an additional little pop of spring color. You can download the spring poster over on my friend Kim's blog, Today's Creative Blog. Pop on over to her awesome site and check it out!
Printable Directions
1. Download the free spring printable banner or the free spring printable poster, and save it to your computer.
2. You will need Adobe Acrobate to view the PDFs. You can download it for free from Adobe.com.
3. Print onto thick cardstock and cut along the edges. For the letter banner, cut each one in half as well.
We're supposed to hit the 70's this week in Portland . . . maybe my spring printables added a little bit of weather luck to the air? Who knows? Try printing these out and hanging them in your home and see if it works on your weather! ;)
Have a lovely week, friends!
More DIY Craft Ideas