Did you know that I am part Italian? Oh I may technically be Filipino-American, but part of my heart and soul and, many Italian friends have agreed, as far as my stomach is concerned - I've got some Italian in my veins.
I LOVE Italian food. Northern, Southern, and everything in between. Pastas, risottos, fresh veggies, fresh fish, gelato, cannolis... and who can forget bold Italian wines? Bring it on, bring all of the deliciousness of Italy on, I say!
Last month, the wannabe Italian side of me was thrilled to try out Mucca Osteria, an Italian restaurant in downtown Portland.
The previous tenant had also been an Italian restaurant, but I absolutely love what the owners have done with the space to make Mucca Osteria truly feel like a cozy Italian cafe in the middle of the city. The restaurant has two floors and an open kitchen, with exposed brick walls, dramatic black ceilings, and rustic globe chandeliers.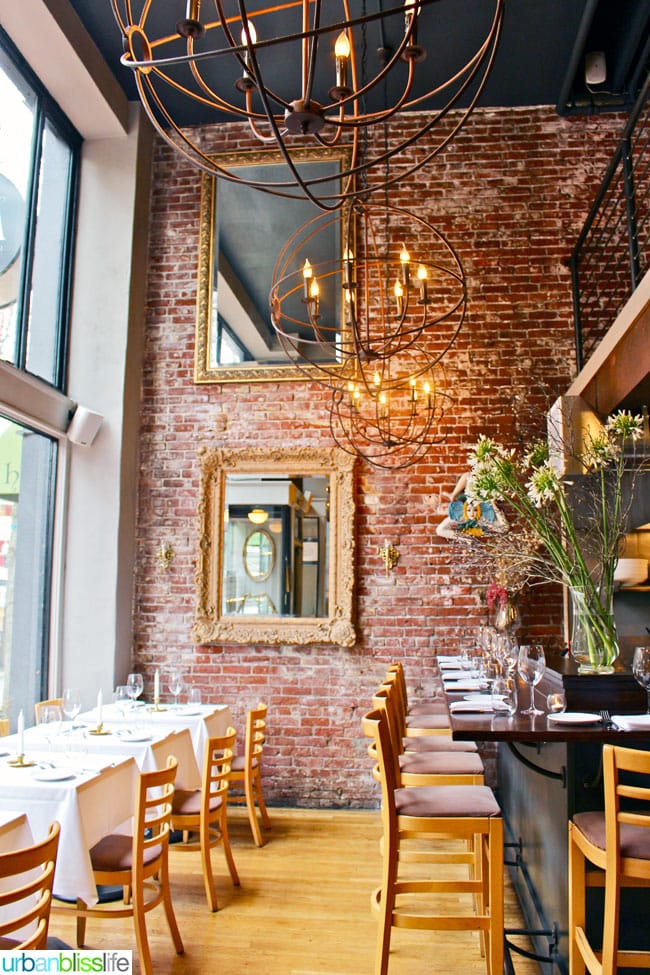 The service was excellent during our visit. Our waiter was able to help us pick a wine to our liking (Italian wines still baffle me), and our dishes were well timed.
For starters, I enjoyed the charcuterie plate. If you're used to charcuterie plates containing simple hard salamis and traditional prosciutto, this one might take some getting used to for you; if you love housemade terrines and pates and interesting meats, this one's for you. While I couldn't finish the whole thing, I did thoroughly enjoy the duck pate and the pork terrine. The cured meats change so be sure to ask what the day's selection includes.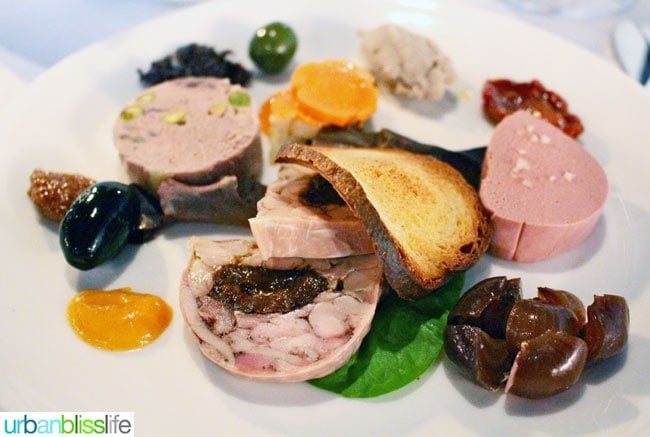 The stunner starter that I would highly recommend to all who dine here is the Capesante Gratinate: seared sea scallops with truffle-Parmsan fondue. Oh my delicious! These scallops were so perfectly seared, with the flavors and juices locked into every bite. The accompanying truffle-Parmesan fondue sauce was a fine, slightly sweet complement to the rich flavors of the scallops.
I had heard wonderful things about Mucca Osteria's signature pappardelle dish, so I had to try that for my entree. The Pappardelle al Cinghiale is pappardella pasta with slow braised boar ragu. The pappardelle is made in-house, as all of their pastas are, and the freshness allows the ragu to shine. A lovely hearty entree that goes well with rich Italian red wines.
For entrees, my husband enjoyed the Tagliatelle con Salsiccia, Pancetta e salsa allo Zafferano, which is tagliatelle pasta with cured pork belly, sausage, and saffron sauce. I could have eaten a whole plate of this myself as well, in addition to my own dish. The saffron sauce was a wonderful complement to the pork belly and sausage.
For dessert, I had to try their tiramisu. This used to be the go-to dessert that I would make for parties and I remember when almost every restaurant, Italian or otherwise, had tiramisu on their dessert menu. Now that the tiramisu craze has died down a bit, it's truly nice to enjoy once in a while at the end of a rich meal, and Mucca does a solid job with their tiramisu.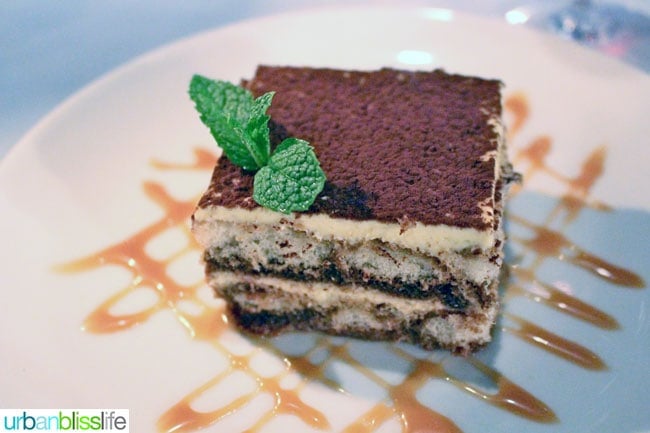 Overall, my husband and I were very happy with our dining experience at Mucca Osteria. Reservations are recommended, especially Thursday through Sunday night. The prices are reasonable for a lunch or date night out, with lunch specials ranging between $7 and $9, dinner pastas ranging from $17 -$19, and larger dinner entrees in the $20+ range. You can find a delicious wine in the $30-$50 bottle range. I wouldn't recommend it for large groups with lots of kids, since the space is small and intimate, but I'd take my daughter (age 7) or son (almost 10) here for a nice meal out. It's ideal for a lunch meeting, date night, or night out with 2-3 friends. Service is wonderful, the space is lovely, and the food is very well done. We'll be back for sure! I'm already craving those scallops . . .
Mucca Osteria
503.227.5521
1022 sw morrison st. portland, oregon 97205
www.muccaosteria.com
More Restaurant Guides