Traveling to Southern Oregon? Save this list of coffee shops, breweries, and restaurants in Roseburg, Oregon!
Southern Oregon is an outdoor adventurer's paradise, but did you know it's also a blossoming foodie paradise?
If you haven't been to Roseburg recently, it might be time for a visit. If you're doing a road trip between Oregon and California, it's a great spot to stop for a bite -- or for a weekend getaway!
My fave restaurants in Roseburg
I recently traveled to Roseburg in a quest to find some of the best places to eat. I discovered some delicious new finds! Be sure to PIN THIS and save it for your next trip to Southern Oregon!
Coffee at Gathering Grounds
Gathering Grounds Coffeehouse
949 SE Oak Ave
Roseburg, OR 97470
Fuel up for a day of adventure in Southern Oregon at Gathering Grounds Coffee. Enter through the unassuming facade on Oak Street in downtown Roseburg. Inside you'll find a comfy coffee shop with plenty of seating and games if you want to hang for a bit. Order the Lavender Dream Latte (they can make it dairy-free/vegan!) and one of their fresh baked scones. I had the peanut butter chocolate chip scone and loved it!
Lunch at Brix Grill
Brix Grill
527 SE Jackson St
Roseburg, OR 97470
Open for breakfast, lunch and dinner
Located in downtown Roseburg, Brix Grill is a great place to stop for lunch. And you can get breakfast here, too, until 3pm!
The spacious restaurant and its adjacent bar area share the same, large menu. The 527 Burger (pictured above) is popular, but be prepared to flex your creative eating muscles in how you attack this massive beast of beef. It's served with a heaping side of waffle fries, and can probably be split between two people.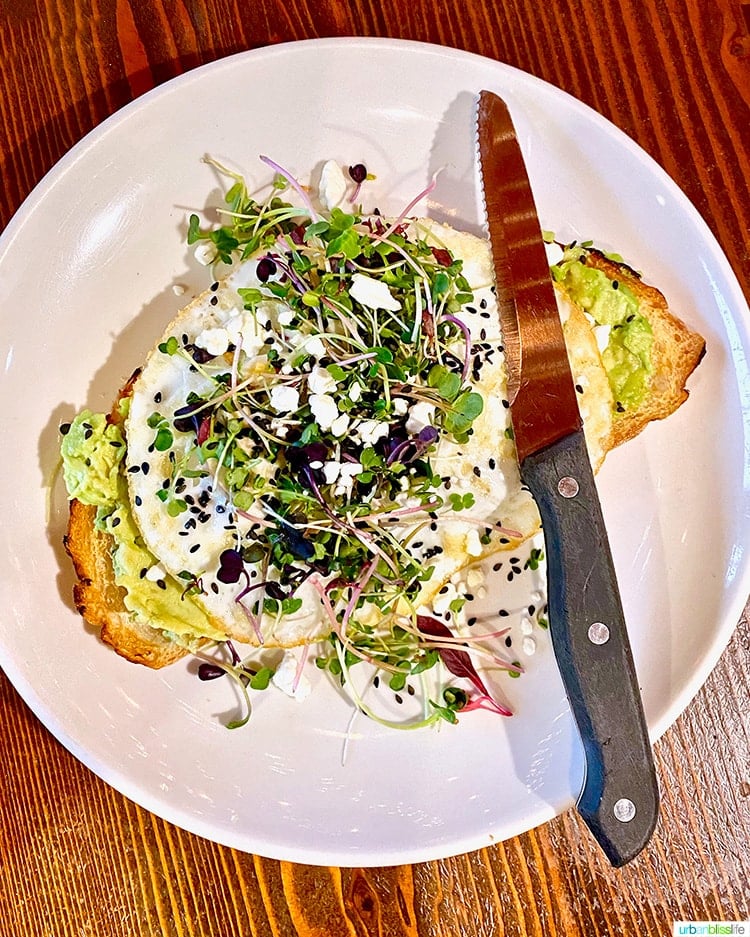 I also enjoyed the avocado toast, which was served with a fried egg, feta cheese, and microgreens on top.
If you have time, definitely stop here for a local beer or glass of local wine to enjoy with your meal.
Lunch at Backside Brewing
Backside Brewing Co.
1640 NE Odell Ave
Roseburg, OR 97470
Open for Lunch and Dinner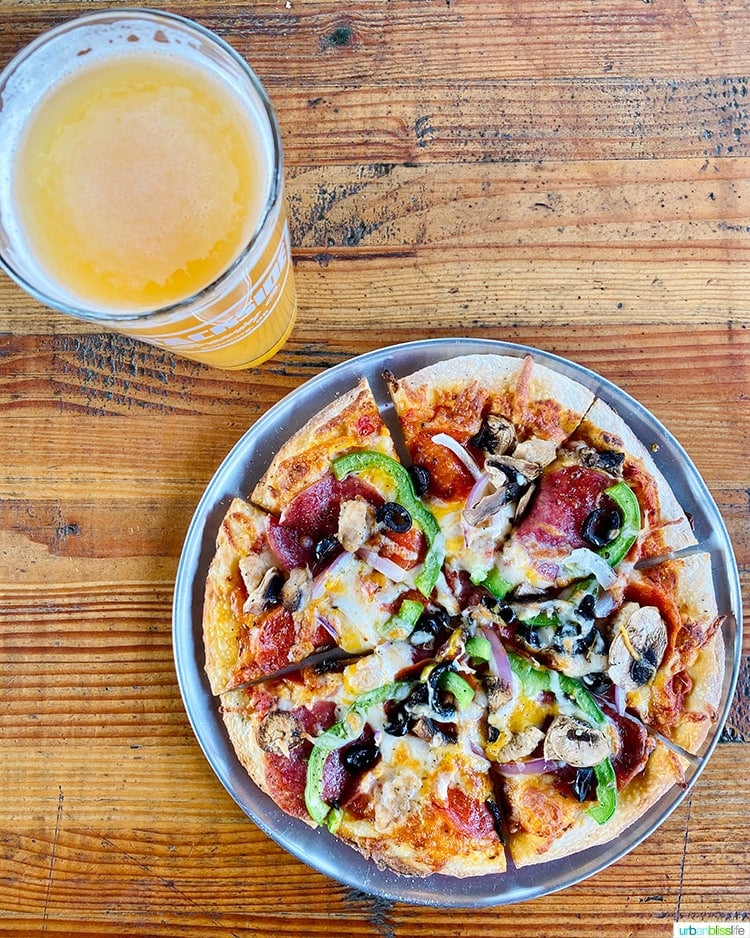 The next stop on my tour of restaurants in Roseburg was Backside Brewing. This local brewing company is an excellent place to refuel after a morning of outdoor adventures in the Umpqua Valley. I dropped by on my way back to Roseburg after hiking to the Susan Creek Falls waterfall. Their pizza is popular, and with good reason. I ordered the popular meat lover's pizza, and I have to say: this is one of the best pizzas in Oregon that I have eaten! There's the perfect balance of fresh toppings to a lighter amount of sauce and cheese. SO GOOD, you guys.
I tried one of Backside Brewing's most popular beers, the Chasing Hazy IPA. It was the perfect accompaniment to the pizza.
If you're here on a sunny day, try to grab a seat outside. They have high tables under a covered area, as well as picnic tables on the lawn by a selection of lawn games.
Dinner at True Kitchen + Bar
True Kitchen + Bar
629 SE Main St
Roseburg, OR 97470
Open for dinner M - Sat; closed Sunday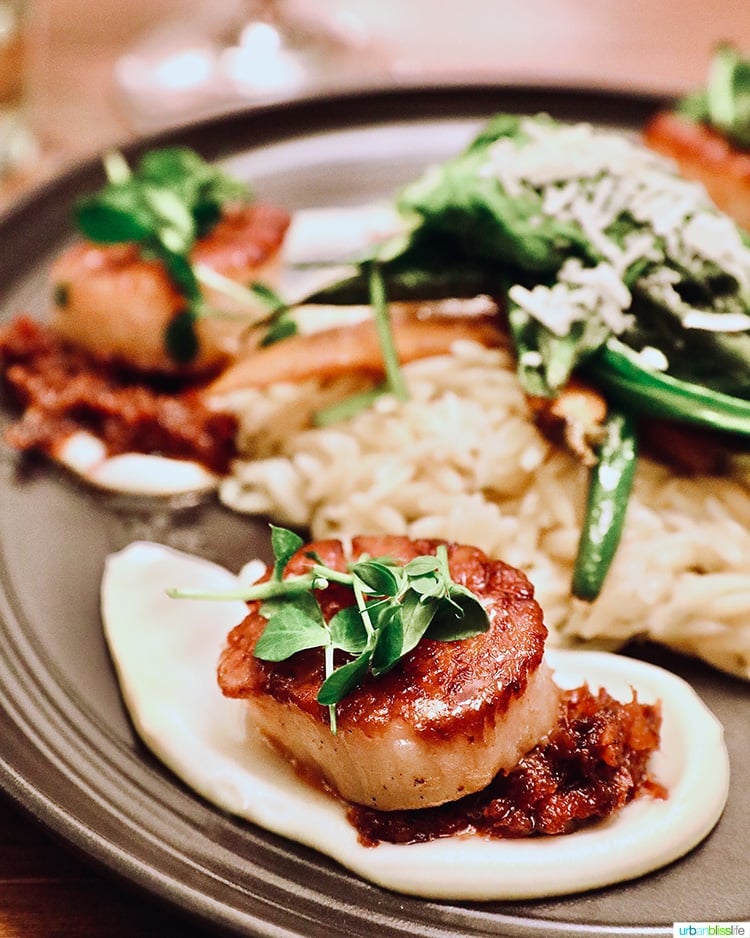 Bar none, one of the best restaurants in Roseburg Oregon, is True Kitchen + Bar.
This sleek and modern downtown Roseburg restaurant oozes of Pacific Northwest charm. Whether you are seated in the bar area or the separate dining room, you'll enjoy a warm, cozy dining experience here.
I enjoyed the gluten-free Ahi Tataki ($14) starter dish. It's a beautiful presentation of either blackened or sashimi ahi tuna (I chose sashimi), garlic-lemon tamari glaze, wasabi, pickled ginger, and nori. This is definitely a dish that can be shared among a table of four.
For my main dish, I loved the Seared Scallops ($32). During my visit, the scallops were served with bacon jam and parmesan-herb orzo topped with sautéed greens, olive oil grilled haricot verts, and heirloom carrots. Divine!
True restaurant makes everything from scratch daily, including their desserts. One of the popular desserts here is the Skillet Cookie ($9). This double chocolate chip, hazelnut skillet cookie is topped with Umpqua Dairy vanilla bean ice cream. A finishing drizzle of house caramel and sprinkling of sea salt makes this a memorable dessert.
Dinner at The Parrot House
The Parrot House
1851 SE Stephens St
Roseburg, OR 97470
Open for lunch, dinner, happy hour, and Sunday brunch
For a romantic date night dinner or a special occasion dinner, celebrate at The Parrot House. This Victorian-style house is on the National Historic Registry. You can sit in the casual bar area, or dine in the formal dining room. There is also outdoor seating on sunnier days.
The menu at The Parrot House is fairly traditional, but the chef places an emphasis on using local ingredients throughout each dish. I highly recommend the 3 Beet Salad ($12); I love the lavender honey drizzle and the pepitas add some nice salt to balance the sweet and some crunch as well.
The Filet Mignon ($35) is made from local beef, and I love how you can order the steak on its own or add some surf to the turf. I opted to add scallops ($10) upon the recommendation of my waitress, and am very glad I took her up on the suggestion. The scallops were delicious!
More Restaurants in Roseburg
I hope you found this food travel guide helpful! When I travel, I am always looking for the best places to eat near me. So I create these guides to help others who love food and travel discover the best restaurants!
For more restaurants in Roseburg, Oregon, be sure to check out Travel Southern Oregon and Travel Oregon.
More Oregon Travel Guides
PIN IT: