Southern Oregon wineries continue to produce world class Oregon wines. If you're traveling to Southern Oregon, consider wine tasting at these top Roseburg wineries.
When wine lovers ask me about Oregon wine, they most often refer to our Willamette Valley Pinot Noir.
While I LOVE Oregon Pinot Noir, I also really love sharing with others how much more Oregon wineries have to offer.
Wine Enthusiast named Southern Oregon a Top 10 Global Wine Destination in 2016. Southern Oregon wineries, including Roseburg wineries, cover a wide range of climates and topography. Here, you'll find more than 70 varietals. Popular wines from this region are big reds (Tempranillo, Syrah) and German-style white wines (Rieslings, Grüner Veltliner).
While wineries near Portland in the north part of the state also produce these varietals, the Willamette Valley wine region is definitely more known for producing its world class Pinot Noir.
One of the things I really love about going wine tasting in Oregon, is the warm atmosphere and personalized service you find in most tasting rooms. Southern Oregon wineries, in particular, tend to be family-owned and operated; there's a good chance that the person pouring your wine will be one of the owners or the winemaker.
The first three Roseburg wineries featured here are all family-owned and operated; the fourth is an urban winery. I loved wine tasting at all of these Oregon wineries, and hope you will, too!
Cooper Ridge Vineyard
Cooper Ridge Vineyard
1389 Old Garden Valley Rd
Roseburg, OR 97471
Wine Tasting Room Hours: Tues - Sun, 12 - 6pm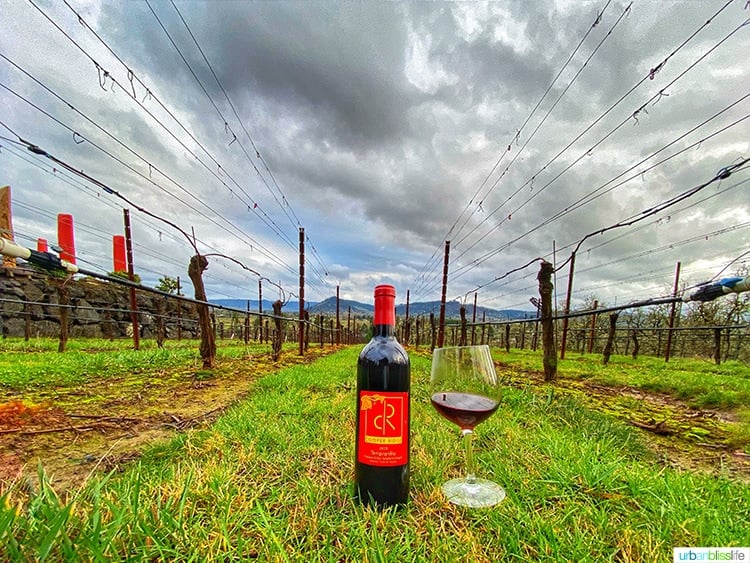 Cooper Ridge Vineyard has one of the best vineyard views of all Southern Oregon wineries I have visited. It overlooks the estate vineyards, the North Umpqua River, and also has beautiful mountain views.
This Roseburg winery offers seven varietals. Their award winning estate wines include Tempranillo, Syrah, Pinot Noir, Merlot, Viognier, Grüner Veltliner, Riesling and more.
Wine Tasting + Tour at Abacela Winery
Abacela
12500 Lookingglass Road,
Roseburg, OR 97471
Wine Tasting Room: Open daily 11am - 5pm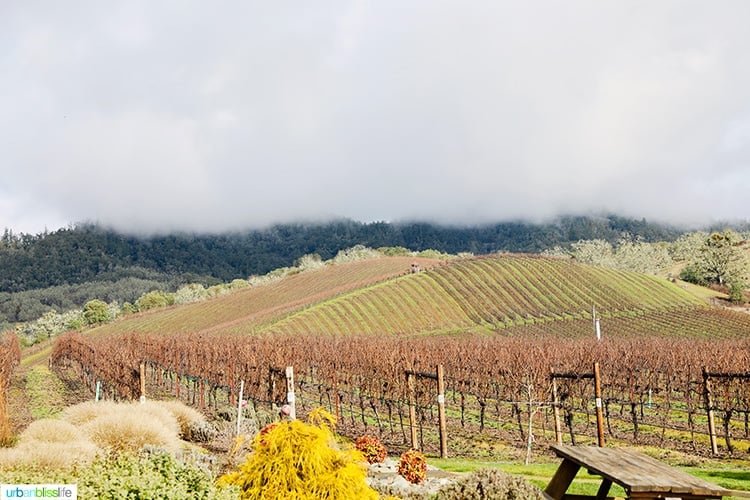 The second stop on my tour of Roseburg wineries was Abacela. Owners Earl and Hilda Jones are two of the nicest, warmest people you'll ever meet in the wine industry. Their passion and curiosity in their quest to continuously produce world class wines is evident when you go wine tasting at their winery.
This year, 2020, Abacela winery celebrates its 25th anniversary. I recommend tasting through my faves here, especially the Tempranillos: from the popular Fiesta Tempranillo, the Barrel Select Tempranillo, and the Paramour Tempranillo. Definitely make sure you try the Abacela Albariño.
However, you can also try varietals that are had to find elsewhere in Oregon, such as Tinta Amarela and the 10 year Colheita Port.
To learn more about wine tasting here, check out my full blog post about Abacela winery.
Reustle-Prayer Rock Vineyard
Reustle Prayer Rock Vineyards
960 Cal Henry Road
Roseburg, OR 97471
The very first Grüner Veltliner ever to be introduced in the United States came from Reustle-Prayer Rock Vineyards.
This family-owned Roseburg winery was founded in 2001 by Steve and Gloria Reustle and sits on 200 acres (40 acres are planted vineyards) near the Umpqua River. The wine tasting room and surrounding outdoor ampitheatre is a fascinating combo of colorful whimsy and formal decor.
You can taste Reustle's 15 different varietals in the tasting room. All tastings are sit down tastings with light bite food pairings, inside the wine cave. Here, you'll also find a bar area and fireplace seating, as well as outdoor seating on sunnier days.
Paul O'Brien Wines
Paul O'Brien Wines
609 SE Pine Street
Roseburg, OR 97470
Wine Tasting Room Hours: Daily, 11am - 5pm
Paul O'Brien Winery is one of only two urban Roseburg wineries. Located in a former car dealership, the winery buys grapes from around the region. All of their wine is produced in the downtown location. The spacious tasting room has plenty of space to sit and enjoy a tasting or a bottle split with friends.
I enjoyed tasting their Pinot Noir. Also, be sure to taste their Charlamagne - a Chardonnay and Pinot Blanc done in the classic Burgundy style. And if you're looking for a special occasion bottle, Paul O'Brien's La Dame ($75/bottle) is said to be "wine fit for a king!"
More Southern Oregon Wineries
There are so many more wineries in Roseburg, Ashland, Medford, and surrounding areas to explore! For more info to help you plan your Oregon wine tasting travels, visit Travel Southern Oregon and Travel Oregon.
More Southern Oregon Travel
And if you're looking for more about this area, check out these guides:
Looking for where to go wine tasting in Oregon? Read our full Dundee Hills Winery Guide, with our top recommendations for wineries to visit in the Willamette Valley's Dundee Hills AVA.
More Wine Travel Guides
PIN IT: