Looking for places to eat in Eugene, Oregon? Check out Party Downtown, a cute restaurant and catering company serving fresh local cuisine.
Party Downtown
Like many college towns, food carts are popular in Eugene, Oregon. Eugene is the second largest city in Oregon, and is located about two hours south of Portland.
In 2011, Tiffany Norton and Mark Kosmicki opened up Party Cart, a food cart focused on creative, organic food at reasonable prices.
In 2016, like so many successful food carts, they moved operations to a brick and mortar spot located in downtown Eugene, just behind the popular Red Wagon Creamery.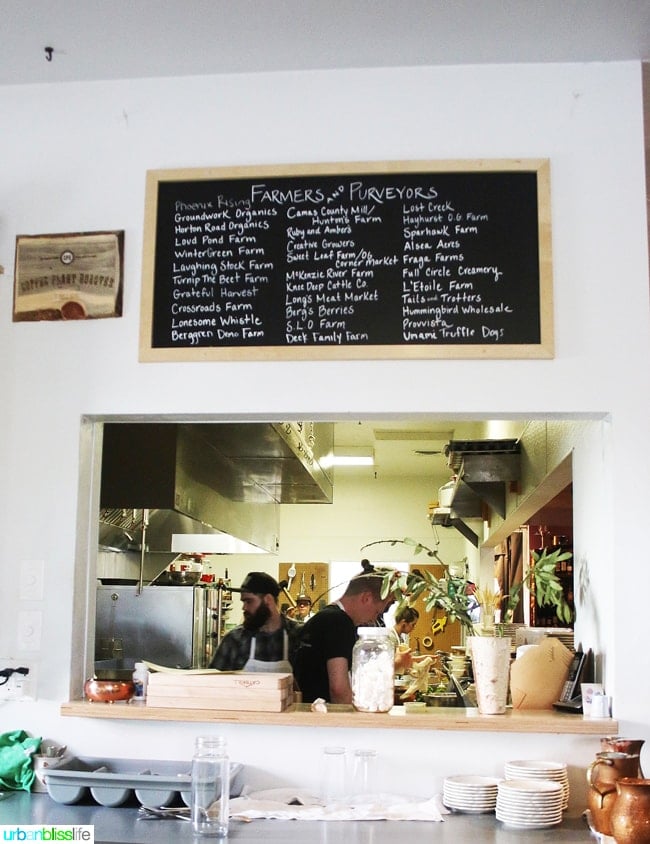 When I travel solo for media trips, I usually ask Instagram, Facebook, and Twitter (and now my Food, Wine, and Travel Bliss Facebook group) for suggestions on where to eat. Party Downtown came up as a suggestion from several different foodie friends and non-foodie friends alike as one of the best places to eat in Eugene. And with a name like Party Downtown, how could I NOT check it out?
The space itself is small and narrow, but with enough seats for almost 75 people. The vibe is very casual and super family-friendly. On the night of my visit, there were college kids dining there with their visiting parents, families with toddlers, a group of co-workers, and a couple of awkward first date folks.
Wines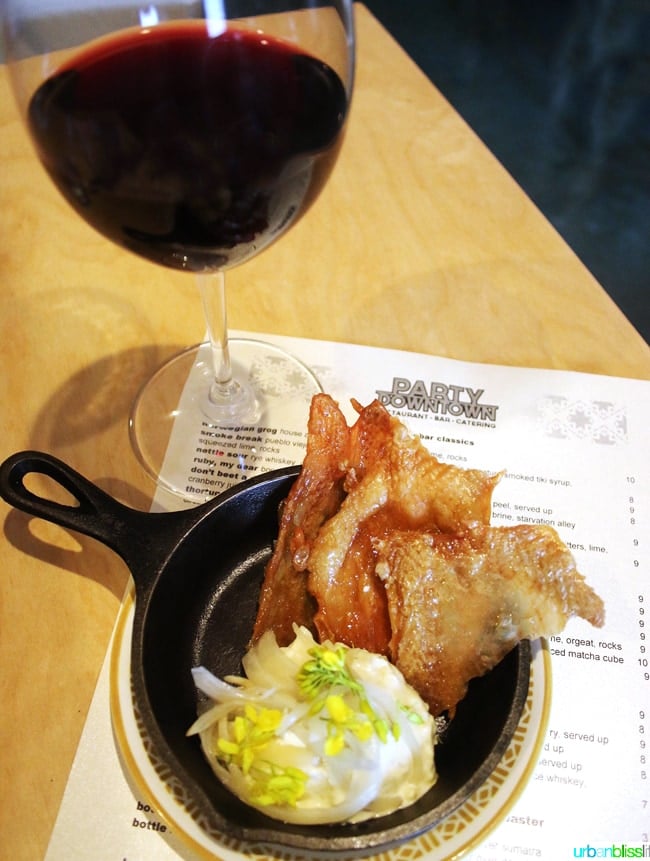 The wine list at Party Downtown is quite lengthy for a smaller establishment. It consists mostly of Oregon and Washington wines, with a few wines from Italy and France as well. I kicked things off with a glass of bubbly before moving on to red wine.
Party Downtown also reportedly has a top notch cocktail program, according to some fellow cocktail writers. If you go, be sure to order a cocktail and let me know how it was!
Food
The food at Party Downtown has a distinct Pacific Northwest flavor with Southern influences. The menu is stacked with dishes made from ingredients that are in season from local farmers, meat that is humanely raised, and produce that is ethically grown.
I'm going to warn you now: on the night that I dined here, I was on a solo media trip, itching for true comfort food. Therefore, you're not going to see many healthy dishes in the photos... just know that you can get wonderful salads here, but this visit was neither the time nor the place for low calorie anything.
So let's dive in...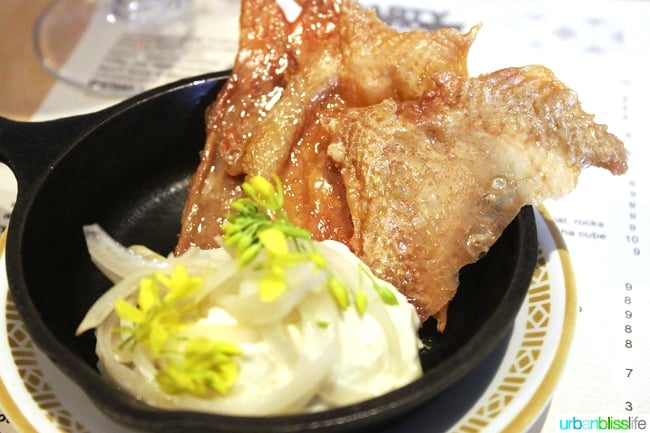 Fried chicken skin, you say? YES, PLEASE. I don't even know if they still serve this anymore – and you should know that the menu changes regularly based on what's available – but if you see this on the menu, get it!
You can also get starters such as smoked oyster dip ($9) served with purple potato chips and seasonal vegetable crudité.
Moving on to the main course...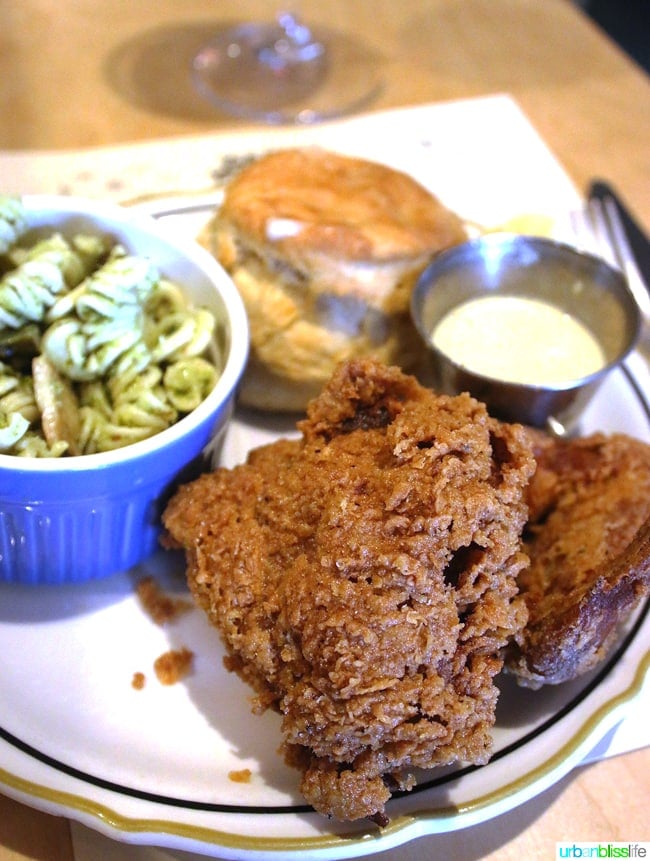 Because fried chicken is one of my favorite foods in the world, I of course had to try the fried chicken at Party Downtown.
Here, you get southern-style, sweet tea brined locally-raised chicken (this one is from Phoenix Farm) served with white barbecue sauce, and the choice of two sides. I chose the buttermilk biscuit (because: bacon honey butter, y'all!) and the pesto pasta salad.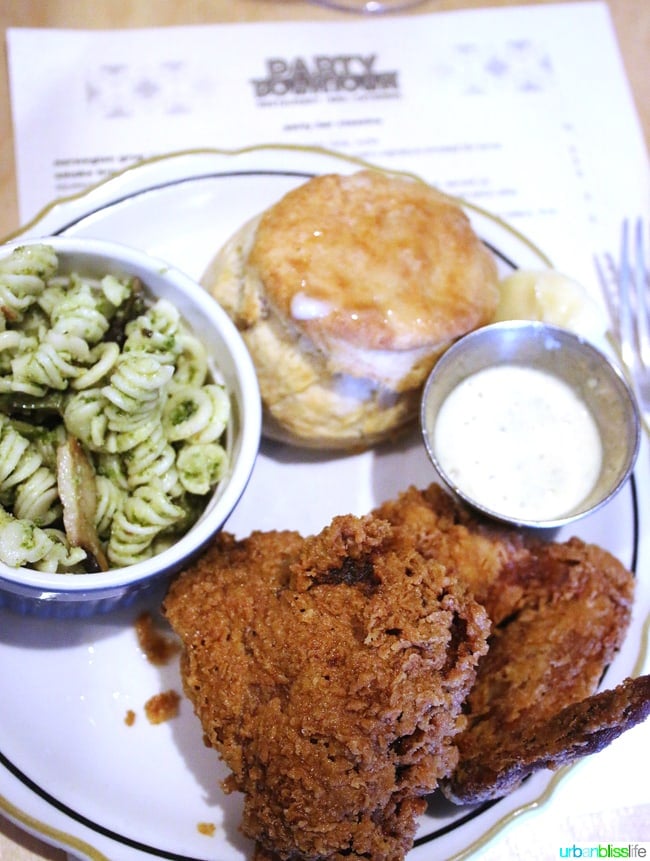 This fried chicken had a wonderfully crisp, crunchy coating that covered a nice, tender chicken meat. The brine lent a delicious, slightly sweet flavor.
If they offered this by the bucket, I would have ordered two.
And the biscuit was flaky and buttery, as every biscuit should be.
My dessert may seem like a whole lotta yellow happening on one plate, but it was truly delicious and light. I had the pavlova meringue with lemon curd and candied lemon rind, with some local edible flowers. It was a nice sweet and bright way to end the meal.
Visit
Party Downtown emphasizes the community's whole commitment to local, organic, ethical farming and presenting the results in approachable dishes that happily feed the masses.
I really enjoyed my dinner at Party Downtown, and look forward to visiting again on my next trip to Eugene. Next time: I promise to sample food with more healthy color in it, and a few of their cocktails, too!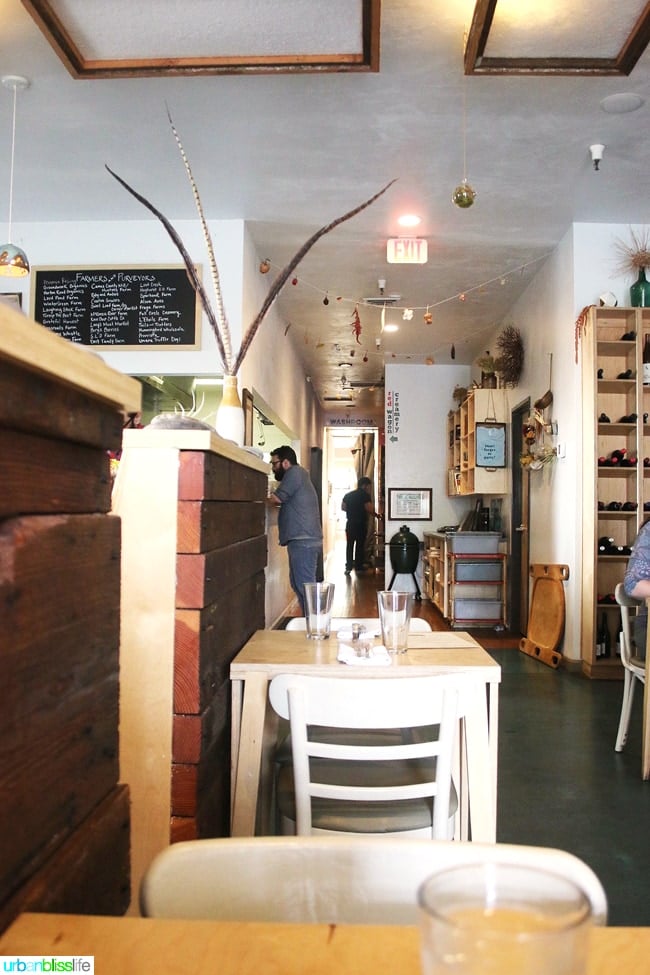 64 West 8th Alley, (Behind Red Wagon Creamery)
Eugene, OR 97401
(541) 345-8228
HOURS:
Tuesday - Thursday and Sunday: 5:00 - 9:00 pm
Saturday 5:00 - 10:00 pm
If you are in the area, Party Downtown also offers catering services.
For more information, visit the Party Downtown restaurant website
Have you ever been to Eugene, Oregon, or dined at Party Downtown? If not, where's the best fried chicken you've ever enjoyed at a restaurant? I am serious about my fried chicken research.