Comfort meets retro-modern in the stylish Ashland Hills Hotel and Suites, one of the best places to stay in Ashland, Oregon.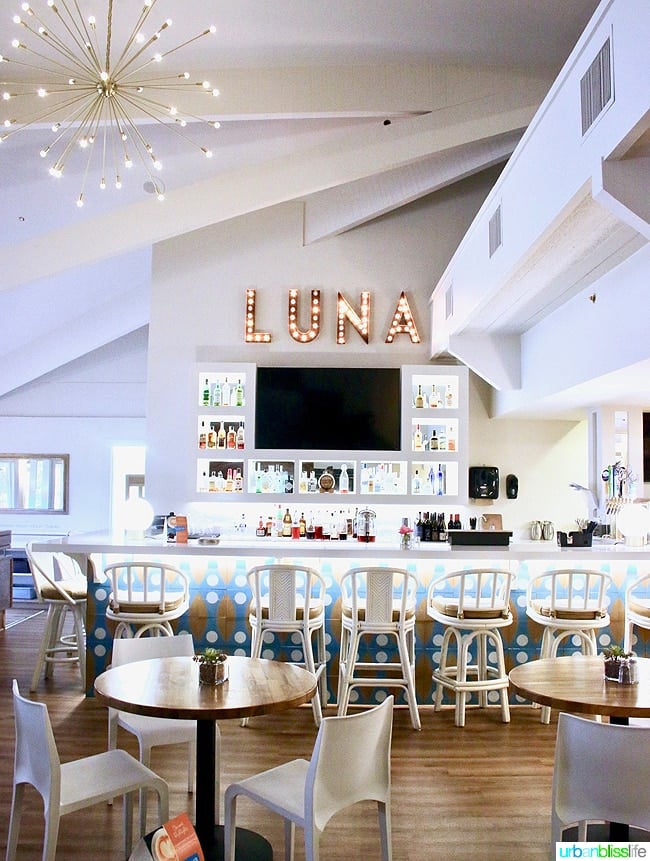 As soon as I stepped into Ashland Hills Hotel and Suites, I knew I was home.
This hotel, conveniently located right off of I-5 at the edge of the Oregon/California border, is the ideal road trip stop for travelers looking for comfort and style.
Jump to:
Ashland Hills Hotel and Suites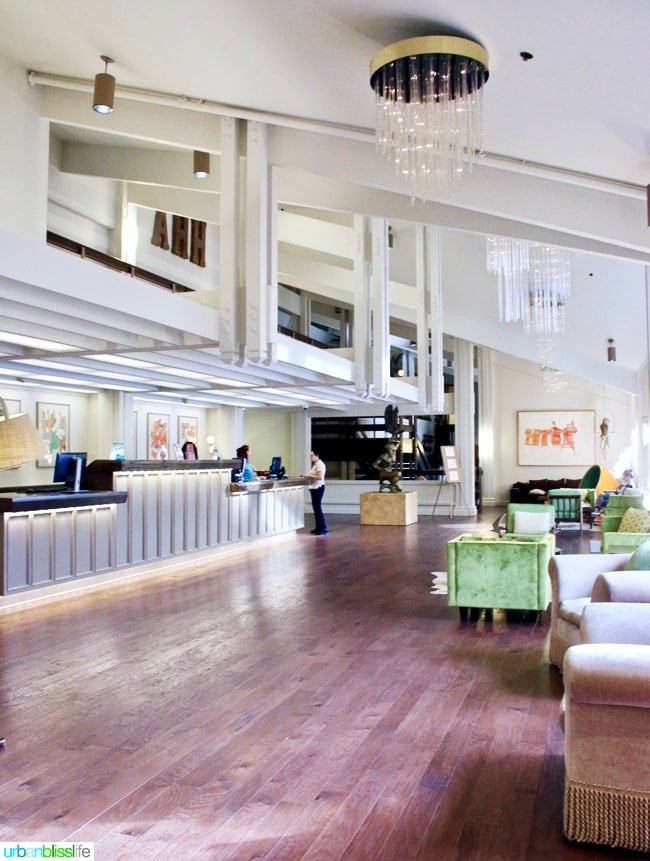 After Ashland residents Doug and Becky Neuman purchased the old Ashland Hills Inn a few years back, they transformed it into the beautiful, modern Ashland Hills Hotel and Suites.
With more than 100 guest rooms, 70 spacious suites, a cafe, and large, flexible event space, the Ashland Hills Hotels and Suites is the ideal spot for road trip warriors, families, business travelers, weddings, business events and conferences, and outdoor enthusiasts visiting Ashland to take advantage of the nearby mountains and rivers.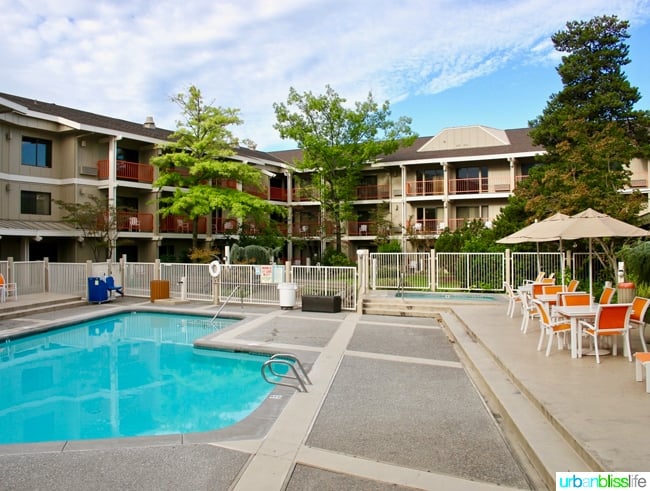 The hotel has a large outdoor pool and jacuzzi, with plenty of lounge seating. Thanks to the warmer, drier climate in Southern Oregon, you'll likely have the chance to enjoy these hotel features during most of the year.
Retro modern style
Now, I've stayed in hundreds of hotels in my lifetime. I've seen all kinds of hotel design and decor. What Becky Neuman did with the interior of this hotel helps it stand out above the rest, and is part of what it makes one of the best places to stay in Ashland.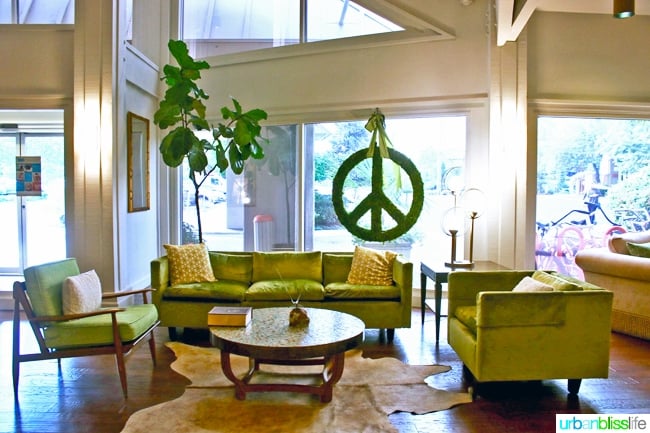 From the guest rooms to the pool area, from the lobby to the event spaces, Neuman has successfully tied together a retro-modern style throughout the hotel. And, she's managed to keep it interesting in every nook and cranny.
Walkways are adorned with colorful modern art pieces, creative lighting, and comfortable yet super stylish couches and chairs. There's no shortage of space where you can wait for your friends or family to meet up, or where you can just get away from your room and read a book.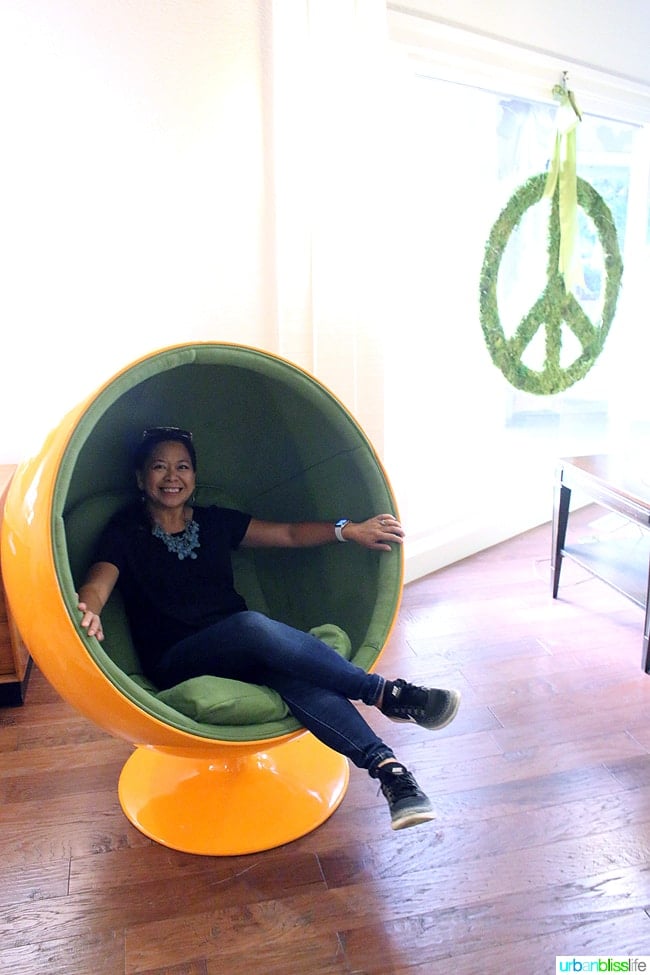 The orange circular swivel chair in the lobby with seventies green cushioning is THE spot for your Instagram photo. I'm willing to bet kids of all ages have sat in that chair for countless minutes, swiveling in circles with big wide silly grins.
Event space
The hotel boasts of several large banquet halls and conference rooms, totaling more than 15,000 square feet of banquet space.
The hotel's newest addition is the Stardust Lounge: a stunning centerpiece of fun and merriment for your next holiday party. With 2470 square feet, the Stardust Lounge features a large center bar, multi-level seating, fireplace seating, and access to a deck overlooking the Ashland hills.
Book your next party here and remember to invite me, please! I love this space!
Comfortable, stylish suites
The fab decor extends to the hotel's 100+ guestrooms and 70+ suites.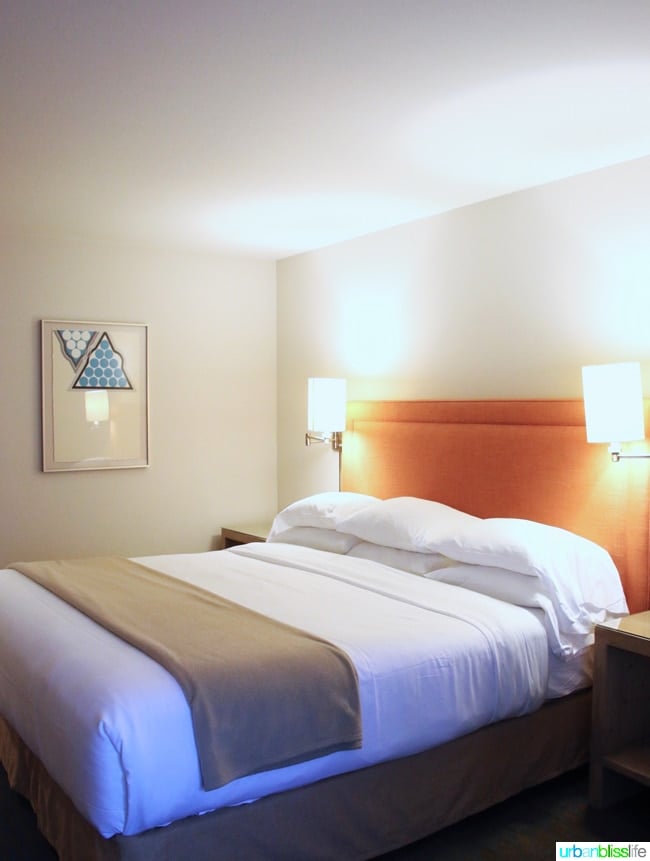 The suites are all decorated differently, with comfortable beds and cozy, mid-century seating and accessories.
Many of the rooms have a small terrace or balcony. Mine faced the pool area, making it a great room if my kids were with me. Quick access to the pool, and a terrace where their swimsuits could dry! There's a nice amount of privacy given to the terraces thanks to trees and bushes well placed throughout the grounds.
My room was spacious and quiet. The walls are wide in this hotel, and even though I had neighbors on both sides of me, I really couldn't hear them unless I was outside of my room in the hallway.
Each room comes with free WiFi, mini fridge, coffee maker, flat screen TV, hair dryer, ironing board, and complimentary continental breakfast. There are also plenty of outlets to recharge your electronic devices, which you know is a huge must-have feature these days!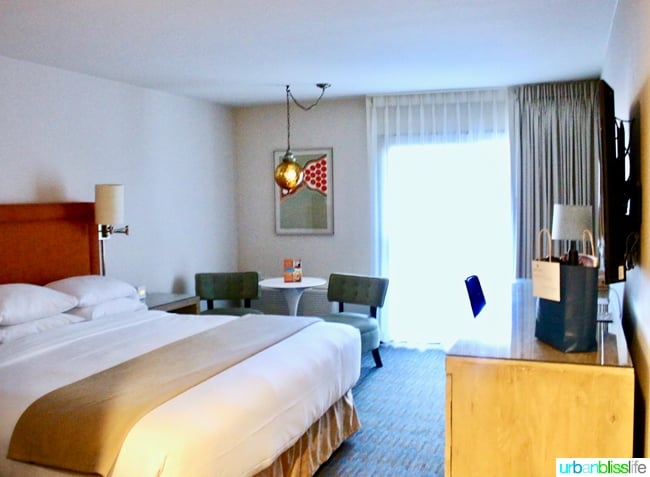 Other amenities available upon request to guests include:
Rollaway beds
Pack and play cribs
Wine openers
Wine glasses
Microwaves
Kitchen kits with plates
Silverware and cups
Tennis rackets
Bike rentals
Board games
Newspapers
Luna Cafe
If you don't want to take advantage of the complimentary continental breakfast (located upstairs from the lobby), I recommend stopping by the hotel's Luna Cafe.
Here, you can order grab-and-go coffee, sandwiches, and treats for your day ahead. Or, you can enjoy a sit-down breakfast or lunch in the super cool retro cafe.
You can also purchase local wines, chocolates, gifts, and more here in the hotel cafe.
Stay at Ashland Hills Hotel and Suites
I joked with owner/designer Becky Neuman that I wanted everything in this hotel, in my own home. But I was only partially joking - I really love how it's designed and decorated THAT much. Not only is it well designed, but it's SO comfortable, which is key for the tired traveler! I absolutely had a wonderful stay at Ashland Hills Hotel and Suites and would stay here again in a heartbeat. I can't wait to bring my family back here someday and enjoy the pool and jacuzzi!
Ashland Hills Hotel and Suites
2525 Ashland Street
Ashland, Oregon 97520
855-482-8310
For more information and reservations, visit the Ashland Hills Hotel and Suites website.
More Oregon articles
My hotel stay was complimentary as part of a #TrailsToFeast Travel Oregon press trip. As always, all opinions and photos are my own. I ADORE this hotel and know you will, too!