Visiting Portland, Oregon with the family? From green spaces to fun attractions and more, there is so much fun for the whole family in this West Coast city. Check out our list of 50+ things to do with kids in Portland!
This article was first posted on July 3, 2017. It was updated with more detailed information and new photos on August 1, 2023.
Living in or visiting Portland, Oregon this summer with kids? Then this Portland travel guide is for you!
Summer is the absolute perfect time to visit Portland! I've lived in the Portland, Oregon area for most of my life. I know this city and the surrounding suburbs, country, beaches, vineyards, and mountains, nearly inside and out. And yet, there is always something new to explore.
I LOVE living in the Pacific Northwest. It's such a beautiful place with endless adventures. And, I have loved it even more now that we've raised our kids here. It's a great place for families!
Portland has so much to offer different types of travelers of all ages. You'll find lots of things to do in Portland no matter what you and your family are interested in. Whether you love the mountains, the beaches, the lakes, the city, or the country - you'll find it all within short driving distances from city center.
About Portland, Oregon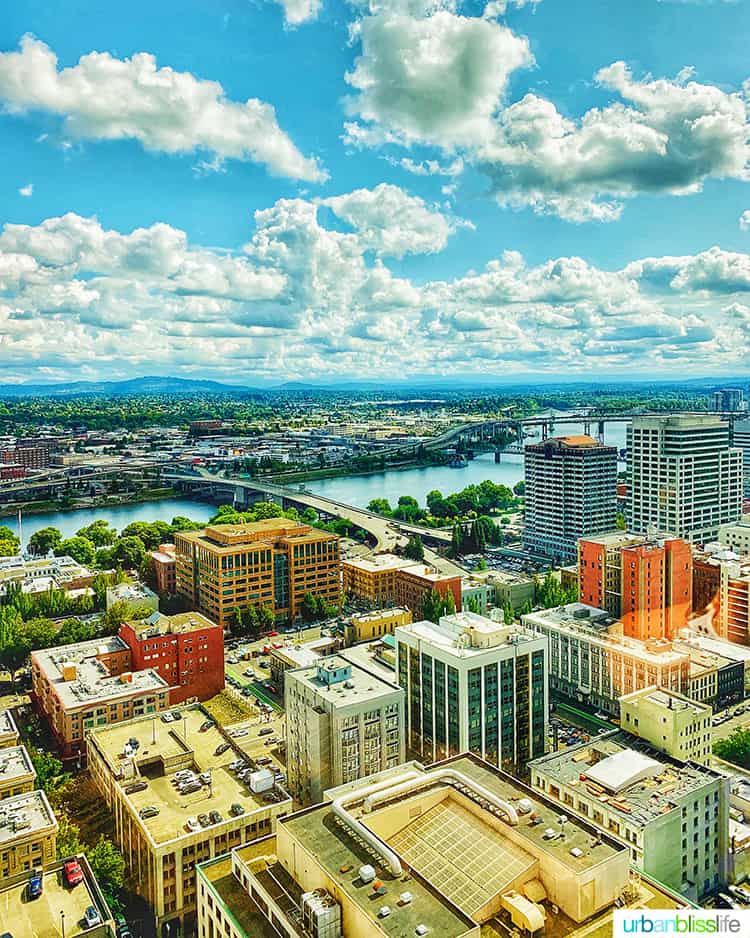 Portland is the largest city in the state of Oregon, on the West Coast of the United States. Two major rivers flow within the city: the Willamette River flows north and south, and the Columbia River flows east and west.
It's a medium-sized city known for its come-as-you-are, eclectic vibe. The "Keep Portland Weird" unofficial motto permeates the city. But in a city known for events like the World Naked Bike Ride and the highest number of strip clubs per capita smallest park in the world, it's still one of the most family-friendly cities to visit.
🚗 Looking for road trip ideas from Portland? Check out our 35+ Day Trips from Portland article for inspiration to help you plan your trip!
How to get to Portland, Oregon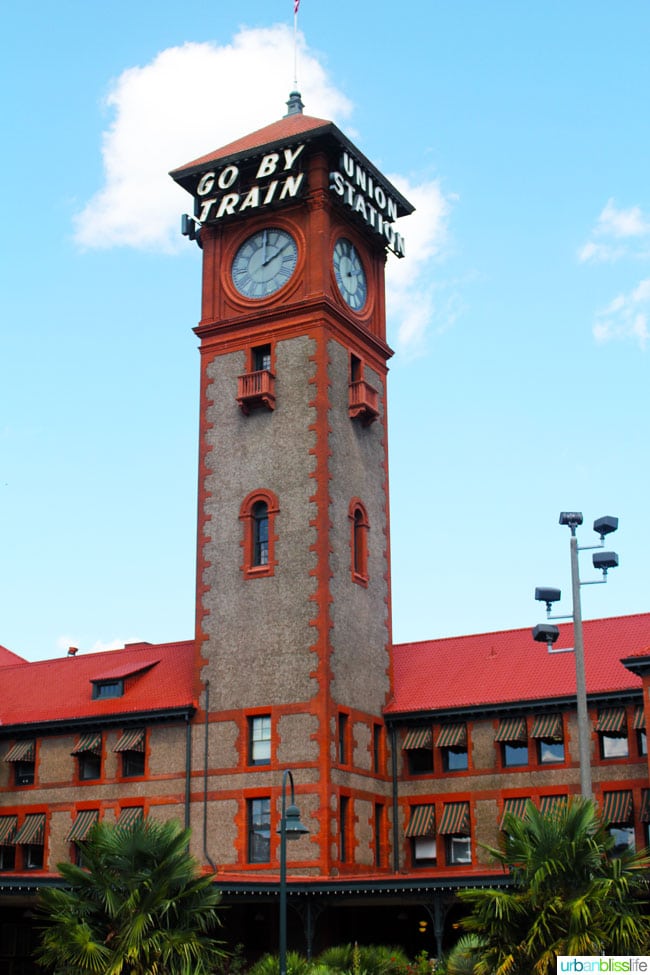 Portland is about 10 miles south of the Washington state border, and five and a half hours north of the California border. The city is also located right in-between the beaches and the mountains: it's approximately 80 miles east of the Oregon Coast, and 80 miles west of Mt. Hood.
By plane: Portland International Airport is an easy airport to get to from most cities around the world. It has been named Best Airport in the US for several years by Travel and Leisure magazine.
By car: From north, drive south on I-5. From California, you can either drive straight up from I-5, or take the more scenic route by driving Highway 101 north along the Oregon Coast. Then cross over at Highway 26 to get into downtown Portland. From the east, you can take I-84 along the picturesque Columbia River Gorge, then take exits for downtown Portland.
By train: Amtrak has commuter trains daily from Vancouver, Cananda and Seattle, Washington to Portland, as well as from northern California to Portland. Union Station is located in downtown Portland.
Portland, Oregon FAQs
Is Portland a safe place to visit?
Like any other city, it's best to exercise a normal amount of caution when traveling to Portland. Be well aware of your surroundings and keep your belongings close to you. At night, I would recommend sticking to well-lit neighborhoods. The downtown area does have tent cities with homeless camps and there aren't many businesses open to families after dark, but outside of downtown there are plenty of wonderful places to visit around town.
When is the best time to visit Portland?
The best time to visit Portland, Oregon is during the summer months. From June through early September, the weather is mild and temperate compared to the rest of the country. Temperatures are usually in the 70s to mid-80s, with very little humidity.
What should I pack when visiting Portland in the summertime?
Pack layers: tank tops and t-shirts with shorts, some light sweatshirts or cardigans, waterproof tennis shoes, and sandals. It is smart to pack a light rain jacket as well, or just a baseball cap to protect your head on rainy hikes.
50+ things to do with kids in Portland
Here's a quick list of just a few of our family's favorites: 50 Things to Do in Portland with Kids During the Summer! A few notes about the items on this list:
Some of these fun things are located within Portland city limits, and others are just outside of Portland city limits.
Most are family-friendly activities and locations for toddlers and older kids, although some are baby-friendly as well. There are a LOT of resources out there for baby-friendly/toddler-friendly Portland spots and, having older children, I find there aren't as many geared toward older kids. So that's one of the many reasons I created this Portland family travel guide!
As businesses come and go, I will try my best to update this list twice a year. If you spot a business that has closed, please send me an email and let me know.
Jump to:
Enjoy traveling around Portland
1. Walk or bike across Tilikum Crossing. It's the first bridge of its kind in the US, only open to pedestrians, cyclists, and public transportation!
2. Embark upon the 4T Trail: Trail, Tram, Trolley, and Train. This includes riding the Portland Aerial Tram and the MAX Light Rail.
3. Go for a family bike ride. Portland is often crowned the most bike friendly city in the United States! And during the summer, the City of Portland selects a few days to host Sunday Parkways. Streets are closed off to vehicles so that families may ride their bikes or walk along the streets safely.
Outdoor adventures
4. Rent canoes or kayaks and spend the day adventuring on one of many Portland-area rivers, including the Willamette River, and the Tualatin River.
5. Take a soothing forest bath and hike in one of Portland's many nature parks. Within Portland and in the nearby Portland area, you'll find miles of trails. Our family favorite hiking trails are within Tryon Creek State Park, Cooper Mountain Park, and Forest Park.
6. Chase waterfalls. There are so many in and around Portland! Our favorites that are within an hour's drive: Latourell Falls and Silver Falls State Park. Either one is an ideal place to cool off on especially hot summer days!
7. Go fishing. There are many places you can fish with a license but for a day of fun without the formalities (and a 100% chance of catching fish), check out Sandy Trout Farm.
8. Take a drive up to see the best view of the Columbia River Gorge from the Vista House.
9. Go for an educational and easy nature walk in the Tualatin Wildlife Refuge.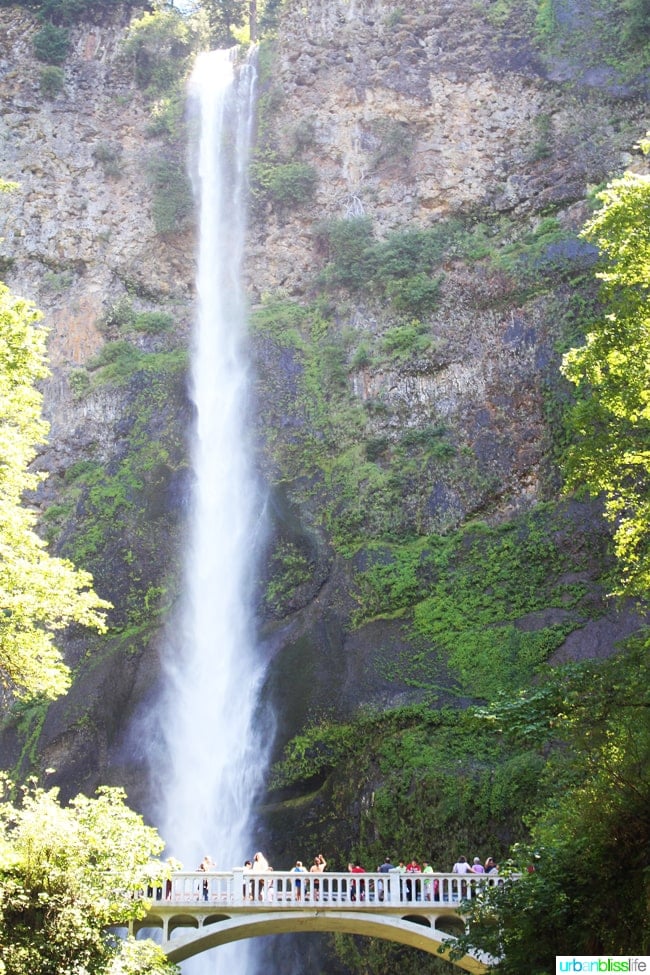 10. Do the touristy thing and venture out to Multnomah Falls. During the summer, every day gets very crowded. This year, you must obtain a timed use permit in order to park in the main parking lot through September 4, 2023. You're best bet is to go mid-week, and go very early in the morning, or just before sunset time.
Parks, gardens, and outdoor play places
11. Pack a picnic and catch one of the many fun, educational summer programs at the Oregon Zoo. Then head to nearby Washington Park for some playground fun.
12. Have a picnic in one of Portland's many public parks with picnic areas. One of our faves: Laurelhurst Park.
13. Load up on fresh produce, meet local farmers and food artisans, enjoy a meal from a local food cart, and enjoy live music and entertainment at one of the many public farmers markets around the city.
14. Catch one of the free Movies in the Park put on at different public Portland parks throughout the summer.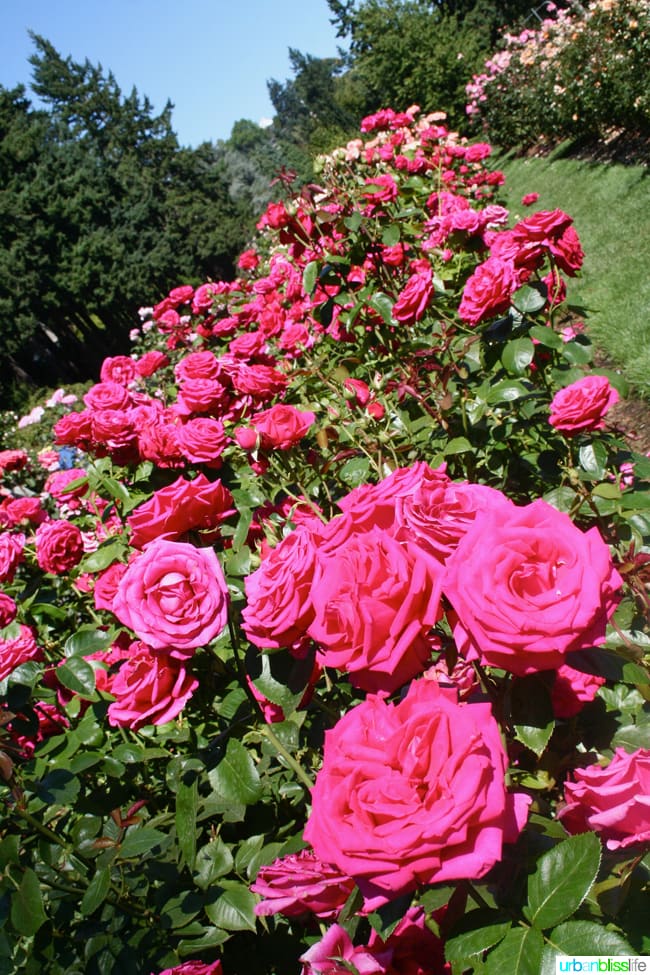 15. Soak up the City of Roses at its heart: the Portland International Rose Test Garden. The rose garden is absolutely alive with blooms and color in June and July!
16. Stroll through and explore the beauty of the Crystal Springs Rhododendron Garden
17. Cool off at a splash pad. There are many across the city and surrounding areas (Beaverton and Happy Valley are our family faves).
18. Cheer on the super awesome and always amazing Portland Thorns or the Portland Timbers.
19. Walk to the top of Portland's extinct volcano, Mt. Tabor - one of six dormant volcanoes within city limits in the United States. Enjoy the views of the city, then have a picnic, play in one of playground areas, or allow your dog to make new dog friends in one of the off-leash areas.
20. Peruse local goods at the outdoor Portland Saturday Market.
21. Play chess with the cool life-size chess set in Director Park.
22. Play miniature golf, arcades, and ride the amusement park rides at Oaks Amusement Park.
23. Lunch in "Portland's Living Room," Pioneer Courthouse Square - or attend one of the free Summer Concerts in the Square.
24. Visit what is reportedly The World's Smallest Park, Mill Ends Park.
25. Enjoy the views at one of Oregon's many family-friendly wineries, located just outside of Portland city limits. Some of our family faves include Hawks View Cellars, Hazelfern Cellars, Stoller Family Estate.
26. Attend one of the many summer festivals in Portland. Some family fun faves include the Waterfront Blues Festival, Tiger Tiger Fest - a celebration of Asian American Native Hawaiian Pacific Islander communities, Mississippi Street Fair, and many more.
Museums and libraries
27. Visit the Portland Public Library.
28. Get your zen on at the Portland Japanese Garden.
29. Find tranquility within the city at the Lan Su Chinese Garden.
30. Explore the historic Pittock Mansion, and also enjoy great views of Portland.
Interactive exhibits and indoor play places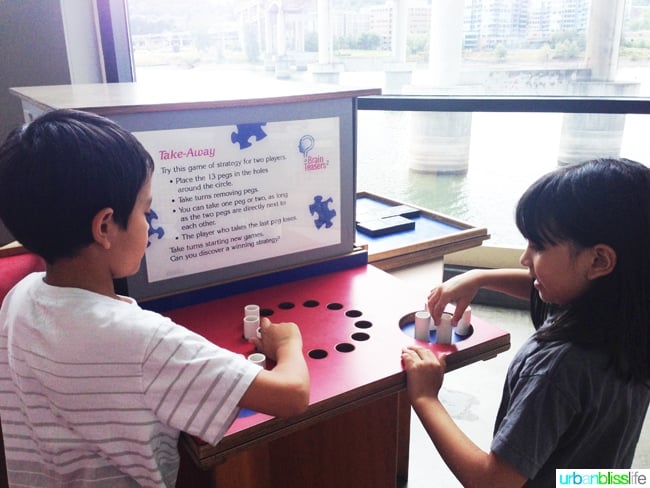 31. Engage their brains and all senses at the Oregon Museum of Science & Industry, OMSI. In addition to the regular activities and hands-on exhibits, the IMAX theater has regular and traveling shows. And the visiting exhibition is always something that is exciting to kids and adults alike!
32. If you have babies or toddlers, explore the Portland Children's Museum. There are so many wonderful interactive exhibits to keep toddlers and young kids busy!
33. Explore the incredible World Forestry Center.
34. Immerse yourself in the latest art exhibits at the Portland Art Museum in downtown Portland.
35. Geek out on classic arcade games (all ages until 4:30pm) at Ground Kontrol.
36. Sign up for Kids Bowl Free and enjoy air conditioned, indoor bowling fun at your neighborhood bowling center.
37. Get crafty with one of Portland's many arts & crafts studios. Check out the Craft Factory, Mimosa Studios, or SCRAP.
Family-friendly places to eat
38. Portland is known for its food truck culture, and there are so many food trucks and food cart pods to choose from throughout the city! Check out the Cartopia Food Carts in Southeast Portland.
39. Do your own research to find out: who makes the Best Donuts in Portland? Our family faves: Doe Donuts, Sesame Donuts, Blue Star Donuts and Coco Donuts.
40. Enjoy good eats (while you cool off with a local craft beer) at one of the city's many family-friendly breweries. Our family favorites: Laurelwood Brewing, 10 Barrel Brewing, Hopworks Urban Brewery (HUB), Old Town Brewing, Ex Novo Brewing, Deschutes Brewing, Thirsty Lion Pub & Grill, and Migration Brewing.
41. Cool off with some froyo. One of our faves: Eb & Bean.
42. Expand your child's cultural palette (and maybe yours too?). Dine at kid-friendly, fun, non-intimidating restaurants like Bollywood Theater, Kachka, or Boke Bowl.
43. Satisfy your sweet tooth at a local ice cream shop. Our family faves: Kate's Ice Cream (plant-based and gluten-free), Salt & Straw, and Cloud City Ice Cream.
Farm fresh fun
44. Pick berries at one of the many U-Pick berry farms around the city and surrounding areas. Some of our favorites include Sauvie Island and, out in the southwest suburbs, Smith Berry Barn.
45. Visit a lavender farm, such as Sunderland Acres Lavender Farm in Northeast Portland. You can call for an appointment to have a private farm visit, and enjoy the lavender - as well as their farm animals!
46. Spend the day visiting one of the many Eastside farms, such as Sauvie Island Farms .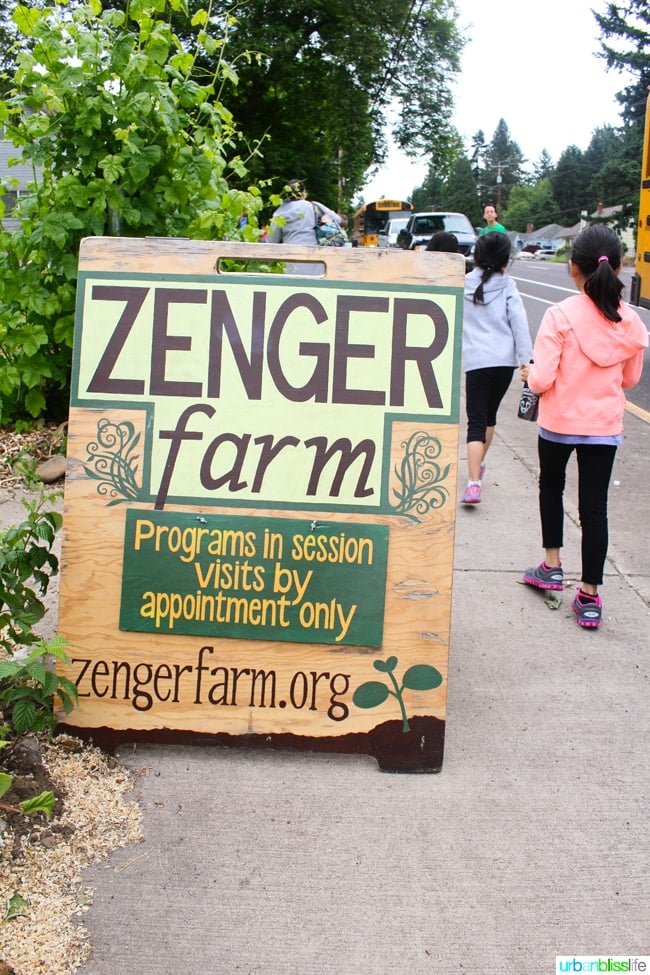 47. Make an appointment and have your kids experience a working farm, like Zenger Farm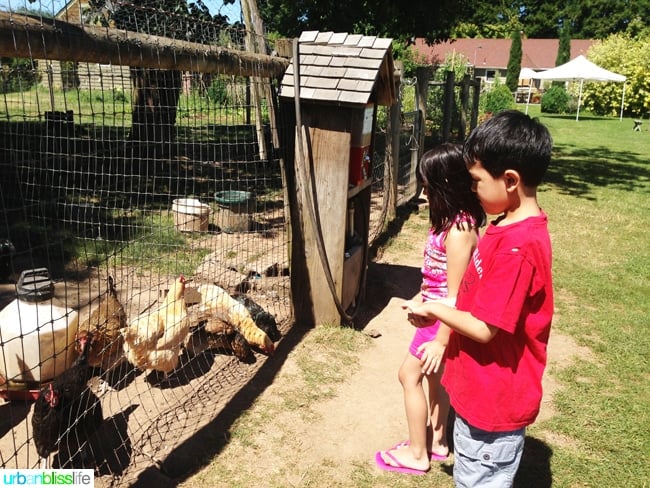 48. Explore the many Westside farms and feed chickens, llamas, and goats. Our family lives on the westside, and a decade ago we started doing what I coined as Farm Fresh Fridays. It was one of our family's favorite things to do when they were little kids. Our family favorite farms include Smith Berry Barn, and Oregon Heritage Farm.
Family shopping
49. Bulk up your home library collection with a visit to Powell's Books, the country's largest independent bookstore. It's a popular spot and one of the most visited places in Portland for good reason!
50. Shop at one of Portland's independent toy stores. Check out Kids at Heart Toys on SE Hawthorne, Spielwerk Toys in North Portland, or MudPuddles Toys and Books in NW Portland.
51. Check out one of the many free activities at local book stores, such as Green Bean Books. This adorable shop in NE Portland offers storytimes, arts & crafts events, opportunities for your kids to read to dogs, and more!
---
There you have it: 50+ Things to Do in Portland, Oregon with Kids During Summer!
Of course, this is just a small start. There are SO MANY more things to do in Portland, Oregon with kids during the summer!
I hope this list helps you and your family during your travels to my beautiful city.
If you visit, please be sure to let them know that you read about it on Urban Bliss Life! And if you snap some pics, tag us @UrbanBlissLife and #UrbanBlissLife on Instagram, TikTok, Twitter, and Facebook.