Celebrating something special? Check out these 10 spots that are some of the Best Special Occasion Restaurants in Portland, Oregon!
Portland is such a fun city to celebrate special events! Birthdays, anniversaries, new jobs, proposals, divorces, and just days that end in Y... Whatever the occasion, there are some fabulous restaurants that can help add some sparkle to your celebration!
With the winter holidays coming up, I thought I'd share some of my favorite restaurants in Portland. These are fine dining restaurants that are perfect places to celebrate special holidays with friends and family!
Looking for a place to eat and drink in Portland, Oregon? Be sure to read the full Urban Bliss Life Portland Restaurant Guide!
Why are these some of the best special occasion restaurants in Portland?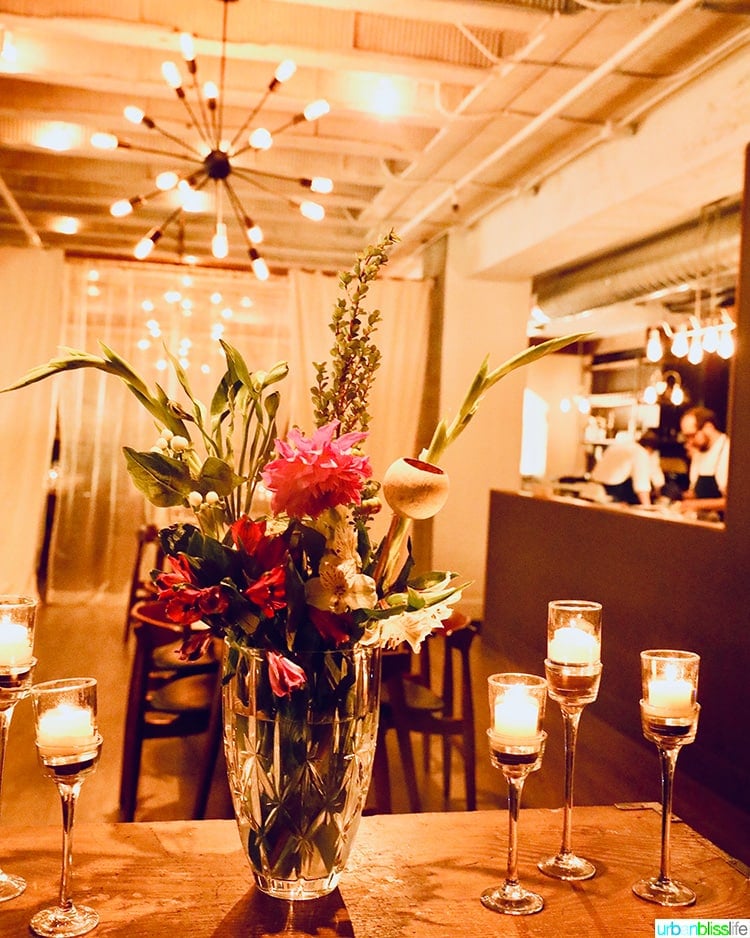 All of the restaurants listed here are restaurants I personally have dined in and celebrated special occasions. I love them! There are, of course, MANY other restaurants that I have not yet visited or haven't had the chance to visit for special celebrations.
When you're looking for a restaurant to celebrate in with friends and family, consider these attributes:
They take reservations. When you're making plans to celebrate something special, nobody wants to wait for an hour to be seated.
The restaurant serves exquisite food, food that is above and beyond the everyday.
The service is exceptional. A chef's talent only goes so far; it's the front of the house – the host and servers – who can make or break a fine dining experience in milliseconds.
Some of the restaurants below offer prix fixe meals, while others offer a full menu. Most are in the higher end of dining costs per person, which is another reason I suggest these restaurants for special occasions.
Best Special Occasion Restaurants in Portland
Click on the restaurants below to jump ahead to their descriptions.
Langbaan
$$$$
6 SE 28th Ave, Portland, OR 97214
(971) 344-2564
reservations@langbaanpdx.com
BOOK NOW
Street parking
Is there any sexier restaurant than a "secret" one hidden behind a door of another restaurant? Langbaan is a cozy (read: tiny) Thai restaurant in the back of Paa Dee in Southeast Portland. It is currently my favorite restaurant, and hands down one of the best restaurants in Portland.
Since it's teeny tiny, this is a great spot for special date nights, double dates, or a special occasion with just a few friends. The prix fixe multi-course menu changes regularly, and is always centered around a Thai theme. Langbaan's team is truly talented, and you can be sure that each dish is thoughtfully and artfully prepared. Although tables are close together, you'll be made to feel welcome, cared for, and pampered as you eat your way through some of the best Thai food in town.
Langbaan has two seatings on Thursdays, Fridays, and Saturdays at 6:00pm and 8:45pm, and on Sundays at 5:30pm and 8:15pm.
It took me six months to get our first reservation; now the website allows you to reserve a table up to 3 months in advance. Reservations are required to dine at Langbaan; however, you can also follow Langbaan on Instagram and watch for last minute cancellations, which they will announce sometimes up to two days in advance.
RingSide Steakhouse
$$$-$$$$
2165 W. Burnside, Portland, OR 97210
(503)223-1513
RESERVATIONS
Valet parking available or street parking
For 75 years, RingSide Steakhouse has been Portland's premiere special occasion restaurant. Like most steakhouses, RingSide has an unassuming exterior that opens up to a dark, mysterious, intimate, and all at once cantankerous interior. Birthdays, proms, anniversaries, retirements -- Portlanders come to RingSide for every reason to celebrate.
Unlike other steakhouses, RingSide serves high quality, premium steak that is consistently expertly prepared. They also have delicious Pacific Northwest seafood dishes, hearty desserts, and stellar side dishes and starters. James Beard himself exclaimed that RingSide's onion rings were the best he had ever tasted, so be sure to order their famous onion rings when you dine here.
Sommelier Kristen Young overseas RingSide's extensive wine program, which includes more than 9,000 bottles of wine. If you're here to celebrate a special occasion, definitely let them know - they will help you select a special wine to celebrate!
Roe
$$$$
515 SW Broadway Suite 100
Portland, OR 97205
RESERVATIONS
Street parking or choose from one of the nearby parking garages
Tucked away inside the Morgan Building in downtown Portland, Chef John Conlin and his team produce an exquisite seafood-focused prix fixe dining experience. From the moment you enter the space, you're given a welcome card and offered a welcome appertif. After you are seated, you are offered house made dashi and several amuse bouche dishes, followed by a symphony of inventive seafood plates. I highly suggest adding the beverage pairing for $45 per person. You can also order individual drinks from a nicely curated beverage menu.
Roe has two prix fixe menus from which to choose, which are available by reservation only Wednesday through Sunday, with seatings between 5:30 and 10:30pm. The Tasting Menu ($68 per person) allows you to choose from a pre-selected list of three courses, in addition to the extras mentioned above. The Chef's Menu ($138 per person) offers a seven course meal in addition to the extras mentioned above.
The space is small, but can fit a surprising amount of people, with tables expertly separated with enough room for discreet conversation. This is a great spot for a special date night, anniversary, birthday, or other special occasion dinner for 2-6 people. Roe also has a semi-private space in the back of the restaurant you can reserve for up to 40 people seated.
Farm Spirit
$$$-$$$$
1403 SE Belmont St
Portland, Oregon 97214
RESERVATIONS
HOURS: Dinner Wed - Sunday; Chef's Counter dinners are seated at 5:00pm and 8:00pm
Street parking
Farm Spirit's Chef Counter experience is the best vegan fine dining offering in town. These limited seating, reservation-only dinners feature seasonal, local ingredients that Chef Aaron Adams magically transforms into playful works of mouthwatering edible art as you and your companions watch from your Chef's Counter seats. The playlist is always a little unexpected, and vegans and meat-lovers alike will be wowed by the multi-course prix fixe meal.
The Chef's Counter experience is $109 per person, with optional non-alcoholic beverage pairings and wine pairings. This is a fantastic place to celebrate an anniversary or have a date night if you're looking for a memorable experience where you may make new friends with fellow diners seated right next to you along the counter.
Seatings are at 5:00 and 8:00pm Wednesday through Sunday. Farm Spirit recently moved to larger space, but you can read about my dining experience in the restaurant's former space.
Andina
$$-$$$$
1314 NW Glisan St
Portland, OR 97209
(503) 228-9535
HOURS: LUNCH: daily 11:30am - 2:30pm
DINNER: Sun - Thurs 5:00-9:30 pm, Fri - Sat 5:00 - 10:30pm
BAR: daily, happy hour 4:00-6:00 Sun-Thurs 4:00pm-Close Fri-Sat 4:00pm-Close
RESERVATIONS
Street parking
One of Portland's well-established Pearl District restaurants remains an incredible spot not just for lunch or dinner, but for special occasions. Andina serves stunning, mouthwatering Peruvian food in a warm, lively atmosphere. Whether you dine here for lunch with co-workers or reserve one of the private rooms for an event, the vibrant, colorful, playful dishes here make every occasion feel special.
Andina has several private dining options from which to choose. My husband threw a surprise dinner party in Andina's La Bodega room for my 40th birthday, and it remains my favorite private dining space in Portland to this day. La Bodega is an intimate space remniscent of a sophisticated wine cellar, and seats up to 14 people.
I've also attended many corporate work events and holiday parties in Andina's largest private event space, Tupai. Every event has been expertly executed and cared for by the staff.
A Cena
7742 SE 13th Avenue
Portland, OR 97202
Lunch Hours
Tuesday-Saturday 11:30am-2:30pm
Dinner Hours
Sunday-Thursday 5-9pm
Friday-Saturday 5-10pm
RESERVATIONS
Come for the lobster agnolotti, stay for the warm glow of happiness that floats through the restaurant and remains with you even as you leave. A Cena is a lovely neighborhood Italian restaurant that just leaves you happy and satisfied. It is perhaps the most reasonably priced restaurant on this list, and you can certainly dine here for lunch or dinner just because. But they do such a great job here of making celebrations truly special, I had to include it.
Chef Gabe Gabreski brings his family recipes to the table, and you can't go wrong with their signature lobster agnolotti, gnocchi, or tagliatelle. But also go beyond their pastas and you'll find hearty lamb, succulent scallops, and fresh trout.
This is a great restaurant for date night, nights out with friends, anniversaries, birthdays (I've celebrated mine here before!), and more.
Mucca Osteria
$$-$$$
1022 SW Morrison
Portland, OR 97205
RESERVATIONS
(503) 227-5521
inquiries@muccaosteria.com
HOURS: Monday - Saturday, 5 - 10pm (dinner only)
Mucca Osteria is one of my favorite date night spots in Portland, and it's been entirely too long since my husband and I have had a date night here. You can read my previous restaurant review of Mucca Osteria here.
The two-floor restaurant is located right by the MAX line in downtown Portland, and there's a Smart Park across the street on 10th.
Serving classic Italian cuisine, you can enjoy dishes of the regular menu or you and your party can each partake in a five course Chef's Tasting Menu for $65 per person. Mucca Osteria also has an excellent all-Italian wine program, with the exception of Champagne.
Portland City Grill
$$$
111 SW 5th Ave
Portland, OR 97204
RESERVATIONS
HOURS: Monday - Thursday: 11AM–12AM; Friday: 11AM–1AM; Saturday: 4PM–1AM; Sunday: 9:30AM–2PM; 4PM–11PM
HAPPY HOUR (Lounge only, 21+): Monday - Thursday: 4PM–7PM & 9PM-close; Friday: 4PM–7PM & 9PM-close; Saturday: 4PM–7PM & 9PM-close; Sunday: Noon-close
Paid parking available in the US Bank Tower building, or street parking
Another iconic downtown Portland restaurant is Portland City Grill. Popular for group gatherings for everything from business meetings to proms, the views from this 30th floor restaurant in Portland's "Big Pink" US Bank Tower can't be beat.
The food here is classic American cuisine with a Pacific Northwest slant. Steaks and seafood reign, alongside traditional sides and salads. This is a great special occasion restaurant for folks who may not be super adventurous eaters, but who simply want good traditional dishes, fun cocktails, and an amazing view.
Departure
$$-$$$
525 SW Morrison
Portland, OR 97204
RESERVATIONS

With stellar downtown views from the 15th floor of The Nines Hotel, Departure is another landmark Portland restaurant that is an amazing spot to celebrate special occasions. The kitchen is headed up by Executive Chef Gregory Gourdet (Top Chef runner-up) and serves Pan Asian food with sophisticated flare.
I've written about Departure before, and have eaten here more times than I can count. We've even taken our kids here when they were younger. It's a fave spot for date nights, meeting up with friends, but also a fun and happening spot for special celebrations.
Jackrabbit
$$$-$$$
830 SW 6th Ave
Portland, OR 97204
503-412-1800
RESERVATIONS
HOURS:
BREAKFAST: MON - FRI: 7AM - 10AM
LUNCH: MON - FRI: 11:30AM - 2PM
DINNER: SUN - THURS: 5PM - 10PM, FRI & SAT: 5PM - 1030PM
BRUNCH SAT & SUN: 8AM-2PM
HAPPY HOUR: 7 DAYS A WEEK: 2PM - 5PM
LATE NIGHT SUN - THURS: 10PM - 11PM, FRI & SAT: 1030PM - 1130PM
I've written about Jackrabbit on Urban Bliss Life twice already: introducing the spring menu at Jackrabbit and a recent review of my dining experiences. So, I won't go into too much more detail here.
Jackrabbit offers an upscale dining experience right in the heart of downtown Portland. Impress friends who are adventurous eaters with orders of fried rabbit ($75), pig's head ($65) and 28-day aged four-pound pin bone steak ($120). I've been here for girls' night outs, date nights, and special events for work, and the staff here does a great job overall making each dining experience unique and memorable.
Other special occasion restaurants in Portland
Other top restaurants in Portland, Oregon to consider for special occasion dining: Le Pigeon, Berlu (new in 2019), Beast, and Willow.
Looking for a place to eat and drink in Portland, Oregon? Be sure to read the full Urban Bliss Life Portland Restaurant Guide!
What are your fave special occasion restaurants in your city?
PIN IT:
More Food Travel Guides
Where to Eat in Dublin, Ireland
Where to Eat in Victoria BC Canada
Top Restaurants in New Orleans, Louisiana