Looking for a spot in Portland for a romantic night out? Check out one of these Top 10 Date Night Restaurants in Portland!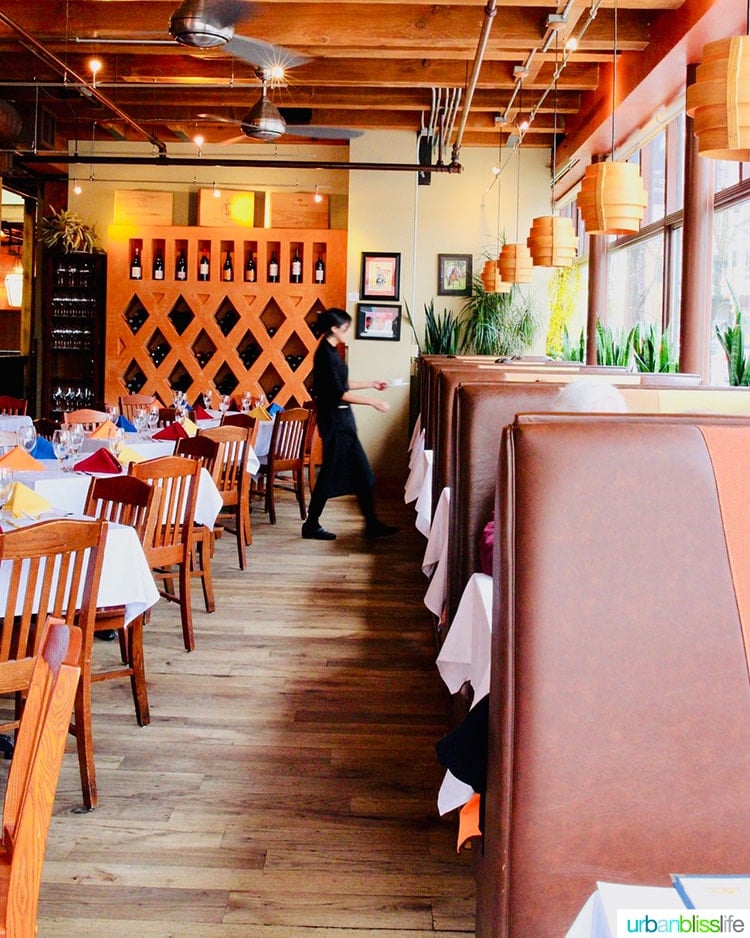 As much as I love to cook, I also love going out to enjoy the talents of Portland's culinary creatives. When it comes to date nights, I would much rather enjoy four hours of food, wine, and conversation at a couple of different bars and restaurants with my husband than than sitting in a theater watching a movie.
Here is my list of Top 10 Date Night Restaurants in Portland, Oregon. Keep in mind, this is my personal list including places I have been to on dates with my hubby. Since we're busy parents who don't have the time and can't afford to go out to eat all the time, we haven't been to every single amazing restaurant in town. However, I have been to a lot of them, and there are some I know other people & critics l-o-v-e that have just not made the cut for me. The places listed below were chosen because I loved the food, drinks, ambience, decor & space planning, and of course, service.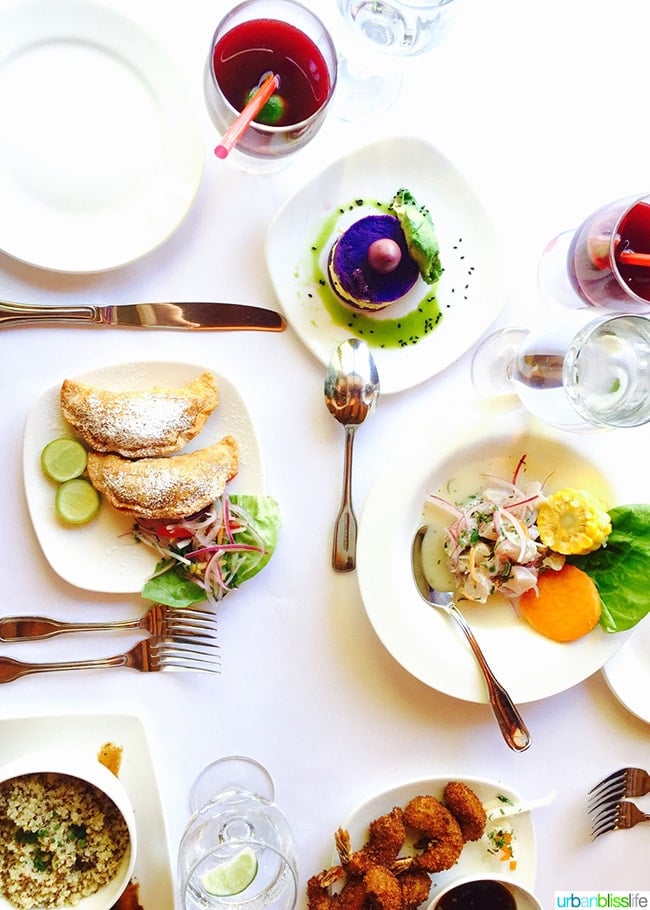 1. Andina
1314 NW Glisan St, Portland, OR 97209, (503) 228-9535
[Peruvian | upscale] In a word: wow. Andina delivers the golden combo few restaurants in Portland can consistently bring: absolutely mind-blowing delicious food; friendly, helpful, knowledgeable service; and beautiful, well-designed, inviting and warm space. It's a great place for lunch with clients or a group of girlfriends, but it's definitely a restaurant that helps make a special anniversary, birthday, or any date night extra special. Don't be intimidated by the menu: Andina does a great job of pairing classic Peruvian cuisine with local Northwest ingredients. EAT: Chicharrones De Langostinos AKA quinoa-crusted prawns, Corderito De Los Andes AKA a double rack of grass-fed lamb. DRINK: I suggest a robust red wine, like the Tierra Malvena Malbec from Argentina. Malbec is Argentina's star grape, and it pairs well with the flavors at Andina.
2. D.O.C.
5519 NE 30th Ave, Portland, OR 97211, (503) 946-8592
[Italian | romantic] When you walk through the doors of DOC, you actually enter into the kitchen. It's a little confusing, and then: refreshing. It sets the stage for an unpretentious and superb culinary experience to come. The food that is born from love in that kitchen is divine. The menu changes weekly, and if there is any item with pork belly in the ingredients list, order it without hesitation. You may also choose the 5-course meal($60 per person; served promptly at 6:00 pm and 8:45) or order items a la carte. There is also an optional wine pairing at $40 per person. I love D.O.C. for its comfort factor: it's a small neighborhood eatery where you can kick back and enjoy first class food where every meal feels like a special occasion. EAT: in addition to anything with pork belly made here, try out their house-made cavatelli dish. DRINK: I suggest the wine pairing. Their wine curator is extremely knowledgeable and his pairings are near perfect.
3. Laurelhurst Market
3155 E Burnside St, Portland, OR 97214, (503) 206-3097
My husband recently declared Laurelhurst Market to be his new favorite restaurant, therefore it had to make my Top 10 Date Night Restaurants in Portland, Oregon list! This place is a meat lover's dream come true -- this is also a declaration made by my hubby, who is forever on the hunt for perfect steak frites. He found them at Laurelhurst Market. With a mouth-watering on-site butcher shop, this restaurant dishes out steak, pork chops, more steak, chicken, more steak, and recently they added ribs to the menu. The dining room is comfortable, and I suggest grabbing a table outside if you can. A beautiful Portland summer night, some steak frites, a bottle of wine... you can't go wrong here. EAT: have I mentioned the steak frites yet? DRINK: there's a rich Rioja on the wine list that pairs well with steak frites.
4. Irving Street Kitchen [CLOSED]
701 Nw 13th St, Portland, OR 97209, (503) 343-9440
[Southern/soul | comfy cool] Irving Street Kitchen is an interesting mix: local, fresh menu meets classic, comfort food, meets the Pearl District. They serve up my favorite fried chicken (that I have tried to date) in Portland, hands down, which is more than enough to place it in my top 10. Their fried chicken is injected with garlic, butter, and Tabasco, and while it is moist and tender, it's also lighter than traditional greasy, fatty fat Southern fried chicken. I love it. I'm salivating right now thinking about it. The decor is also upscale comfort cool: stunning chandeliers, mason jars, wood plank walls, banners with modern animal silhouettes. EAT: Draper Valley fried chicken or the port wine braised short rib. DRINK: Laurelwood Free Range Organic Red.
5. Yakuza
5411 NE 30th Avenue Portland, Oregon 97211, (503) 450-0893
[Japanese | sexy] This Japanese hot spot is always a win. Perfect for date nights, with long communal tables as well as more intimate seating, I always have a fantastic experience at Yakuza (no wonder, since it is owned by the same restaurateur, Dayna McErlean, who owns DOC listed above). Their food is not just cooked perfectly, it is plated beautifully. My iPhone-at-night photos above do not do the food justice, but trust me: everything here is amazing. EAT: Try the scallop tempura made with shredded filo, and their braised BBQ ribs are delicious! DRINK: the Whiskey #2 is one of my fave cocktails in town. The Ginger Fizz is pretty darn lovely as well.
6. MiNGO
12600 SW Crescent St, Beaverton, OR 97005, (503) 646-6464
I love MiNGO (named after owner Michael Cronan's uncle, yet I am still unclear why the "i" is not capitalized but the other letters are...anyone know?). I love to come here for lunch with friends, for work lunch/dinner meetings, and definitely for date nights. The food is always wonderfully prepared and the service is consistently pleasant. On any given day, there are at least three or four offerings on their menu that I know I would love, and no matter what I order, it's bound to be delicious. Their pastas are made with creative combinations of ingredients and their pizzas are perfectly made to allow the toppings to be the stars (and not the dough or the cheese like most places). For Westsiders: MiNGO is the best the Westside has to offer. EAT: Penne al sugo di carne. Drink: the MiNGO Drop, of course!
7. Noble Rot
Portland, Oregon
Noble Rot has the most romantic view of downtown Portland at night. Arrive just before sunset, and while you're feasting on a luscious wine flight and savory meal, enjoy the show through the wall of windows as the sky falls from day to night. When the city lights sparkle against that night sky, it's pure love. Speaking of: I love the high back booths, the patio, the wine wall, the dark wood tables, but more than that, I love how their food and wine is simple sophistication at its best. EAT: their mac & cheese is famous. DRINK: choose from one of 300+ bottles of wine and a list of 40+ wines by the glass.
8. A Cena
7742 SE 13th St, Portland, OR 97202, (503) 206-3291
[Italian | cozy] It took me three visits to love this place, and now I do. The staff is warm, welcoming, and quite charming. The dishes are delectable and prepared well. The service is timed well: I never feel rushed or wanting. I was most excited about trying their agnolotti: lobster ravioli holds a special place in my heart and I keep searching for some of that similar magic that I tasted while in New England here in Portland. The A Cena agnolotti is indeed delicious, but it's a little too sweet for me. The pan-seared scallops are tantalizing, and the grilled lamb chops are interestingly delicate yet satisfying. The space is planned well - you are far enough from fellow diners to enjoy private conversations - and the decor is tasteful and not distracting. EAT: I know how I feel about the agnolotti, but you should still try it if you haven't. Everyone I know who has tried it, raves it is their favorite dish there. My fave are the scallops. DRINK: A hearty, bold Chianti pairs well with most dishes here.
9. Fratelli [CLOSED]
1230 NW Hoyt St, Portland, OR 97209, (503) 241-8800
[Italian | flirty] Fratelli is adorable and definitely romantic. The space is planned for intimate conversations, and the kitchen turns out lovely Italian-inspired dishes. Start off with one of the three different bruschette (all are quite tasty but the bruschette with salmon and mascarpone is my favorite), then share a primi such as the risotto, and finish off with either a satisfying plate of pappardelle or a ribeye. The food is fabulous, but it is the whole package --the seating, the lighting, the kind service -- that makes this a great date night spot. EAT: House-made pappardelle with wild boar ragout. DRINK: Fratelli offers an incredible selection of Italian wines.
10. Paley's Place
1204 NW 21st Ave, Portland, OR 97209, (503) 243-2403
[NW | classic] This used to be our go-to place to take out-of-town guests for inventive dishes in a casual setting. Paley's Place stays true to its roots and continues to turn out thoughtful, upscale cuisine in a friendly setting. The menu is rich with seafood and local produce, and I like the vibe that the Paley's set for this space. It definitely feels like a more "grown-up" space without being stuffy or pompous, which means it is usually hipster-free -- a special bonus! :) EAT: Alaskan Dungeoness and Snow Crab risotto. DRINK: If you can swing it, get the Domaine Weinbach, Pinot Gris, Altenbourg.
[bra_border_divider Top="10" Bottom="10"]
You may see that there are quite a few Portland "it" places right now that are absent from this list. I have a three strikes rule, and some of PDX's most popular restaurants didn't make my personal cut because either: a) I had a bad experience there, b) the food I have had was just okay and did not live up to the hype, or c) they don't take reservations/have a really ridiculous wait time. The latter is an important date night component. Sometimes it takes quite a bit of coordination for us busy parents to even plan a date night, so the ability to make reservations, show up, and sit down and eat without wasting time (and money) waiting for a seat is very, very important.
If you like this post, please feel free to share it with your social media pals, and be sure to leave a comment with your thoughts!
Stay tuned for a Top 10 Brunch Spots in Portland, Oregon, Top 10 Happy Hours in Portland, Oregon, and Top 10 Family-Friendly Restaurants in Portland, Oregon.