Departure restaurant in Portland has one of the best outdoor dining spots in town, with spectacular views of downtown and Mount Hood, and is the spot of many local special events, including the final after-party for Feast Portland.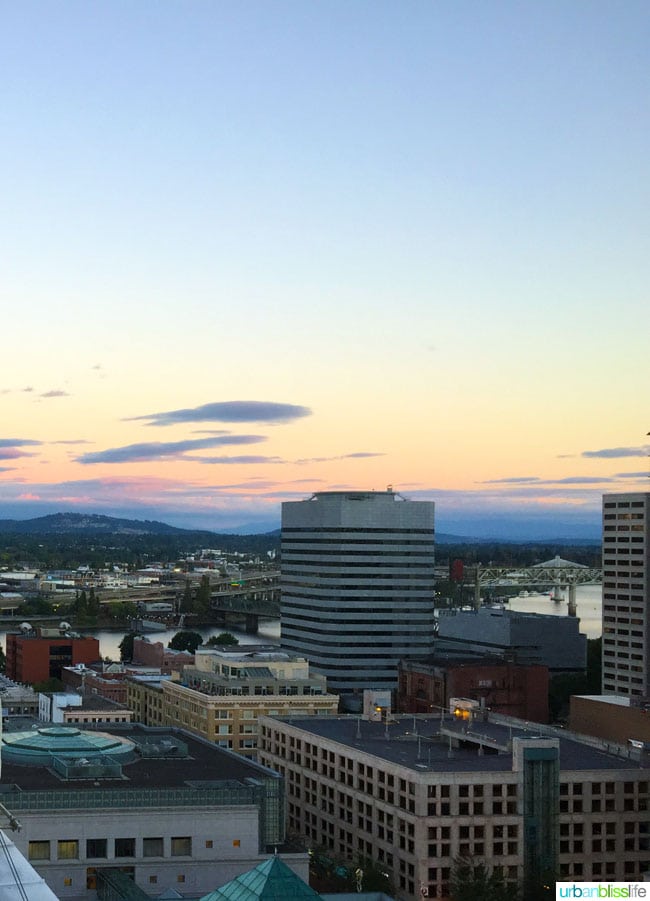 Most kids I know love cooking shows. Who can blame them? The music, the crazy kitchen tools, the fast pace, the big personalities and, of course, the beautiful plates of food.
Watching cooking competition shows is a family event in my house. My kids have enjoyed following shows like Cutthroat Kitchen, Chopped, Food Network Star, Kids' Baking Competition, and Top Chef. The last season of Top Chef was especially exciting since two Portland chefs, Doug Adams of Imperial and Portland Penny Diner, and Gregory Gourdet of Departure Restaurant and Lounge, made it to the top three.
While we took our kids EVERYWHERE and to every restaurant in town when they were babies and toddlers, it's been a little trickier as they got older, verbalized their distaste for weird grown-up food, for having to wait in long lines or sit in crowded restaurants, and as their tastes became pickier. So I was thrilled when, after the last season of Top Chef ended, my kids were interested in trying both Portland Top Chef contestant restaurants. I'll write about our Imperial family dining experience in the future; for now, here's our Departure family dining experience.
Departure Restaurant
Departure restaurant is located on the 15th floor of the hip, stylish The Nines Hotel in downtown Portland. Departure first opened in 2008 to major fan fare, and remains one of the top restaurants in Portland.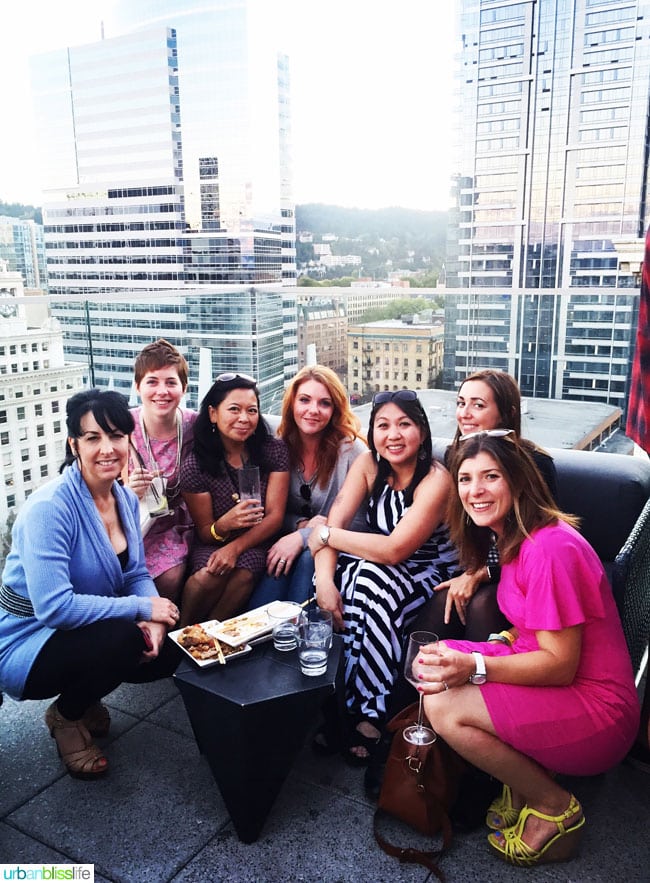 [You can read my Feast Portland 2015 recap post here]
While the majority of its diners are the single Millennial set and corporate travelers, it's also a great place to go for a date night away from the kids, as well as, surprisingly, a family dinner – if you go early, before the seen and be seen crowd arrives. For our recent family dinner, we made reservations for super early, at 4:30pm (and I love that they take reservations!), and it was perfect: the place was not crowded at all, and we felt like we had time to relax and really enjoy the meal together.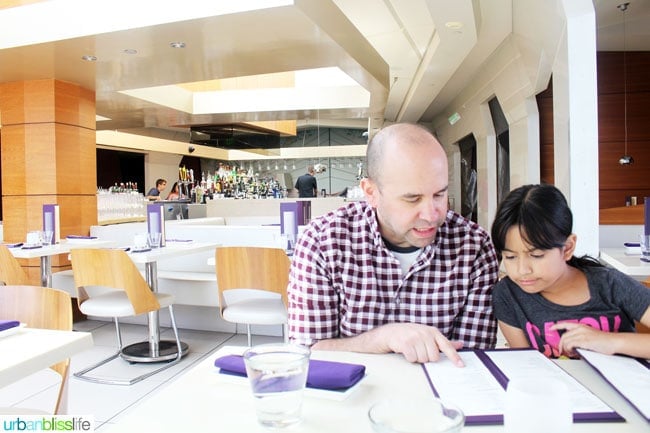 When you step off the elevators, you walk through a dark, pink-light lit hallway with angular sloping ceilings which lead to what feels like the bridge of the Starship Enterprise. Still to this day, I walk up and feel like Jean Luc Picard will be standing there, saying "Make it so."
Except, we're about to embark on an amazing culinary adventure versus a save-the-universe-and-battle-alien-species type of adventure.
Departure Restaurant Portland Menu
The cuisine at Departure is described as modern pan-Asian, which simply means the food is a blend of several different types of Asian cuisine and given Chef Gourdet's modern adaptation. This is also one of my favorite restaurant to take out-of-town guests who have dietary restrictions; they have a vegan menu, a gluten-free menu, and an incredible amount of vegetarian options. I could also find several hearty, delicious dairy-free dishes to enjoy here as well.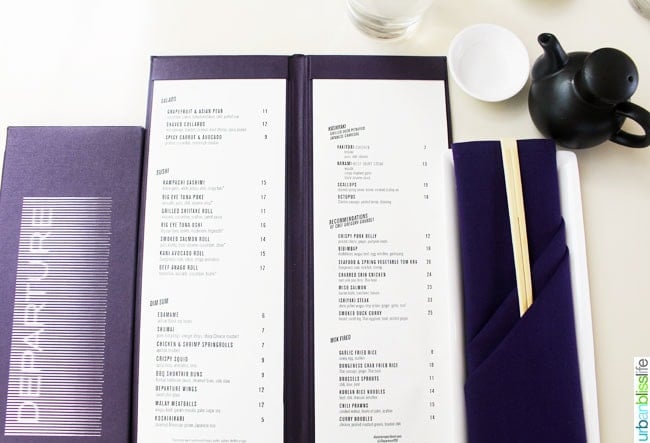 Everything I have ever eaten at Departure has been delicious. The menu consists mostly of small plates that are meant to be shared, and this is how every dinner would be in my ideal world. You can find their menu online, which is always a bonus when you have kids because they can see what they are getting into ahead of time, but my kids still like to pour over the menu at the restaurant.
The two kinds of fried rice are excellent options for families visiting Departure. The Dungeness Crab Fried Rice ($18) with Thai sausage, ginger, and Thai basil is scrumptious, but we opted for the Garlic Fried Rice ($8) during this visit.
My son's Urban Bliss Pick: the Chicken and Shrimp Spring Rolls ($7) which have a mixture of ground chicken and shrimp and mixed vegetables, served with apricot mustard.

We ordered the Yakitori, which is simply teriaki chicken, from the Kushiyaki section of the menu. We loved this one and I think it's something that most families will enjoy.
The Smoked Salmon Rolls ($14) aremade with yuzu kosho, miso-sesame, scallion, cucumber. This dish is a beautiful work of art that also tastes fantastic, and is perfect to share.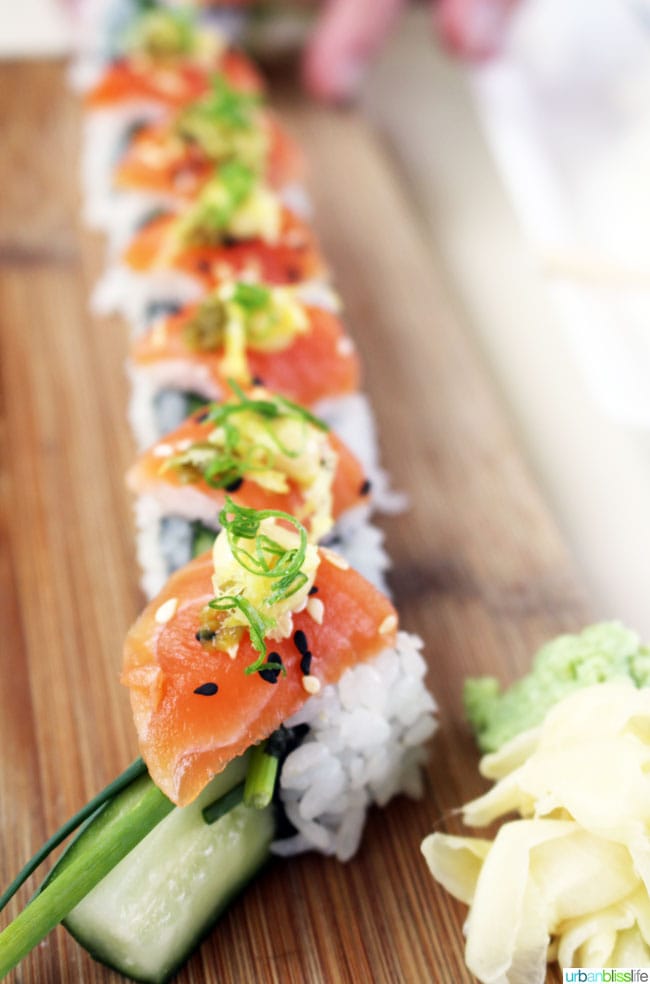 My Urban Bliss Pick: the Crispy Pork Belly ($12) with pickled cherries, ginger, and pumpkin seeds. The pork belly is so tender and tastes amazing with the pickled cherries.
Another great dish to share from the Happy Hour Menu is the Grilled Prawns appetizer ($6), which is simply grilled shrimp served with some chili and lime sauce.
Departure Happy Hour Menu items range from $3-9 and dinner dishes range from $5 - 26. For a family of four, we ordered a total of 6 dishes plus a side of Koshihikari (steamed white rice) for $4, and the amount of food was perfect for us.
My husband, kids, and I had a great family dinner at Departure. Don't shy away from fancy or hip restaurants that you think might not be family friendly, because they just might surprise you. That said, while it was awesome taking my whole family to Departure Restaurant + Lounge, this is still mostly a hot spot to go with a group of girlfriends or for work gatherings. It's fun, bright and airy, the decor is sleek, the food is fresh, inventive, and absolutely delicious, and you can't beat that terrace view.
Departure Restaurant + Lounge
HOURS:
Sunday - Thursday: 4 pm - midnight
Friday & Saturday: 4 pm - 1 am