Feast Portland is, arguably (but you would be wrong if you argued with me on this, just so you know) one of the best food festivals in the United States. Here's my insider look at Feast Portland 2015.
"People who love to eat are always the best people."
Julia Child was right.
I've been lucky enough to meet and know a lot of different people of all different ages, nationalities, ethnicities, political parties, economic statuses, religions–and the one thing that can almost always bring people together no matter what is food. Well, food and drink.
And while I enjoy connecting with random strangers over a love of ahi tuna tacos or a spirited discussion over the lasting power of bacon year round, Feast Portland is the one event I look forward to all year because it is 3+ days of a nonstop celebration of mutual love of food and drink. It's dinner series events, hands-on classes, Drink Tank events, marquee night events and pre-parties, parties, after parties and after-after parties.
It is, in a word, insanity. But it's MY kind of insanity, and if you're reading this blog, there's a good chance you love food & drink as much as I do, and therefore I am betting it is your kind of perfect insanity as well.
I am absolutely grateful that I can say this has been my third year attending.
Thanks to a Blogger Pass from Feast Portland, I was able to attend quite a few different events. Which means I ate a lot. And drank a lot.
A LOT, a lot.
I'll let the photos speak for themselves. Here's a look at just a small sampling of what I ate and drank at Feast Portland 2015.
Jump to:
Williams-Sonoma kick-off party at Jacobsen Salt
The Williams Sonoma kick-off party is something I look forward to each year. It's such a vibrant, energetic, yet casual vibe and a great time to catch up with food & drink pals I haven't seen in a while.
Top Chef winner Mei Lin was on hand with my fave dish of the night: a milk & honey buttermilk sorbet. There were donuts from Pip's Original; cured arctic char on beer crackers from chef Nick Anderer from NY's Marta and Maialino; Imbibe Magazine offered some delicious cocktails; Bee Local served up honey water along with other sweet treats; King's Estate poured an excellent Pinot Noir; and Chef Tim Healea from Little T Baker offered up some hearty ultimate paninis.
Bon Appetit Hot 10 Dinner
In my three years attending Feast Portland, this was my first year attending one of the Dinner Series events. And, I can tell you now: it most definitely will NOT be my last. If you get the chance to snag tickets before they sell out, I highly suggest buying tickets to one of the festival's signature dinner series events.
The Bon Appétit Hot Ten Dinner was a celebration of local chefs as well as some visiting chefs from around the country from restaurants that made the 2013, 2014, and 2015 Bon Appétit magazine top restaurants of the year list. It was low-key elegance, intimate sophistication, and expertly executed fine dining under the stars at best. I attended this dinner solo, not knowing if I would know a soul there, and ended up knowing one person, but left with awesome new creative connections after a night filled with laugh-out-loud conversations. Walking out, I had the biggest smile on my face, a full and happy belly, and so many fantastic new memories. I cannot recommend a feast dinner series event enough, and if you and I are friends in real life or not, rest assured: I will convince you to go with me next year. You will LOVE it!
There are too many dishes to describe in detail, so let me instead give major kudos to all of the talented chefs who participated, as well as our gracious and engaging event hosts from Bon Appétit magazine:
Bon Appétit Editor-in-Chief Adam Rapoport
Bon Appétit Restaurant & Drinks Editor Andrew Knowlton
Chef Kristen Murray, MÅURICE
Chef Philip Krajeck, Rolf & Daughters, Nashville, TN
Chef Joe Kindred, Kindred, Davidson, NC
Chef Aaron Silverman, Rose's Luxury, Washington, DC
Chefs Abe Conlon & Adrienne Lo, Fat Rice, Chicago IL
And special thanks to the fantastic folks who provided beverages that perfectly complemented the meal: Soter Vineyards, Goose Island, Montinore Estate Vineyards, Love & Squalor Vineyard, Cana's Feast Winery.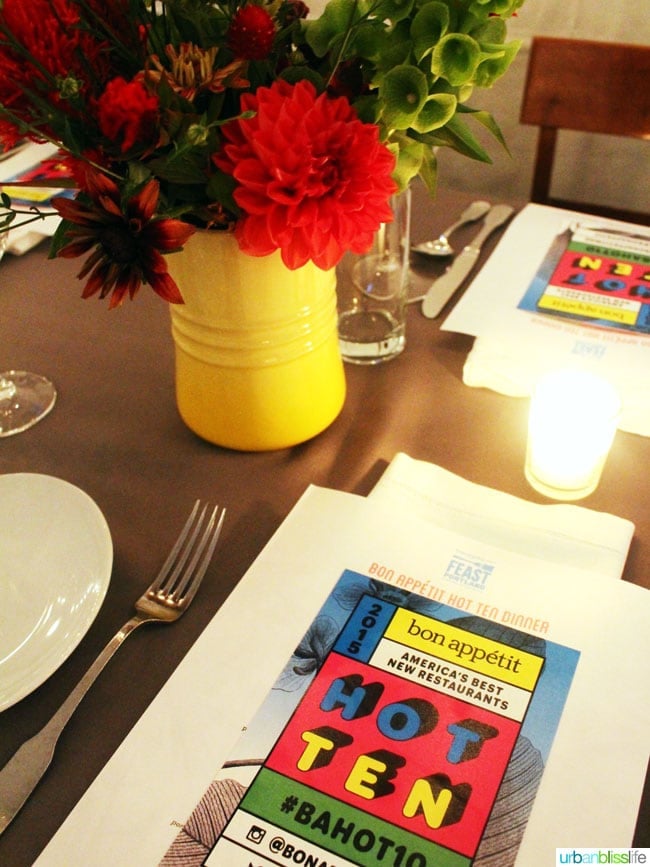 Night market
Feast Portland features a different, unique Marquee Event each night of the festival, and with my Blogger Pass, I was allowed to attend Night Market.
Words cannot describe how excited I was. I had never been to Night Market, but had heard tales of insanely creative global street food dishes from some of the country's top chefs under the Portland summer sky.
I was not disappointed. Day quickly turned to night as we ate and drank our way through some of the most crazy delicious dishes.


My fave sweet dish was this blueberries, semolina, mascarpone, and saba dish from Chef Philip Krajeck of Rolf & Daughters, who also shared his magic talents at the Bon Appétit Hot Ten Dinner the night before.

One of the biggest conversation pieces (literally: these treats were HUGE!): the sweet & savory rice cereal, seaweed, sesame seed treats from Fat Rice (who also offered dishes at the Bon Appétit Hot Ten Dinner the night prior).

Chef John Gorham of Toro Bravo (et al) always provides a crowd pleaser, and this spicy dish with chaser was like the Bloody Mary to the Night Market feast. Spicy! But, tasty.

My absolute favorite, hands down, Urban Bliss Pick of the night was Chef Bonnie Morales of Kachka's lamb pelmeni with adjika butter and pickled pears.
OH. MY.
I had two but I really would have been so happy having ten. Or twelve. I loved these so very ridiculously much.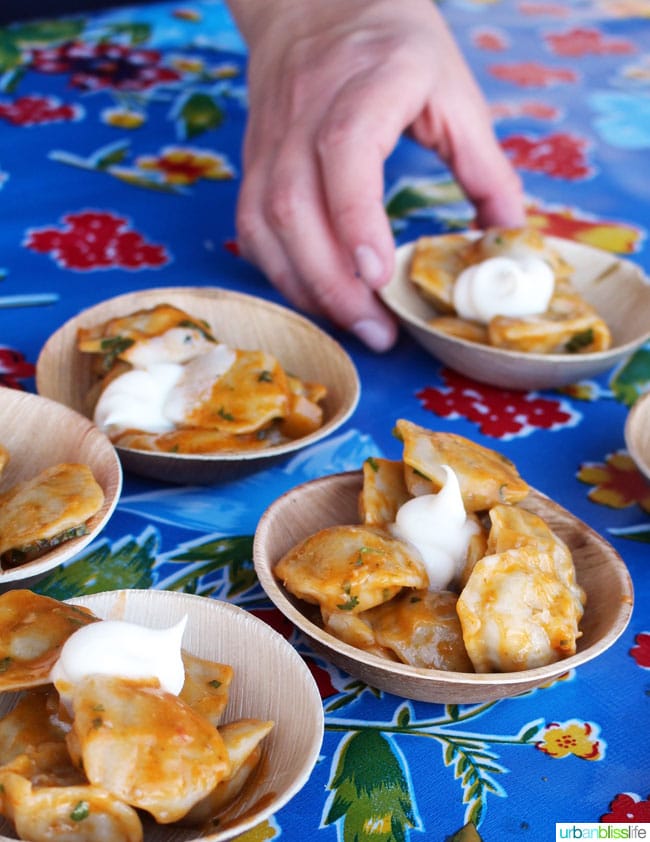 Have you been to Kachka yet? Me either! LET'S GO NOW!

My favorite gluten free beer, Omission GF Pale Ale, was also on hand, as well as a few wineries and breweries.

For those needing a little pick-me-up, Stumptown Coffee was parking it by the river in their Portlandia-ish trailer serving up their usual.

For many of my colleagues and random strangers who became friends that night (because Feast Portland is just like that), the Southern Thai Style Noodle Curry with Grilled Beef, Jackfruit, and Betel Leaf from current Portland restaurant star Langbaan was a crowd fave.

The food was absolutely incredible, for sure. But the stunning summer sunset that night was vying for the title of Night Market star. That sky!

And we had a sweet view of Portland's newest pedestrian/bike bridge, Tilikum Crossing.

While admiring the view, I made my way to the VIP lounge and enjoyed one of the (or, okay, FINE, maybe three of the) blackberry cocktails featuring Reyka vodka, while chatting with more strangers-turned-friends and reflecting on just how blessed I was to be there, in that moment, enjoying it all.
But also, grateful for seating because: SO FULL.
Oregon Bounty Grand Tasting
When daylight rolls around, that means it's time for the Oregon Bounty Grand Tasting. Held on Friday and Saturday of Feast Portland, this event is the one I always recommend new Feast goers attend. Several dozen of the state's most innovative food artisans, wineries, breweries, cideries, and restaurants gather to share their best with you. It's an excellent opportunity to eat and drink your way through Oregon's finest.
My Urban Bliss Pick of the #OBGT was the farro and octopus salad from Allium Bistro. Granted, I may be biased because farro salads and I are totally having a moment together (I am only mildly obsessed with farro right now . . . stay tuned for future recipes here!), but this was truly delicious. I also loved chatting with Chef Pascal Chureau, who let me know about their Field & Vine events happening well into the winter months.
A close second for me was the Fifty Licks ice cream collaboration with Chef Jenn Louis (Lincoln and Sunshine Tavern).
The Hot Chicks apps - dough filled with chicken & spicy tamarind cream - from Magenta Restaurant were so beautiful.

Annie's Pies satisfied our sweet cravings with a wide array of adorable and tasty dessert bites.

There were also delectable selections from participating Oregon ranchers, including this hearty beef and corn salad offering.

One of my favorite gluten-free bakeries, Petunia's Pies & Pastries, brought its A-Game to #OBGT with several tasty treats.

Chefs Nick and Chris from RingSide Steakhouse wowed the crowd with these stunning duck liver mousse bites with boysenberry beet gelee, pistachio, and candied grapefruit.

They also offered a sweet treat: Oregon berry macarons.

And, of course, there were plenty of beverages to help wash down the feast of Oregon treats.


Sunshine Dairy debuted its brand new drinking chocolate. I'm not a fan of chocolate milk at all, and neither are my kids, but this is no chocolate milk...this is drinking chocolate, which is a whole different and much more delicious drink!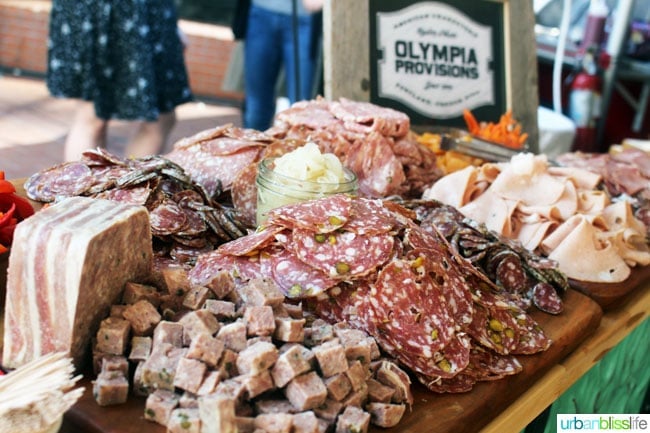 And in case you weren't getting enough meat sweats from Feast (Feast-goers proudly wear their meat sweats as a badge of honor), Olympia Provisions to the rescue with its always amazing charcuterie.

There were more parties and after-parties, and hundreds and hundreds of photos from Feast Portland, but this gives you a good sample of the variety, the talent, the excess that you experience by attending this fabulous food festival. Be sure to visit my Instagram feed for some additional photos.
Go for the food & drink, stay for the people, savor the experience.
Thanks for another absolutely incredible weekend, Feast Portland. See you all next year!