If you've been following my Travel Bliss: Western Montana series, you know that we started in Portland, Oregon and drove through Idaho, Washington, and Montana. We explored the food & drink in Boise, Idaho; played for a day in Lava Hot Springs, Idaho; ate, drank, and hiked our way through Missoula, Montana; explored the adorable town of Kalispell, Montana; ooh'd and aah'd at the National Bison Range; and adventured on Whitefish Mountain Resort in Whitefish, Montana. After all of that excitement, we at last reached the crowning point of our four-state road trip: visiting Glacier National Park.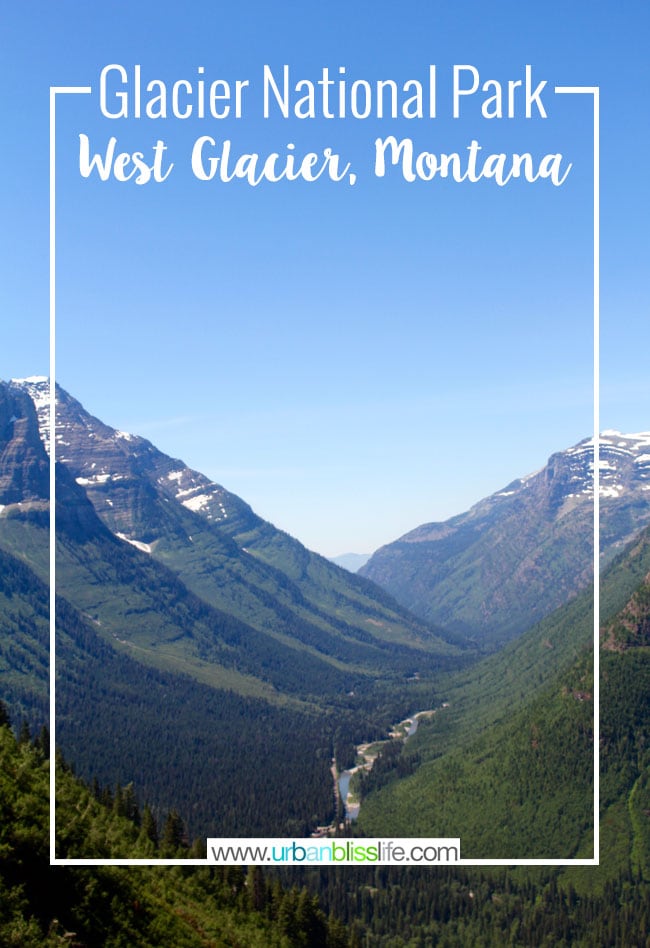 Jump to:
Glacier National Park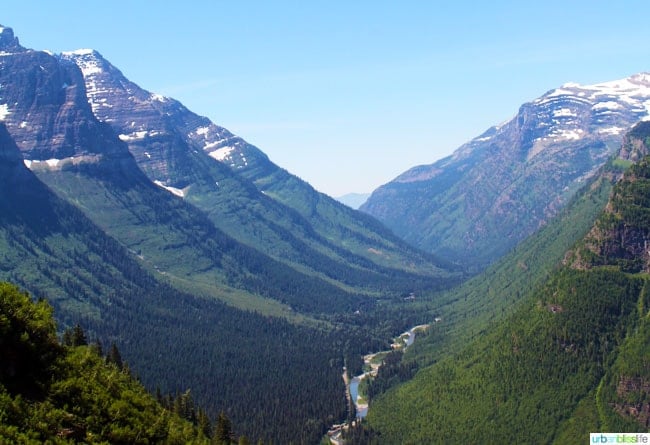 Glacier National Park is located in Western Montana, and borders Canada. The massive park encompasses more than a million acres of glacial-carved valleys, rugged peaks, beautiful meadows, lakes, and forests. The diverse terrain and climate makes Glacier National Park a welcome home to more than 70 species of mammals, including the grizzly bear, wolverine, gray wolf and lynx, and more than 270 species of birds.

You could easily spend a whole week here and still not see all there is to see at Glacier National Park or experience all there is to experience here. We had just one day, so we decided to traverse the Going To the Sun Road.
Going To The Sun Road
The Going To The Sun Road is one of the major attractions when visiting Glacier National Park. It's a 50-mile road that takes you alongside Glacier National Park's lakes, up the windy mountainsides and cliffs, and through forest land. Plan at least two hours for this trip. There are some narrow and steep parts of the drive, where there's usually a slower line of traffic to follow, and there are several scenic stopping points along the way.
You start out on flat terrain, which takes you around gorgeous glacial runoffs (not sure if these are official rivers or not in these photos) with viewpoints where you can park and enjoy the view.


Pretty cool, right?
Eventually, the road starts to incline, and you'll wind through the forests as you climb up mountainside.

And then, you hit the magic: the mountain peaks that Glacier National Park is known for.
Gorgeous. Simply gorgeous.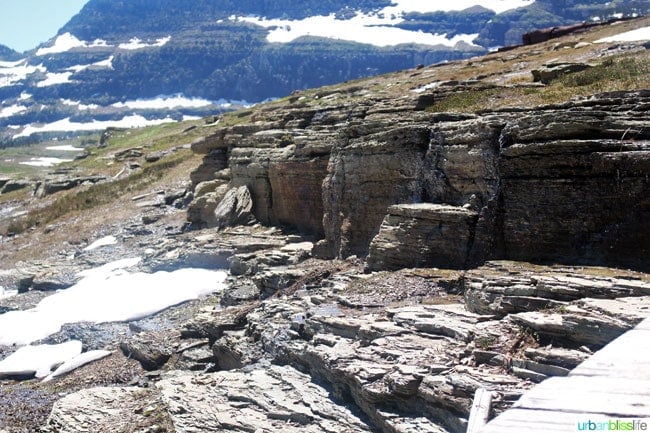 In addition to driving the Going To The Sun Road, you can take one of several tour bus options, including the popular Red Bus Tour (pictured below, left). This is a great option for those who are not comfortable driving the narrow and steep (and sometimes scary!) Going To The Sun Road, or who simply want to sit back and enjoy the view without the worry of driving. The photo below on the right shows you one of the parts of the road that has a slight incline, is narrow, and a tight turn around the mountain.
Things to do in Glacier National Park
Glacier National Park really is an outdoor adventurer's dream. In addition to driving the Going To The Sun Road, you can go camping, fishing, hiking, boating, and rafting; all activities can be enjoyed at almost any skill/athletic level. Just be sure to do your research before you go. There are 13 main campgrounds at Glacier National Park, with more than 1,000 campsites from which to choose.
Rivers and lakes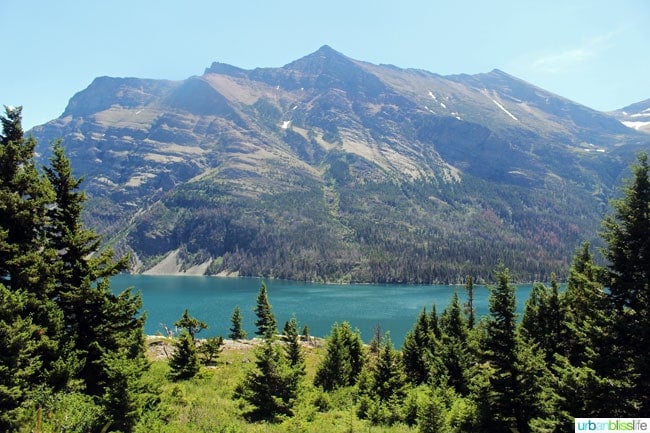 Lake McDonald is the largest lake in Glacier National Park. It spans 10 miles and has a depth of 472 feet. Here, you can camp, fish, swim. Glacier is home to several lakes and rivers throughout the park.


Visitors center
Halfway through the Going To The Sun Road, there is a Visitor's Center with a small parking lot. This is a good place to jump out of the car and stretch your legs for a bit. You can walk up pathways toward Hidden Lake, which we did for a while but never actually made it to the lake. I hear it's beautiful!

This is also your best bet to play in a little bit of snow during the summer months.
Tips for visiting Glacier National Park
Fill up your gas tank before you go.
Bring lots of bottled water and snacks.
Dress in layers. The climate changes quickly, so you can go from brisk & cold to sweaty and hot in a few minutes.
Wear comfortable hiking or athletic shoes.
Drive carefully and take your time!
We had a fabulous time visiting Glacier National Park. If you have been before, I would love for you to share any tips on camping, hiking, boating in the area in the comments below! If you haven't been before, would you be interested in visiting?
More Montana travel ideas