Hello, Travel Tuesday Adventure Warriors! Today, we continue our family road trip from Portland, Oregon through Idaho to Montana with a look at some of the best Places to Eat in Missoula. [If you missed it, be sure to check out Where to Eat & Drink in Boise, Idaho.]
Driving into Missoula, Montana, you'll go from miles and miles of stunning mountains and farmland to this sweet college town nestled in the valley of the Northern Rockies. It's an outdoor and nature lover's dream, but today we're going speak my love language: FOOD (and drink!) by taking a look at some of the best places to eat in Missoula.
I've compiled a list of restaurants, breweries, and delicious dessert spots that my family had the pleasure of checking out, and I think you'll enjoy them as well. This is a longer post than I would usually share, so feel free to click the link to jump ahead to a specific dining option:
We started our culinary adventure in Missoula, Montana with a dinner with some awesome folks from Destination Missoula at Blue Canyon Kitchen and Tavern.
Places to Eat in Missoula:Blue Canyon Kitchen & Tavern
With three locations (Missoula & Kalispell in Montana, and Twinsburg, Ohio), Blue Canyon Kitchen & Tavern offers diners upscale Western dining with innovative dishes. You'll find classic Montana decor (think animal heads mounted to a wall in a wood cabin-like setting) in this spacious restaurant. I love how the place settings really give you a sense of the experience and the food you will enjoy here: sophisticated cowboy food.
We started our meal with a local beer: a Big Sky Brewing Summer Honey ale, which was light, not too hoppy, and absolutely refreshing during the summer heat.
We then met chef Wes Coffel, who explained we would be enjoying some new items that were not yet on the menu, and some seasonal items. Some of the appetizers you will see here are not currently listed on the Missoula menu, but the chef does switch up dishes from time to time.
We dove right into this flavorful dumpling with tomatoes and pesto.
My favorite appetizer: the elk meatball, with a sweet and peppery Huckleberry BBQ sauce ($12).
The scallop appetizer bite above with broccoli rabe and rice was amazing, and I found the summer tomato salad with burrata to be a refreshing take on the classic caprese salad.


Our kids enjoyed the chicken fingers and cheese pizza off of the kids menu. I didn't get a photo of either, but they are pretty much the classic chicken fingers and cheese pizza you can imagine at almost any restaurant.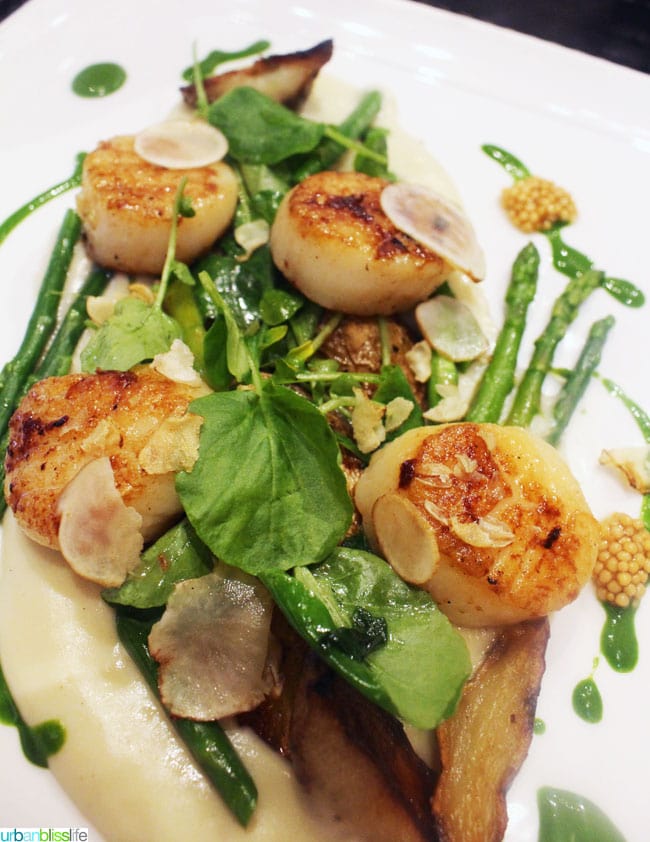 I enjoyed the seared scallops with asparagus and pickled mustard seeds ($31), while my husband enjoyed the pecan crusted trout ($24). I actually found the sauce and depth of flavor to be slightly more appetizing in the scallop appetizer than the entree, but both were delicious in their own right.
And of course, we had to try the dessert.
The Blue Canyon Chocolate Bomb has chocolate sponge cake, white chocolate mousse, covered in a chocolate ganache shell with raspberry coulis ($7.50). This was a sweet way to end a stunning meal. I loved biting through the crunch of the ganache shell then tasting the sweet and airy chocolate mousse dissolve on my tongue as I finally bit into the soft sponge cake. It's a wonderful combination of textures with each layer.
Blue Canyon Kitchen & Tavern
3720 N. Reserve Street
Missoula, MT 59808
(406) 541-2583
http://bluecanyonrestaurant.com/missoula-menu/
Places to Eat in Missoula:
Lunch at Caras Park
For lunch the next day, the whole family enjoyed a stroll through Caras Park in downtown Missoula. The Out to Lunch festival is a weekly summer event that happens each Wednesday in June, July, and August. It features live music, plus a wide variety of food and drink vendor booths and food trucks around the square. If you're in Missoula, there are two more Out to Lunch events this summer: August 19th and August 26th. Be sure to stop by if you are in town! It's such a lively, fun event.
Food vendors offer everything from classic American fare hot dogs and burgers to Japanese eats to tacos and burritos. My family, of course, couldn't resist stopping by the Lil' Orbits Donut truck. These mini donuts are fried up fresh with a generous sprinkling of cinnamon sugar. The perfect mid-afternoon treat!
Out to Lunch at Caras Park
At the center of Caras Park along the Clark Fork River
Every Wednesday, June - August each year
http://www.missouladowntown.com/play/mda-events/out-to-lunch/
Where to Eat in Missoula:Tamarack Brewing
Missoula, Montana ranks #2 (after Portland, Oregon, baby!) in the nation for the most craft breweries per capita. However, one thing that surprised us was how many breweries just offered beer tastings and tours; few were full restaurant breweries like the ones we are used to in Oregon. One of those few is Tamarack Brewing, located in the heart of downtown Missoula on Front Street. We stopped here for a late lunch one day.
It's a great spot with signature microbrewery decor: chalkboard beer menu, exposed brick, dark wood and tavern chairs, with a small outdoor seating area overlooking Caras Park.

Their beer selection consists of the classic IPAs, an amber, a wit, seasonal ales, and a stout. I personally really enjoyed the Wakeboard Wit.
You'll find traditional pub food on the menu: a selection of burgers, salads, sandwiches.

I wasn't too hungry, so I ordered the mini keg nachos. What you see above is the mini... it was GINORMOUS! So large that a woman at a neighboring table came over to take a photo of it.

Mr. Bliss ordered the fish tacos, which were tasty. The kids ordered a cheese pizza to split, which was also quite large, and cheesy.

Tamarack Brewing is a great family-friendly place to eat in Missoula. It truly has something for everyone in the family. Their beers are good, and the service is friendly. The Missoula location is a newer location; their original facility is in Lakeside, MT.
Tamarack Brewing
231 W. Front Street
Missoula, MT
406-830-3113
http://www.tamarackbrewing.com/
Places to Eat in Missoula:Dram Shop
To celebrate all of the delicious craft beer Missoula has to offer, stop by The Dram Shop.
The Dram Shop is a growlerie that offers a selection of beer, wine, and kombucha on draft. We have a lot of these in Portland, and walking into the Dram Shop was like coming home. There's plenty of seating, with a long bar and several booths and tables throughout the shop. And, for beer lovers with kiddos in tow, there's a corner kids' area with some toys and books to keep little ones engaged.
The Dram Shop
229 E Front St, Missoula, MT 59802
(406) 540-4303
www.DramShopMT.com
Places to Eat in Missoula: Plonk Wine
For dinner one night, we enjoyed a special treat: Plonk. Located on one of the main streets through downtown Missoula, Plonk offers diners a fun, sophisticated night out with a more urban feel than you get at most local restaurants. It's defintely one of the best places to eat in Missoula.

The outdoor patio is a lovely spot if you can grab a table there (it's first come, first serve).
The inside is spacious, with three different seating sections: a light and casual section by the front windows, the bar, and a dimly light section at the back of the restaurant that is ideal for groups of friends or for a romantic date. It was a little odd sitting there with our kids but nobody else seemed to bat an eye at us.
I highly suggest trying one of their wine flights. Being an Oregon girl, I had to try their Pinot Flight, which offered one California, one French, and one Oregon Pinot Noir, which happened to be from one of my favorite local vineyards, Soter. I love that Plonk offers this variety so you can taste and see just how different Pinot Noir wines from each of these regions can be.
The food at Plonk matched the hip, urban vibe. Classic dishes with artistic presentation. There is no children's menu here at Plonk, but our kids loved the fries and had some of my roasted chicken, which was juicy and tender with well seasoned crispy skin.
We also ordered a selection of cheese, bread, and meat appetizers, along with a couple of salads. Everything was enjoyable, and gobbled up quickly.
I would recommend Plonk if you're looking for a night out with girlfriends, having a business dinner, or going out on date night. It's a vibrant, creative, cool spot and you can't go wrong with their wine flight and a salad.
322 N. Higgins Ave
Missoula, MT 59802
406.926.1791
www.plonkwine.com
Places to Eat in Missoula:Big Dipper Ice Cream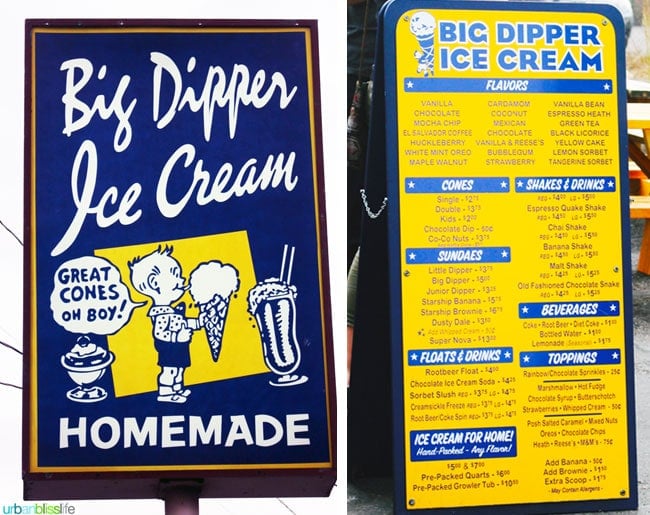 "You HAVE to go to Big Dipper Ice Cream."
I heard this time and time again when I would tell people we were visiting Missoula. So of course, we had to make a stop. And boy, are we glad we did! We were also warned about long lines, but don't let the size of the line scare you: they move through orders quickly here. When it comes to places to eat in Missoula, put this on your can't-miss list.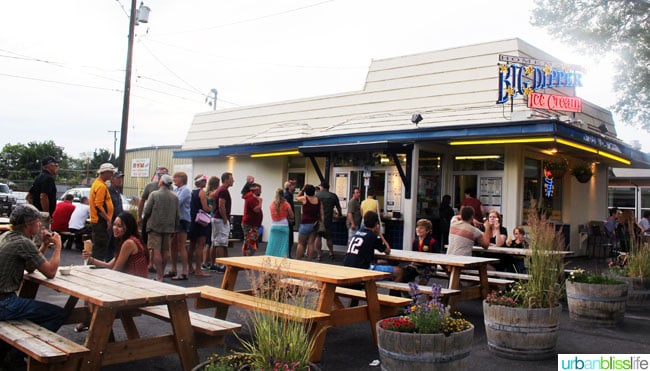 I cast aside my dairy intolerance during this trip for special occasions (if you couldn't tell from the ginormous "mini" nacho plate I ate at Tamarack Brewing), and enjoyed a rich, decadent espresso chip ice cream at Big Dipper. It was SO good. I paid for all of the dairy on this trip, but it was totally worth it.
Mr. Bliss enjoyed a mint chocolate chip cone, while the kids both fell in L-O-V-E with the tangerine sorbet.
Big Dipper Ice Cream has three locations in Montana (Missoula, Kalispell, ), plus food trucks that rotate about town.
We were only in Missoula for two nights and two and a half days, but I feel like we were able to discover a nice wide variety of food and drink here. You'll find western charm and modern aesthetics, casual eateries and hip hot spots co-mingling quite nicely here, with a host of talented chefs, restaurateurs, and brewers.
I, for one, was quite impressed by the selection of food & drink in Missoula, and hope you get the chance to check it out soon! I know there are many more great restaurants and breweries we could have visited...so that just means we'll have to go back again! :)
Have you been to Missoula, MT? What other places would you add to this list?
More Travel Tips:
Many thanks to Glacier Country Tourism and Destination Missoula for their incredible hospitality while we were in Missoula & planning an amazing itinerary for us. They are SO helpful; whatever you are looking for in Missoula, they can help! Some of the meals seen here were comped and others we enjoyed thanks in part to Destination Missoula gift cards. As always, all opinions and photos are my own.