Lava Hot Springs, Idaho is a small town on the edge of the Idaho-Wyoming border, and is home to the massive Lava Hot Springs waterpark complex.
After leaving Boise on our recent Oregon-Idaho-Montana-Washington family road trip, we continued east on I-84 to Eastern Idaho. It was a sweltering hot day, the kind of day where clothes would stick to skin and the sun burned through the hot glass of the car.
After driving a fairly quick four and a half hours, this was a sight for overheated eyes.
The waterpark beckoned with cool, refreshing pools, a large water slide, and simply an oasis-like place to cool off. But there's more to the town of Lava Hot Springs, like it's main street that's home to shops, cafes, bars, and lots of rental shops for the area's many recreational activities.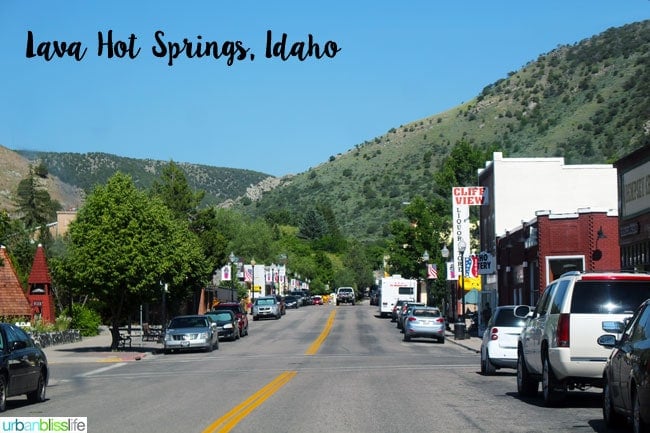 We arrived mid-afternoon, in the thick of the summer sun's heat, and headed straight for the Lava Hot Springs Water Park.
Lava Hot Springs Water Park is a megacomplex recreation center for toddlers, kids, adults, parents, and grandparents alike. It is home to heated indoor and outdoor pools, a kiddie cove, numerous water slides of all sizes, as well as a selection of 5, 7, and 10 meter high diving platforms. There's even a large speed slide with a stomach-dropping 60-foot drop for the truly adventurous. Watching people zoom down that slide from the lawn was an exhilarating enough activity for me; I can only imagine the heart pounding thrill of actually going down it!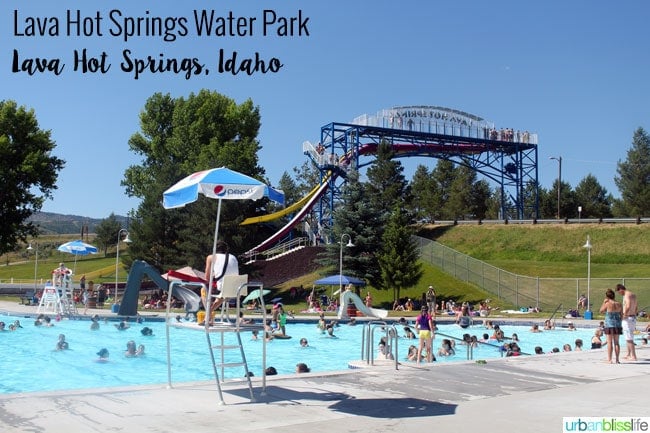 Lava Hot Springs Water Park is a fantastic place to stay for a whole morning or afternoon. There are plenty of lawn chairs, covered areas, as well as wide open lawn for guests to lounge on their own towels or under their own canopies.
The water park also has goggles that you can borrow for free, swimsuits for rent, and sunscreen to purchase in case you forgot any important water park essentials at home. The staff is friendly and extremely helpful, and overall it's a very well-organized operation, so that you can feel safe and concentrate on having fun here with your friends and family. The rates posted in the photo below are current as of August 1, 2015:
After splashing around and exploring the water park for a few hours, we were ready to continue on our road trip and settle into our next hotel.
Where to Stay in Idaho Falls, Idaho: Sleep Suites Inn
If you're traveling through Idaho en route to any one of many beautiful natural attractions in Eastern Idaho, or neighboring Montana or Wyoming, the Sleep Inn & Suites is a great resting stop for a night or two. Located right off I-15, the Sleep Inn & Suites is close enough that people visiting Lava Hot Springs (like we did), Yellowstone National Park, Targhee National Forest, Rexburg Rapids, and the Tautphaus Park Zoo often stay here.
We only spent one night here, but there were so many details that I loved about the Sleep Inn & Suites in Idaho Falls, ID.
The rooms were designed to be warm and comfortable, with beautiful local photography adorning the walls and cozy beds that provided a sweet night's sleep. The furniture is modern, and each room comes with a mini fridge, microwave, and coffee maker. Although it probably the smallest room we stayed in during our road trip, it was one of the cleanest and most comfortable rooms.
There's a small pool and hot tub, which is located on the first floor.
One of my favorite amenities offered at the Sleep Inn & Suites in Idaho Falls, Idaho, is - no surprise here - the food.
Guests are treated to a free hot deluxe breakfast every morning, which includes options of fresh fruit, sausage, bacon, hashbrowns, biscuits & gravy, and more. The Sunday through Thursday, guests are treated to a free hot soup bar, with an option of four different soups, plus a salad bar and fresh warm cookies.
Finally, for today's modern travelers, the Sleep Inn & Suites offers what every single hotel should offer: ample outlets and USB ports. After a long day of traveling, sometimes there is nothing more welcome for my eyes to witness than ample outlets and USB ports so my family and I can recharge our technology quickly. . . so that we can get back out and explore!
Sleep Inn & Suites
3200 Outlet Boulevard
Idaho Falls, Idaho 83402
http://www.sleepinn-idahofalls.com/
Read more family road trip travel bliss: