Happy Travel Tuesday! Today we continue our Travel Bliss: Western Montana series with a look at things to do in Kalispell Montana.
After leaving the National Bison Range in Dixon, Montana, we continued driving north to Kalispell. The most beautiful part of the drive was the long and windy course around Flathead Lake.
Jump to:
Flathead Lake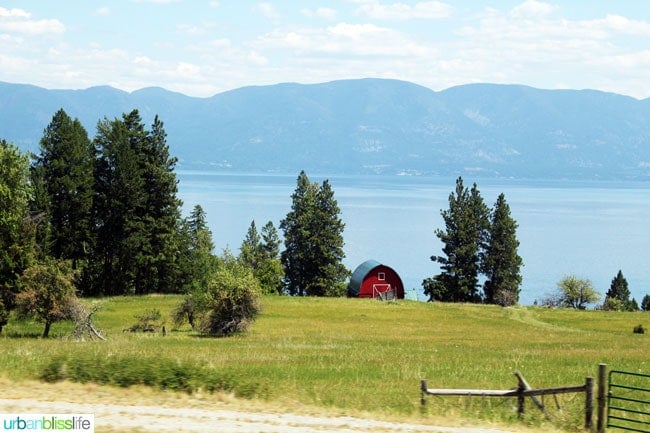 I wish we had time to stop and lounge at Flathead Lake, but alas, we did not. The drive around the massive 200-square mile lake was beautiful, and I can see why hundreds of people from around the country choose Flathead Lake as their second home away from home.
If you do get a chance to stay here, you have a myriad of activities at your fingertips: boating, fishing, swimming, hiking, horseback riding, cherry picking. . . you can visit Discover Kalispell for more info.
Things to do in Kalispell, Montana
Our next "home away from home" stop on our Oregon - Idaho - Montana road trip was Kalispell, Montana. Situated between the college town of Missoula, north of Flathead Lake, and just south of White Fish, Kalispell, Montana is a quaint western town that's a great little stop on your way to adventures up at White Fish Mountain Resort or at Glacier National Park.
Kalispell is part old school cowboy, part modern adventure seeker; a mix of families who have lived in the area for several generations, young outdoor-loving singles, and a large number of seasonal residents who live here for 3-6 months out of the year.
During the summer, you can check out ThursdayFest! on Thursday nights, where the town center has a few streets closed off and everyone converges for live music, food trucks, and family fun.
Norm's News
Norm's News
34 Main St, Kalispell, MT 59901
Phone:(406) 756-5466
One of my family's favorite things to do in Kalispell, Montana was visit Norm's News, right on Main Street. A classic soda fountain shop, Norm's News sells rows and rows of magazines and newspapers, bins of colorful candy, and traditional soda shop shakes (when in Montana, you must try the huckleberry shake!), burgers & fries, and smoothies... at low prices that seem like a blast from the past as well. I couldn't believe it when two children's ice cream cones were less than $3.00!

Hop's Downtown Grill
Hop's Downtown Grill
121 Main St, Kalispell, MT 59901
(406) 755-7687
For dinner in Kalispell, check out Hop's Downtown Grill, right down the street from Norm's News.
With super friendly, attentive staff, Hop's is a great family spot where you can choose from a large selection of local and national beer (hence, the name of the restaurant), as well as delicious pub food. The burgers are huge (and yes, you can get an elk burger here), and they have some interesting appetizer selections.
My kids' liked the burger & chips as well as the noodles from the kids' menu, but the centerpiece that my whole family can't stop talking about: the home fries, which we still affectionately refer to as the Jenga fries.
See? Jenga! ;)
Red Lion Hotel in Kalispell
If you'll be spending the night in Kalispell, the Red Lion Hotel is one of the larger hotels in town, and is also the town's largest meeting space. There were weddings, conferences, and meetings happening while we stayed here. It's also attached to the mall, so if you happen to forget something during your travels, you can walk right on through to a variety of stores.
The lobby is my favorite part of the Red Lion Hotel in Kalispell. Above your head hangs a larger than life antler chandelier. It's mesmerizing and beautiful.

The family suites are very spacious, with plenty of space to kick back and relax while you're in town. The hotel is also pet-friendly.

Red Lion Hotel - Kalispell
Kalispell Center Mall
20 N Main St
Kalispell, MT 59901
(406) 751-5050
Kalispell was a good spot to serve as our home base while we adventured in White Fish Mountain Resort and Glacier National Park.
I'll be sharing those experiences in the next two posts of my Travel Bliss: Western Montana series!
More Montana travel ideas