Along with apples and pumpkins, pears are one of my favorite fall treats. Their season is so short, but when they're ripe, they are perfectly juicy and crunchy at the same time. And perfect for Pear Tartlets.
With the weather turning, I wanted to make a fall dessert that was quick, easy, and inexpensive to put together. And, of course, delicious!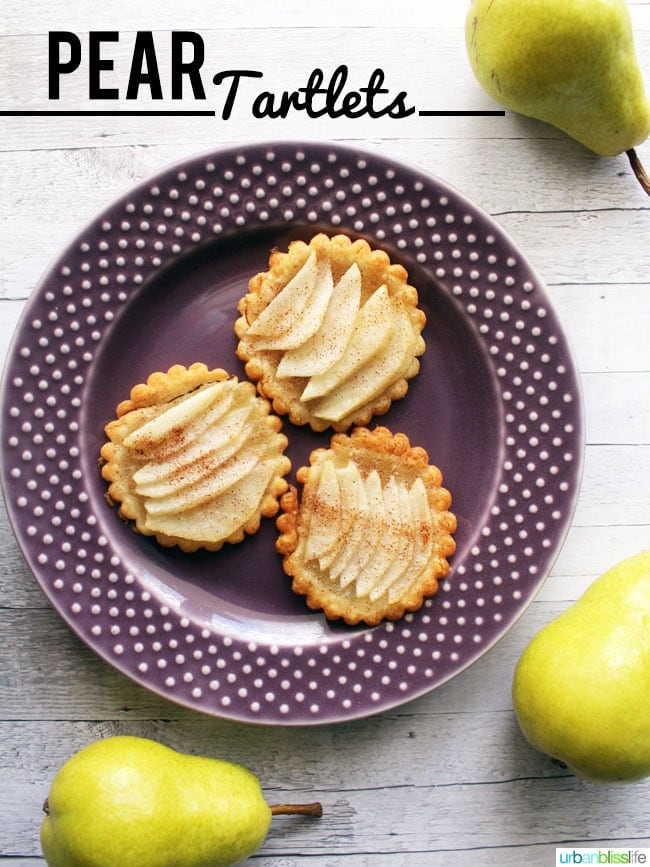 These pear tartlets are SO truly fast and simple to make, thanks to a package of pre-made pie dough. With a prep time of just 15 minutes (most of that is spent slicing the pears) and baking time of 15 minutes, these pear tartlets are ideal to make when you have company coming over.
This is also a dessert recipe that will make your wallet smile: thanks to my neighborhood Grocery Outlet, this whole recipe cost me less than $5.50 -- and after making the recipe, I still have a LOT of extra pears, 3.5 sticks of butter, and one pie dough left over!
Here are the great deals I found at my local Grocery Outlet for this recipe. Keep in mind that because Grocery Outlet is able keep their costs down by taking excess inventory from food makers, you'll find different deals at the Grocery Outlet nearest you.


How to Make Pear Tartlets
You start by slicing small pears into very thin slices. Depending on the size of your pears, you may need to use your knife to trim some of the ends off to fit onto the pie dough circles.
Roll out the pre-made pie dough. If you try to unroll the dough while it's still too cold, you might get some cracks and breakage. You just need to use your fingers to mend together any cracks or broken pieces, then roll over with a rolling pin.
Brush each pie dough circle with melted butter, sprinkle each with some cinnamon sugar mixture, and then top each with anywhere from 3-5 slices of pears in a fan formation. It should look like this:
Then, brush even more melted butter gently over the tops of the pears, and sprinkle with more cinnamon sugar.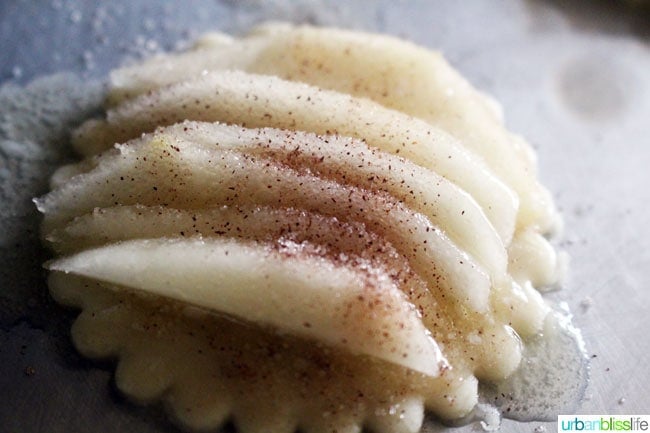 Pop these beautiful babes into your oven (which was preheated at 350 degrees) and bake for approximately 15 minutes. You'll want the edges to be slightly golden brown like this one:
This recipe makes approximately 15 mini pear tartlets, depending on the size of your pastry cutter. Mine was about 2.5 inches in diameter, and the last time I made these, the recipe make 16 individual adorable pie tartlets.
Serving ideas
I would serve these individual pear tartlets with a dollop of fresh coconut cream and/or a scoop of vanilla ice cream (dairy-free for some of us!). These are also absolutely delicious on their own!
Pear Tartlets Recipe
Ingredients
4

Bartlett pears

1

portion of pie dough

refrigerate second portion and use later

¼

cup

butter

½ stick, melted

Cinnamon Sugar

in a bowl, mix about 4 Tablespoons granulated sugar with ½ teaspoon ground cinnamon.
Instructions
Preheat oven to 350 degrees.

Slice the pears thinly.

Defrost the pie dough according to package directions and smooth out any tears or bumps.

Using a round cookie cutter, cut circles out of the dough.

Place on a greased baking pan about 2 inches apart from each other.

Spread melted butter over each dough circle, just enough to cover.

Sprinkle cinnamon sugar over each dough circle.

Lay down slices of pears on top of each dough circle in fan formation.

Sprinkle more cinnamon sugar on top.

Bake at 350 degrees for 15 minutes, or until the edges of each dough circle are a light golden brown.

Remove from oven and let cool at room temperature for 5 minutes before serving.
Enter to win
To help you get started with your fall baking, I'm so excited to be hosting a giveaway with Grocery Outlet! Follow the prompts in the Rafflecopter widget below and enter to win a $25 gift card to Grocery Outlet! Giveaway ends at noon PST Friday September 25, 2015.
More Tartlet Recipes