During the ski off-season, Whitefish Mountain turns into 3,000 acres of mild weather family fun. Here's a look at some of the best Whitefish Mountain Resort Summer Activities.
Jump to:
Whitefish Mountain resort
A short drive north from Kalispell, Whitefish is an absolutely adorable town with so many lovable qualities that I'm going to devote a whole separate post to where to eat & drink in Whitefish. It's a Portland hipster-ish town without attitude, a resort town without pretense. And a whole lot of good beer & food. More on that later.
First, let me take you through the incredible day we spent at Whitefish Resort Mountain. During the winter, this place is the ideal spot for skiing and snowboarding, and during the spring, summer, and fall, the mountain transforms into an off-season playground. We had a BLAST at Whitefish Mountain Resort, and I can't recommend it enough as a family vacation spot.
Aerial adventure park
Our action-packed day began at the Aerial Adventure Park, at the base of the mountain. The adventure park offers numerous activities for families with children ages seven and older. My kids are 8 and 11, and this was their first time doing many of the activities we did here.
We started by getting outfitted with safety gear in the lodge.
After a safety lesson, which included a demonstration of how to properly tweezle your caribener from one section to the next, we headed on up to the start of the courses.
There are five courses at the Aerial Adventure Park, and they are color coded according to how easy or how difficult the course is. Since it was the first time for all of us, we opted to stick with the easiest course.
I was impressed by even the easiest course. It was quite challenging! There are wire bridges, ladder bridges, moving log bridges, and ziplines. My daughter LOVED ziplining for the first time! The first wire bridge was actually the most challenging, in my eyes, because there are many different ways you can traverse it, and since it was my first time on it, I really wasn't sure how particularly I should be trying to get across it. But it was LOADS of fun, and I loved watching my kids and my husband go through the course.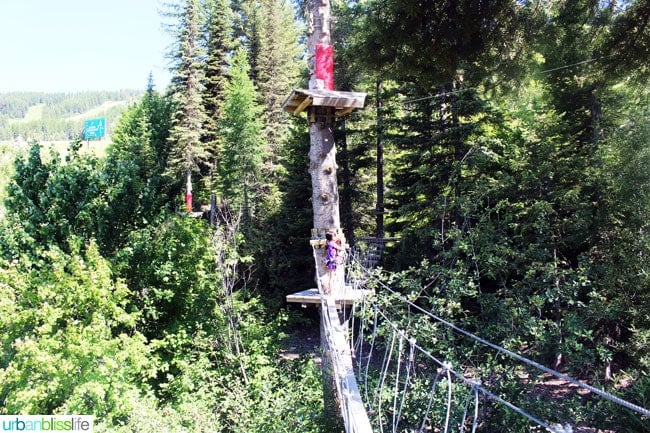 Aerial park tips
If you've never done this type of aerial adventure before, here are some tips:
You MUST wear close-toed shoes. Sandals are not an option here. You need athletic shoes or hiking shoes with a good grip.
Wear longer shorts or capri athletic pants. I made the mistake of wearing running shorts, and while it wasn't entirely uncomfortable, remember that you've got safety bands going around your thighs, which can scratch against your skin.
Take your time. Don't try to rush through, because I think that's when nerves start to hit and when you are anxious, it's more difficult to a) enjoy the experience, and b) you are more likely to lose your grip.
Trust the guides and communicate with them. If you are at all nervous about an upcoming section, let your guides know. They may have some tips that can help you traverse that section faster/easier/safer.
Have fun. It is normal to be a little nervous, but know that you can do it! Remember to breathe and try to take a moment to enjoy the scenery when you are at each post stop.
That said, know that it's totally okay to not finish the course. There's no shame in saying you want off the course if an upcoming section is too scary for you or if you just don't want to continue on. The experience is supposed to be fun and enjoyable, and if it's not for you, the guides can help you get down no matter where you stop.
For more tips and for adventure park rules & requirements, visit the Whitefish Resort Mountain website.
Alpine slides
The Aerial Adventure Park actually goes over one of the bridges that the Alpine Slide riders go through, so it was fun to watch the Alpine Slide from the treetops. We decided to do one Alpine Slide run before heading to the very top of the mountain.
The Alpine Slide is great for families because kids of all ages can ride it, and parents and grandparents love it just as much as the kids. Each ride starts at $8, and the resort did a great job of developing a slide with lots of fun twists and turns. They usually have a photographer who takes your photo as you end the ride, and you can purchase photos in the lodge after your run.
Scenic lift rides
After our first time down the Alpine Slide, we took the scenic lift ride up to the top of the mountain.
The view on the way up is absolutely stunning. You can see the incredible mountain biking trails and I can just imagine how equally gorgeous the mountain is during the winter when it's blanketed with snow.
Once up at the top, we took some time to enjoy lunch and some local beers at the resort's mountaintop restaurant.
The views are stunning at the very top of the mountain, and on a clear day, you can see the edge of Glacier National Park.
You can also see where the mountain bikers start their trails from the top. If you mountain bike, you would definitely enjoy Whitefish Mountain Resort, which offers more than 30 miles of downhill cross country trails.
Spider Monkey Mountain
After lunch, we took the gondola back down the scenic lift to do one more Alpine Slide run. At the end of the last alpine slide run, we let the kids run loose in the Spider Monkey Mountain, which is a towering mesh web that the kids try to climb up and then slide down the side . . . and then climb back in and do it all over again. And again. And again. For those with younger kiddos, this is a great chance to rest next to Spider Monkey Mountain in the shade outside of the main lodge and enjoy some delicious Montana huckleberry shakes!
My family enjoyed a fun and adventurous day at gorgeous Whitefish Mountain Resort. They have so many great activities year-round here, and their staff is very skilled and friendly. I found their prices to be very reasonable as well compared to other mountain resorts we've visited. Be sure to check out their website (listed below) for the latest weather, prices, and activity availability.
---
More Montana travel ideas