Boke Bowl's westside location offers a Cantonese-style Dim Sum brunch every Saturday and Sunday.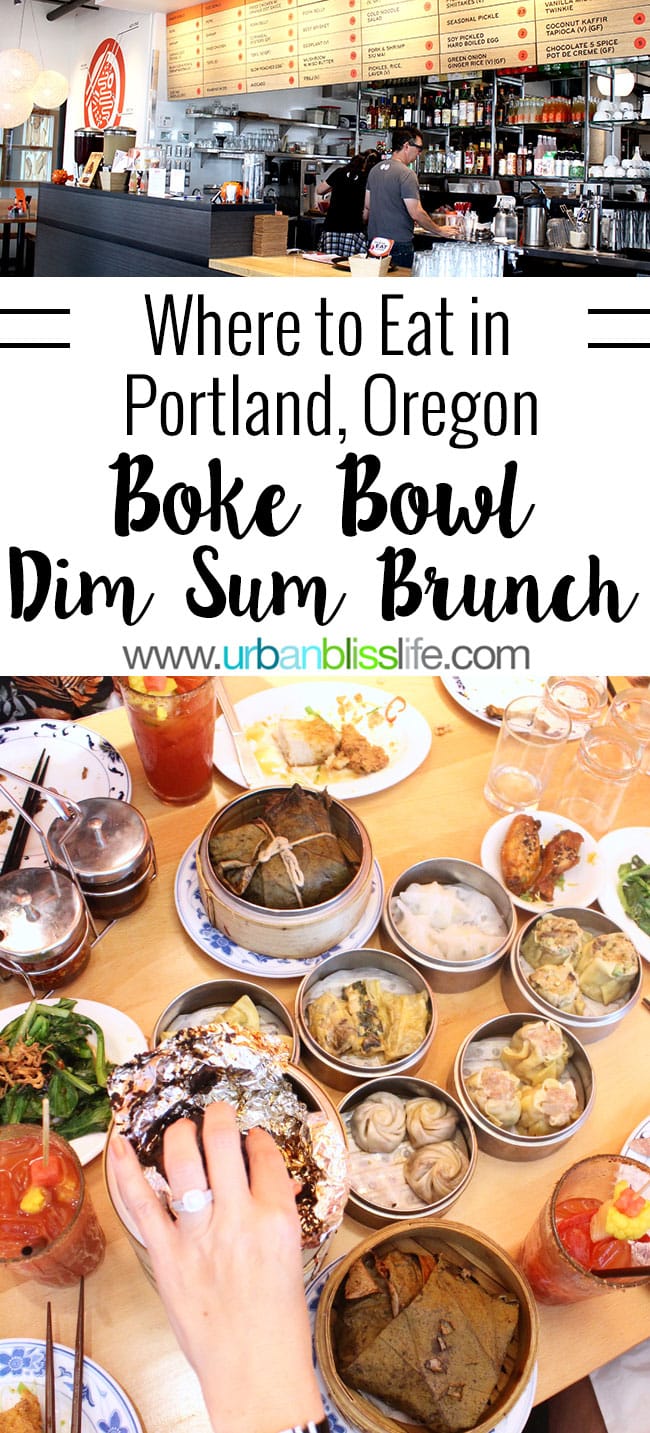 Portlanders love brunch.
Know what else we love? Dim sum.
Boke Bowl's westside location offers a dim sum brunch featuring a deliciously dizzying array of Cantonese-style small plates that you can enjoy by table side push cart service. Many of the dishes are vegan, gluten-free, and dairy-free (yay!), but don't worry hardcore carnivores: there is plenty here for you, too!
Dim Sum brunch
I'm going to jump right into the food because let's be honest: that's why you're here! To see the food. So let's get to it, because there's a LOT of it.
Pork and cabbage pot stickers. I could have eaten 20 of these.
Spicy wings
Har Gow (a traditional Cantonese dumpling) - shrimp and pea shoot. Oh my word, I LOVED these!
Tofu skin rolls were packed with veggies (mushrooms, spinach, and other flavorful veggies).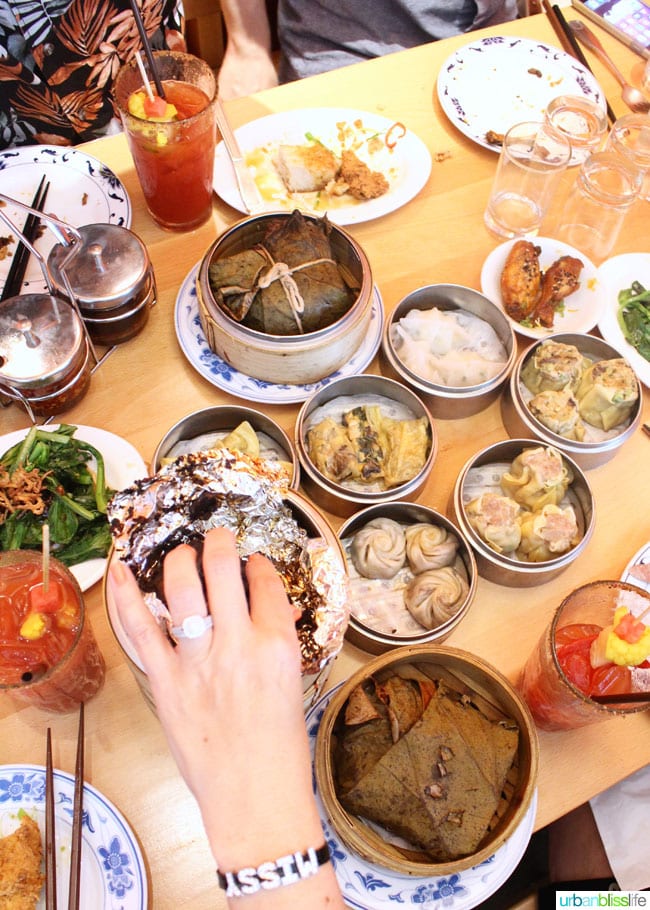 The pic above includes Boke Bowl's insane(ly good) Bloody Marys, Sui Mai, Lotus Wraps, and Banana Leaf Sweet Rice w/Honey and Jacobsen Sea Salt.
Above and below are the gluten-free rice noodles, which are available in pork (pictured above), veggie, and shrimp (pictured below)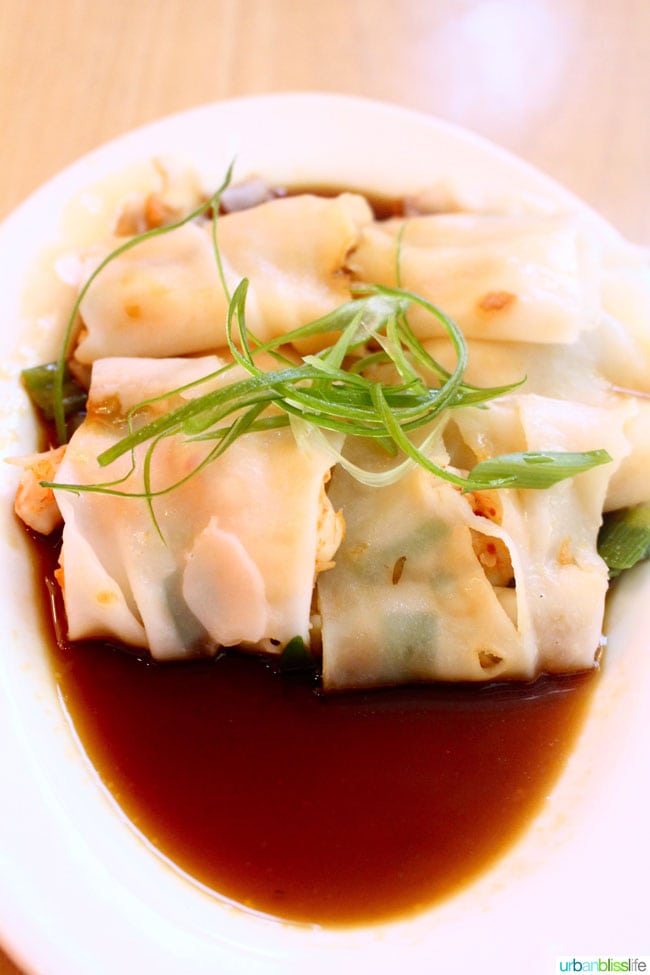 The shrimp rice noodles were one of my favorite dishes of this dim sum brunch. The noodles were cooked perfectly, the shrimp was delicately seasoned, and the sauce added the final trifecta of tastebud heaven.
Chinese Greens with Oyster Sauce
Tapioca & Mung Bean Fritters with gochujang mayo
Black bean "spare ribs" - a fantastic vegan and gluten-free take on traditional spare ribs!
Sesame Balls with red bean paste
Bee Local Honey tart. SO delicious! Order two. Trust me.
About Boke Bowl
Boke Bowl started as a monthly pop-up in 2010. The following year, they opened up a traditional ramen shop in Portland's east side industrial district. I remember the first time I went there: I was overwhelmed by choices and the kind woman behind the counter was so helpful.
And then I had their ramen. It was love at first bite.
Their ramen is made with handmade noodles and slowly simmered dashis, and it is delicious. Boke Bowk is a great place to take a group of friends because the menu includes options for carnivores, vegetarians, vegans, and many of their dishes are gluten-free and dairy-free as well. Something for everyone!
The west side location is larger (or at least, it feels like it) and much more light-filled. It's also the only location that serves the dim sum brunch. Located right at NW 18th and Northrup, it's easy to get to using public transportation and I've never had trouble finding street parking close by.
Visit
WESTSIDE (Dim Sum Brunch is only at this location currently)
1200 NW 18th
Portland, OR
EASTSIDE
1028 NE Water Ave
Portland, OR

HOURS FOR BOTH LOCATIONS:
Monday - Sunday 11am - 9pm
503-719-5698
http://bokebowl.com
Bonus photo: bloggers doing what we do. I love these crazy fun Portland food & drink bloggers!
Many thanks to Boke Bowl for the complimentary delicious bites shown here. I enjoyed this meal at a complimentary media event, but readers, you know the drill: all opinions and photos are my own. I only write about it if I enjoy it and think that many of you will, too!