Hazelfern Cellars is a family winery nestled in the Chehalem mountainside focused on small lot wines.
Have you ever dreamed of owning a vineyard and making your own wine? I know we have. Hubby and I have talked about it for the last two decades. Mostly in mildly buzzed-on-Pinot wistful whispers "Wouldn't it be magical to either buy a vineyard or find a plot of land and plant our own? Bliss Dog would be the best vineyard dog ever, E (our son) would keep us organized, and C (our daughter) would be the best tasting room greeter." Or we'd bellow out plans in over-amped, sports-clap-accompanied, belly roars at parties, "Heck yes! LET'S DO THIS! We can TOTALLY run a winery!"
But alas, we're like the hundreds of other dreamers out there who wake up the next day and realize: nope, that's realistically not for us right now. Maybe someday, but for now, let's just drink the wines. Cheers!
I have immense respect and admiration for the intense hard work, passion, money, time, blood, sweat, and tears that other people put into growing, making, and selling delicious wines. People like Bryan and Laura Laing, who own Hazelfern Cellars.
Jump to:
The winery
Bryan and Laura Laing, who both have a long love history with wine, started making their own wine in the basement of their Portland, Oregon home in 2006. There, they produced five gallons of wine at a time. Then in 2014, they had what they call a quarter-life crisis, and, with their two young daughters, moved out to a wine farm in the Chehalem Mountains.
Tucked down a side road in Newberg, Oregon, off the back roads a few of us locals take to get to the busy heart of Oregon wine country, is the beautiful place that Bryan and Laura Laing call home, and where they have built the idyllic new tasting room for Hazelfern Cellars.
The gorgeous property includes the large tasting room barn, vineyard, and a residence. There is ample parking, which is always appreciated when out wine tasting.
I attended an industry & media grand opening event of their tasting room and was immediately taken away by the details the Laings put into the barn tasting room to make the spacious gathering so warm and inviting.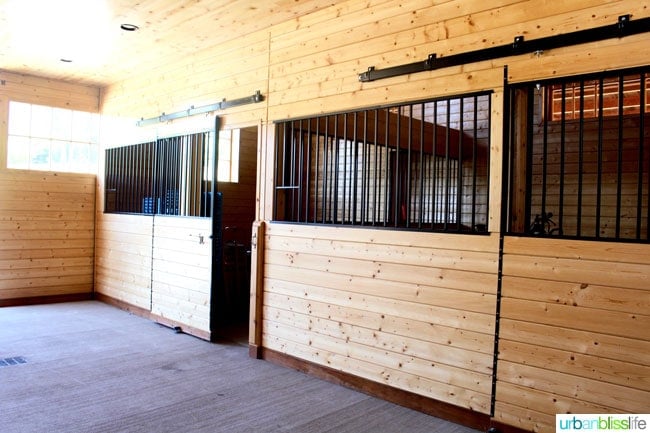 Horse stables! Or, where my children would likely set up private forts/gaming rooms.
Or, where I would be put in a time out when I've had too much wine.
The massive open main gathering area glimmers with sunshine and garden lights, and that long wooden farm table you see in the photo above is where they host wine tastings (by appointment only, Fridays and Saturdays).
They've done a BEAUTIFUL job with the interior of the barn, don't you think? But something seems to be missing... I can't quite place my finger on it...
A-HA! That's it. That's better. ;)
Okay, enough chit chat about the barn (because, really, I could talk about the stunning barn details allll day long). Let's get to the wines!
The wines
The 2015 Rosé of Pinot Noir ($22) is the quintessential summer sipper. Bursting with juicy strawberry flavor and airy floral notes, this is a slightly medium-bodied rosé (compared to other rosés) that slides down with a light, bright acidity.
The day of the media event was a scorcher, and I could have easily, happily sipped on the Hazelfern Cellars Rosé of Pinot Noir all afternoon with my wine writing buddies under the property's large tree and enjoyed the view of the budding vines.
But alas, there was more wine to be had! Because of course, being an Oregon wine producer, Hazelfern Cellars produces a Pinot Noir as well.
You guys. This Oregon Pinot Noir is IT.
The 2014 Hazelfern Cellars Pinot Noir ($44) embodies so many things that I love about Oregon Pinot Noir. If you've had California Pinot, you need to know that Oregon Pinot is not the same, and like most varietals, there are so many ways a winemaker can take this wine. The Hazelfern Cellars 2014 Pinot Noir is incredibly smooth and velvety - it is such a delightful treat of a wine - with rich berry and cherry flavors mingling with earthy notes.
Pairs well with: everything and everyone. But make sure you are with someone else when you try this wine for the first time, otherwise, you'll look crazy talking to yourself about how good this wine is. And trust me: it will make you automatically make an out-loud declaration. You can't keep this kind of goodness silent.
Hazelfern Cellars also made a 2014 Walla Walla Valley Syrah but unfortunately it sold out during their Memorial Day grand opening. We were lucky enough to be able to taste from the last remaining bottles -- or unlucky, depending on how you look at it, because it was like a mean tease of a tasting: this is soo good, you have to taste it! Oh, sorry, it's so good that it's sold out. Bah!
I'm kidding: I do love that we were able to taste it because it gave us a good overall picture of the wines that Hazelfern Cellars can and will continue to produce. The Syrah was a smooth bold wine with all of the wonderful classic characteristics known to Walla Walla-grown wines: big reds, earthy, with supple chocolate and dark fruits.
Another teaser of a tasting (I'm just going to call these Tease Tastings from now on): we got to try a barrel tasting of the 2015 La Chenaie Pinot Noir. This vineyard is in the Eola-Amity Hills AVA, south of the Chehalem Mountains AVA and north of Oregon's capitol city of Salem, Oregon. I can't wait to taste this one after it's bottled - you can already tell it's going to be lovely!
Special guests
At the Industry and Media Party, Hazelfern Cellars included special guests Buoy Brewing, St. Reginald Parish wines (their 2014 Pilgrimage Oregon Pinot Noir is pictured above), and Chef Dustin Joseph of Biscuits & Pickles Catering, who created the delectable bites pictured below.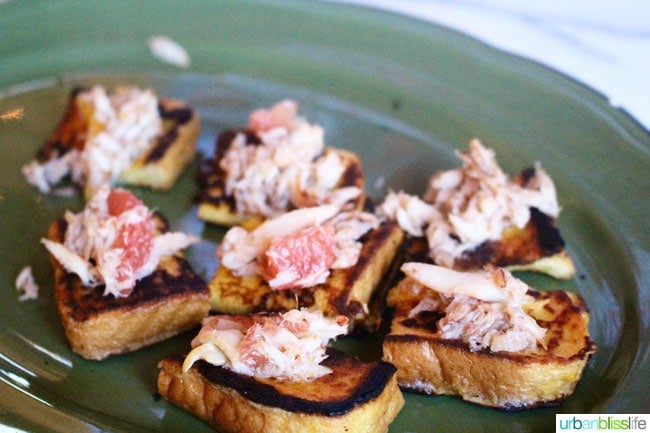 Name game
As a final bit of trivia for you, Hazelfern Cellars is named after the former Hazel Fern Farms, which was the site of the family's Portland home where they first started producing wines. The Laings had friends and family contribute to a "Help Us Name the Estate Vineyard" board in the barn. My favorite: Le Shizz.
Which makes me wonder: if you had your own estate vineyard, what would you name it?
Visit
Here's to the dreamers who become doers, like the Laings, and the drinkers who appreciate all that those dreamer doers do (like you and me!). Cheers to the Hazelfern Cellars tasting room! I highly recommend you give them a call and make an appointment for yourself and a group of friends for a tasting in their gorgeous barn. I think you'll love the wines, the beautiful property, and the lovely family behind the wines.
4008 NE Zimri Drive
Newberg, OR 97132, USA
503-928-1893
llaing@hazelferncellars.com
Tasting room open by appointment only, Friday and Saturday. Call or email for an appointment; groups of up to 10 people we welcome. Tastings are $15/person.
http://www.hazelferncellars.com/