Hotel Maison in Yakima offers travelers visiting Washington wine country elegant, modern accommodations within walking distance from restaurants, boutique shops, breweries, and wine tasting rooms.
While Walla Walla, Washington is perhaps the best known wine region in the state, the state's very first officially designated AVA - Yakima Valley - is gaining some momentum in the world of craft beverages. The number of wineries such as AntoLin Cellars and Gilbert Cellars, breweries such as Bale Breaker Brewery (details on this family-run brewery coming soon!), and hip restaurants such as Cowiche Canyon, are growing and creating an impressive craft beverage hub in Yakima.
With so many new and growing craft breweries, wineries, and fine dining restaurants cropping up, tourism is bound to increase... and all of those travelers will need more lodging options.
Hotel Maison on Yakima
Hotel Maison is located in the former building built and used by the Yakima Freemasons. The original facade and various architectural details throughout the building remain.
Yet while the outside of this hotel presents an unassuming, tradition exterior that blends in well with the surrounding downtown Yakima buildings, the interior welcomes you with modern furnishings and artwork that reflects today's blossoming Yakima spirit.
You are welcomed into Hotel Maison by a warm mixture of Pacific Northwest wood, modern metal fixtures, sculptures, and subtle lush greenery. There's nothing stuffy or standoffish about this place: the entrance embraces you with a hearty Pacific Northwest hello and makes you want to kick off your shoes, enjoy a bottle of wine in the inviting lobby, and stay a while.
The artwork at Hotel Maison in Yakima is perhaps my favorite collection of artwork in any hotel I've stayed at; the first being the Westin Portland, but I've never actually stayed there, I've just attended events there and gawked at the hotel's impressive art collection. But Hotel Maison's walls are filled with a different type of art: beautiful photographs and paintings by local artists that paint the story of Yakima and the surrounding mountains and countryside. They truly help invoke the warmth of this area.
Accommodations
There are five types of suites at Hotel Maison:
King Corner
Standard King
Studio Suite
Standard Two Queens
ADA rooms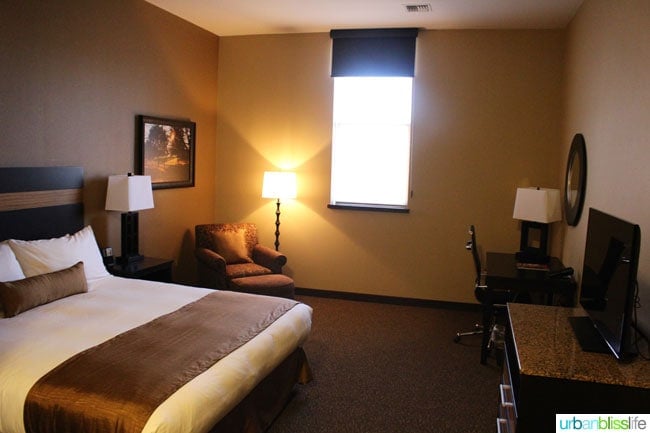 During my two-night stay in Yakima as part of the Yakima Craft Beverage Tour, I stayed in a Standard King room which was spacious, elegantly decorated, and very comfortable.
The king bed was soooo comfortable: not too fluffy, but not too stiff. It was the perfect place to crash after a long day of winery and brewery visits!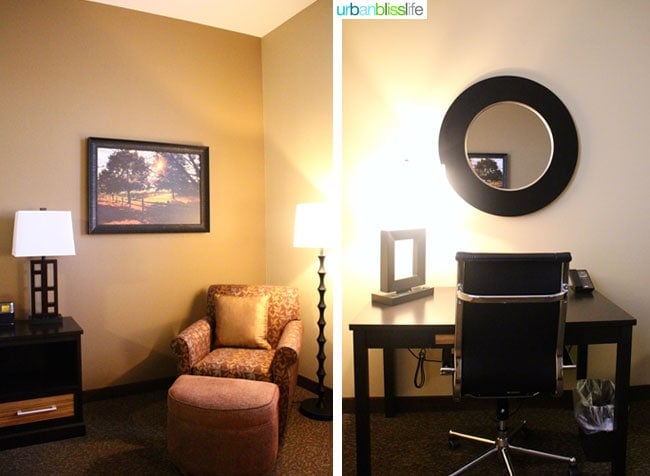 The Standard King room also had a cozy armchair and ottoman to relax and unwind with a book, and a standard desk with modern rolling chair. One of my favorite little details in any hotel stay is a room with light fixtures that have built-in outlets. This is a necessity in any type of accommodation these days for travelers like me!
There was a large food and beverage center with a mini fridge, Keurig coffee maker, storage space (perhaps for all that wine you purchased during the day!), and microwave. Each guest also receives two complimentary bottled waters during your stay.
The bathroom was a decent size, very clean, and had enough counter space.
The Standard King would be wonderful for two people, but if you're traveling with kids you might want to consider the Studio Suite, which has a King bed plus a sofa sleeper, or the Standard Two Queen room.
Amenities
If you stay at Hotel Maison, you are treated to a complimentary breakfast daily in the lobby dining area. I was impressed by the offerings: in addition to the standard cereal, yogurt, and pastry options, there was also a nice charcuterie & cheese tray (this is wine country, after all), a delicious selection of fresh jams in addition to cream cheese at the bagel and pastry section, and fruit-infused water.
Guests also have access to the on-site fitness center and the adjacent spa.
Wrap up
I truly enjoyed my stay at Hotel Maison. It was more contemporary and comfortable than I could have imagined, and the entire staff was so pleasant and helpful. The rooms are beautiful, clean, and provide everything you need during your stay here. I also love that the hotel is within walking distance from wine tasting rooms, boutique shops, breweries, and some of the town's best restaurants, including Cowiche Canyon where we dined one evening.
I highly recommend a stay here for solo travel, couples travel, girls' getaway travel, and for families who have one baby/toddler or who have 1-2 older children. It's a quiet, smaller hotel, and it was still new (30 days old!) when I stayed here, so I can't imagine it's the best option for a rambunctious family of 5 or 6, especially if a pool is on your must-have list. But for everyone else: definitely check it out!
Visit
321 East Yakima Ave
Yakima, WA 98901
509.571.1900
Thanks so much to Hotel Maison and Yakima Craft Beverage Tour for the complimentary hotel stay. As always, all opinions and photos are my own. I get to visit and experience a lot of different locations during my travels, and I only share the ones that I truly, honestly enjoy and the ones I believe you will all enjoy as well!