Looking for places to eat in Yakima? Nestled among old historic building, small businesses, and food chains, Cowiche Canyon Kitchen + Icehouse stands out. This modern build restaurant space with classic American cuisine is a great place to eat & drink when visiting Yakima, Washington.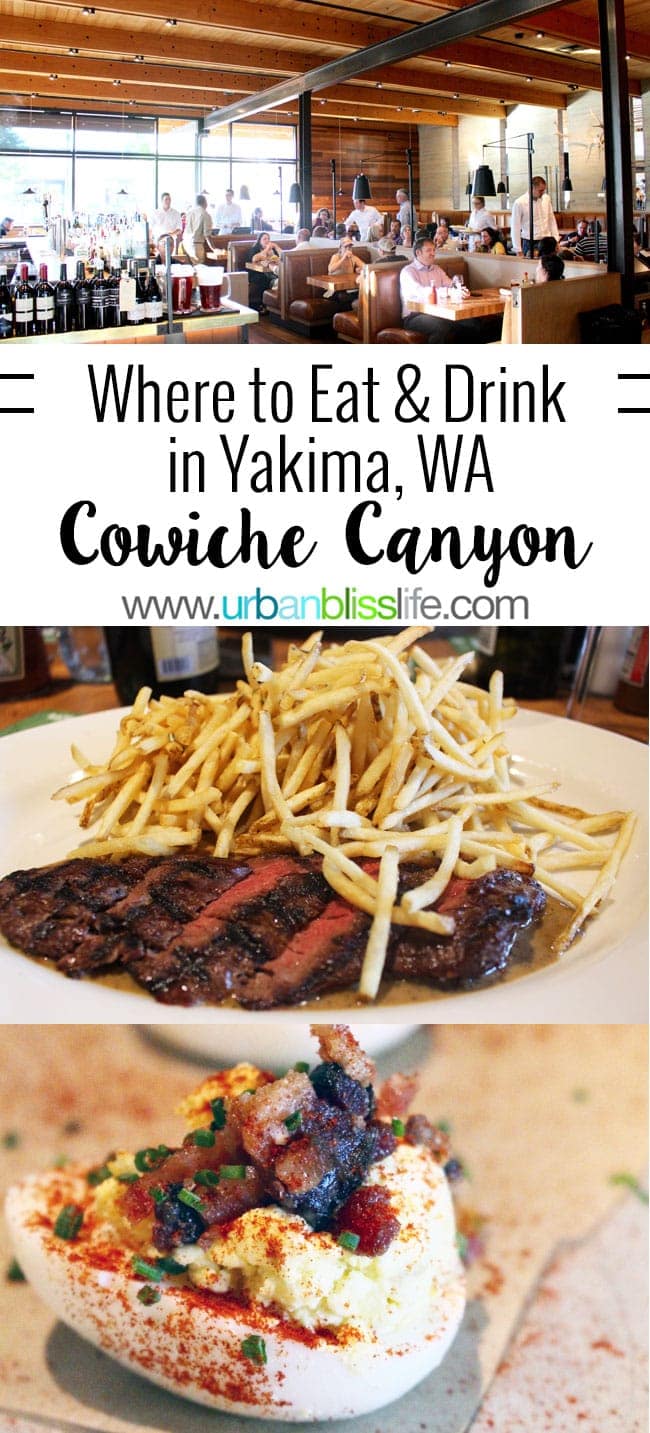 While traveling as part of the Yakima Craft Beverage Tour, I wasn't quite sure what to expect of the restaurants we would encounter in Yakima, Washington. Our first dinner in Yakima was at Cowiche Canyon Kitchen + Icehouse, and it was a fun, lively place to enjoy what the restaurant scene in Yakima has to offer.
Cowiche Canyon Kitchen + Icehouse
First impressions are everything.
As a professional graphic designer, I'm a firm believer in judging a restaurant by its branding, because it tells you so much about what you are to expect from the experience that awaits you behind those doors. Cowiche Canyon is housed in a modern industrial-style building with Pacific Northwest wood accents contrasting against concrete, glass, and metal.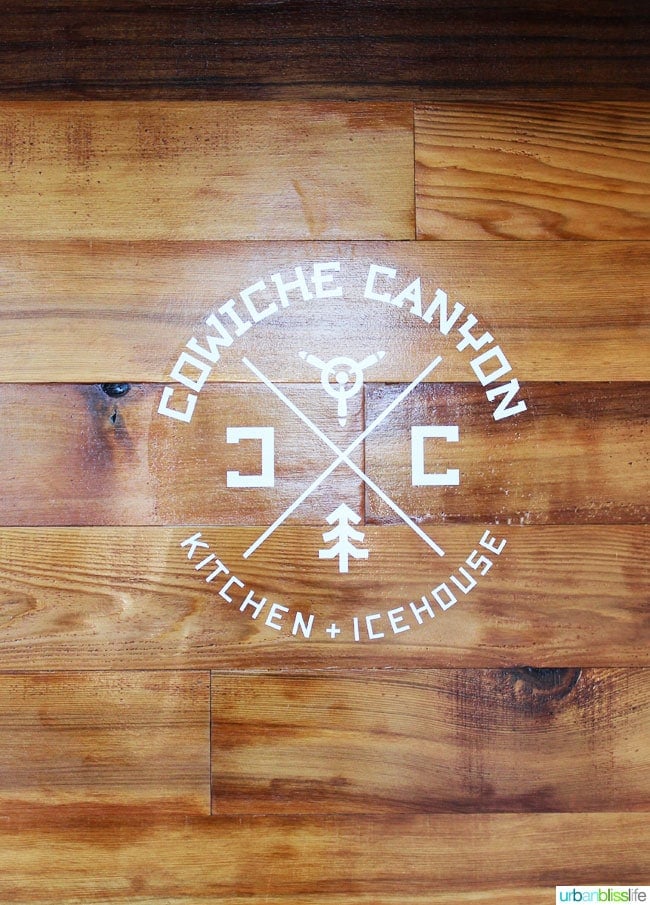 Their logo is old cowboy wild west meets new hipster Pacific Northwest and looks perfect against this wood backdrop. It's also a great representation of what you will get on your plate here at Cowiche Canyon.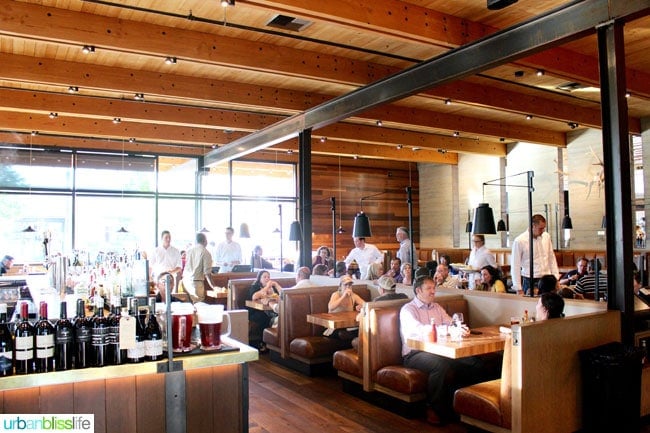 The space is large and the atmosphere is jovial. We were surrounded by couples, families, special occasion diners, and groups of friends meeting after work. The restaurant side is entirely open, with an elevated ceiling, a large open bar, and a variety of tables and booths from which to choose.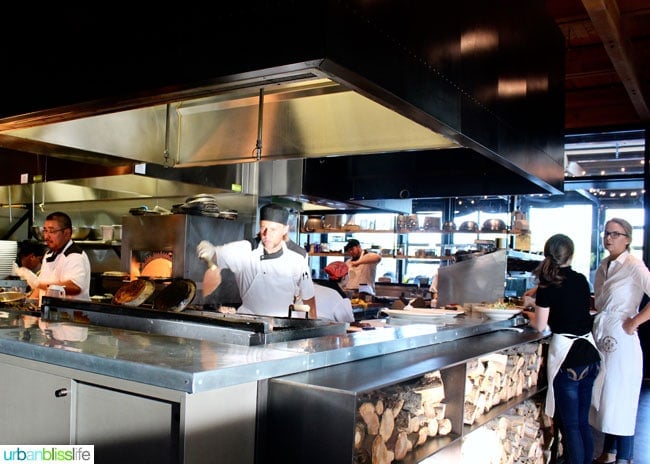 The kitchen itself is an open kitchen, which adds to the active feel of the space.
Drink Bliss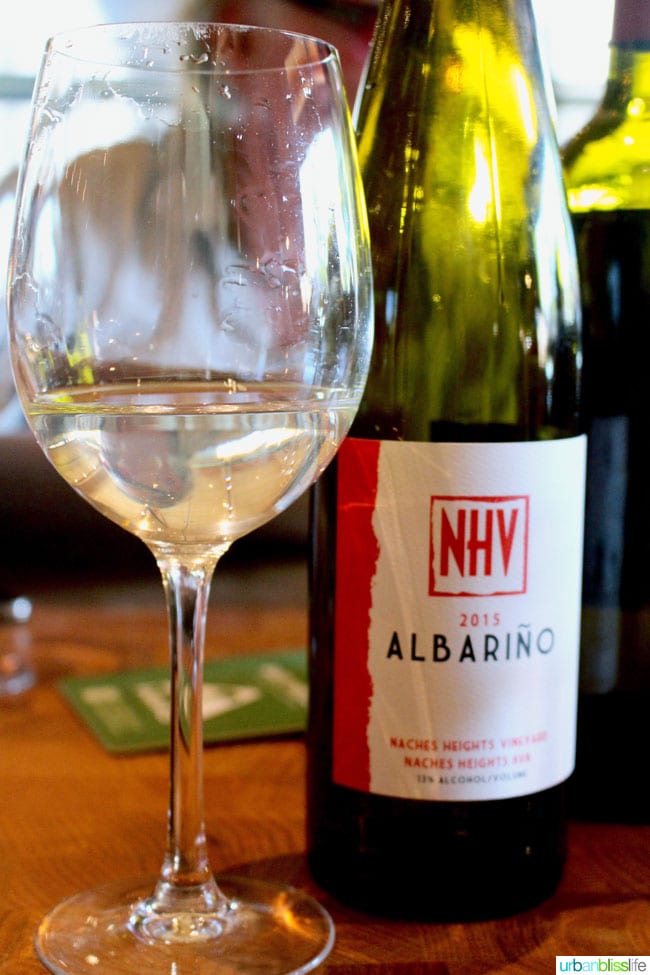 One of the things I love the most about Cowiche Canyon restaurant is their Wines by the Glass menu: aside from a couple of sparkling wines from Italy, the wine list consists of all Washington wines, and mostly local wines at that. For $7-15 per glass, you can enjoy a Gilbert Cellars wine, Naches Heights Vineyard wines, Charles Smith/K Vintners wines, and more. Like their food menu, the wine list changes from time to time based on availability and season, but you can be sure that you will enjoy a lovely Washington wine with your dinner here.
Food Bliss
Cowiche Canyon serves classic American cuisine, done well. Dishes are moderately priced, with the most expensive entree being the steak (currently) at $33.
For starters, we tried the Grilled Artichoke ($10) and Dip Duo ($9), which is their version of chips and salsa but instead of salsa you get chips with a side of pimento cheese and a side of guacamole. I enjoyed both the pimento cheese and the guacamole that came with the chips.
We also tried the Deviled Eggs ($5) and Calamari ($10).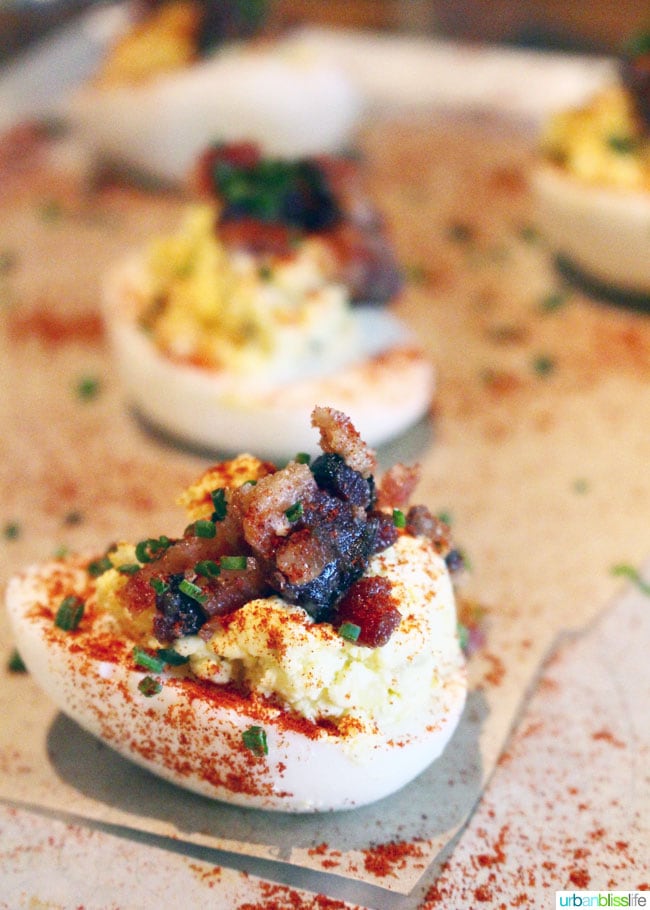 Deviled eggs, which came charging back into restaurant fashion a few years ago, are done in a classic style here, topped with bacon and chive. You can't go wrong with these. I love that they add a generous dash of paprika to each deviled egg, as that's how I personally love to enjoy these.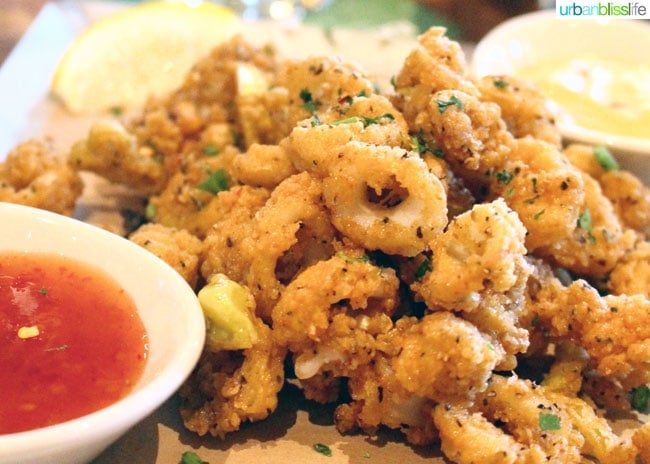 I don't see the calamari on their summer menu, but if these are on the menu when you visit Cowiche Canyon restaurant, I highly recommend ordering these. Their calamari is breaded with a nice balance of salt and pepper, and fried just enough to give a little crunch with each bite. I loved the calamari here.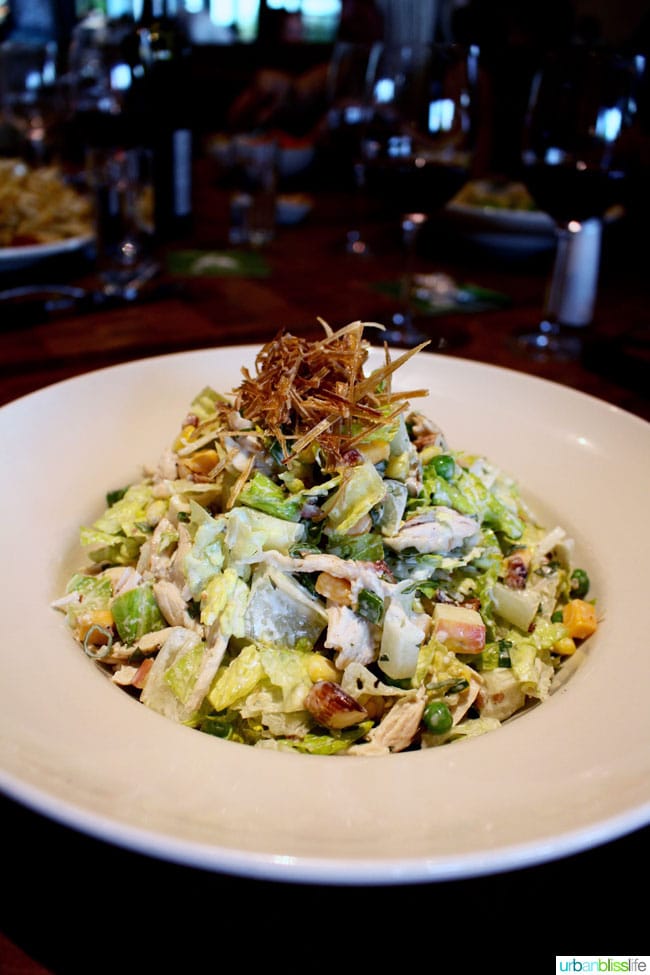 The Lateral A Rotisserie Chicken Salad ($14) is a hearty salad with romaine lettuce, pulled rotisserie chicken, cheddar cheese, apples, peas, corn, crushed almonds, green onions, and topped with crispy leeks and Lateral A dressing. There's a lot going on in this salad, but it works: the blend of flavors and textures balance nicely.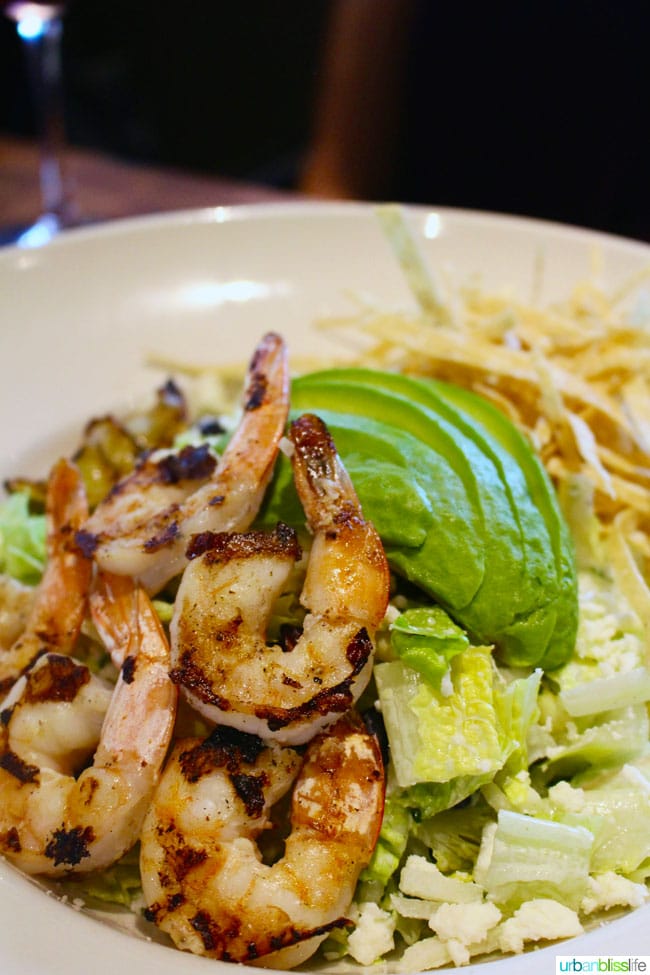 The Grilled Prawns and Avocado Salad ($15) has grilled prawns, avocado, corn, queso fresco cheese, black beans, lettuce, jicama, cilantro, tortilla strips, and served with a green goddess dressing. Mine could have used more seasoning and flavor, but overall, I enjoyed this salad.
The entrees are fantastic here and they're a big part of why Cowiche is on my list of places to eat in Yakima. We tried the Steak Frites ($18), which were amazing. Steak Frites are one of my husband's favorite meals, and if we see it on the menu at almost any restaurant we go to, one of us usually has to order it. The steak frites at Cowiche Canyon are made with grilled sirloin cap, black peppercorn sauce, and served with shoestring fries. The steak was cooked perfectly medium rare with just enough pink in it and beautifully seared edges. Lovely.
Icehouse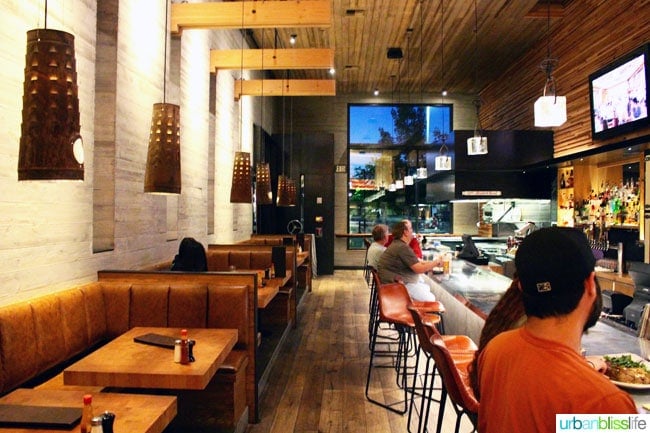 Adjacent to the kitchen restaurant side is the icehouse. Here, you can order from a small selection of bar snacks and a large selection of specialty cocktails, beer, and wine. We ended our dinner about 15 minutes before closing time for the Icehouse and unfortunately were turned away, so be sure you arrive on the earlier side of their hours in order to enjoy a light snack and drinks with your buddies here.
Visit Cowiche Canyon
When it comes to places to eat in Yakima and you want a solid, classic meal that's not too fussy but still slightly upscale, Cowiche Canyon Kitchen + Restaurant is a fabulous spot. It's a great place to dine with groups and I know my kids would enjoy it here as well.
202 East Yakima Avenue
Yakima, WA 98901
509-457-2007
KITCHEN HOURS:
Sun & Mon: 11am – 9pm
Tues – Thurs: 11am – 10pm
Fri & Sat: 11am – 11pm
ICEHOUSE BAR HOURS:
Sun & Mon: 11am – 9pm
Tues & Wed: 11am – 11pm
Thurs – Sat: 11am – midnight
HAPPY HOUR
Mon-Fri: 3pm – 6pm
More: CowicheCanyon.com
More Washington Travel + Food + Wine Bliss:
Many thanks to the Yakima Craft Beverage Tour, Cowiche Canyon, and coordinator Jamie Peha for this complimentary dining experience. As always, all opinions and photos are my own.