The 2016 Seattle Wine and Food Experience Grand Tasting was a showcase of some of the highest quality, innovative brand leaders as well as exciting new players in the Pacific Northwest food & beverage scene.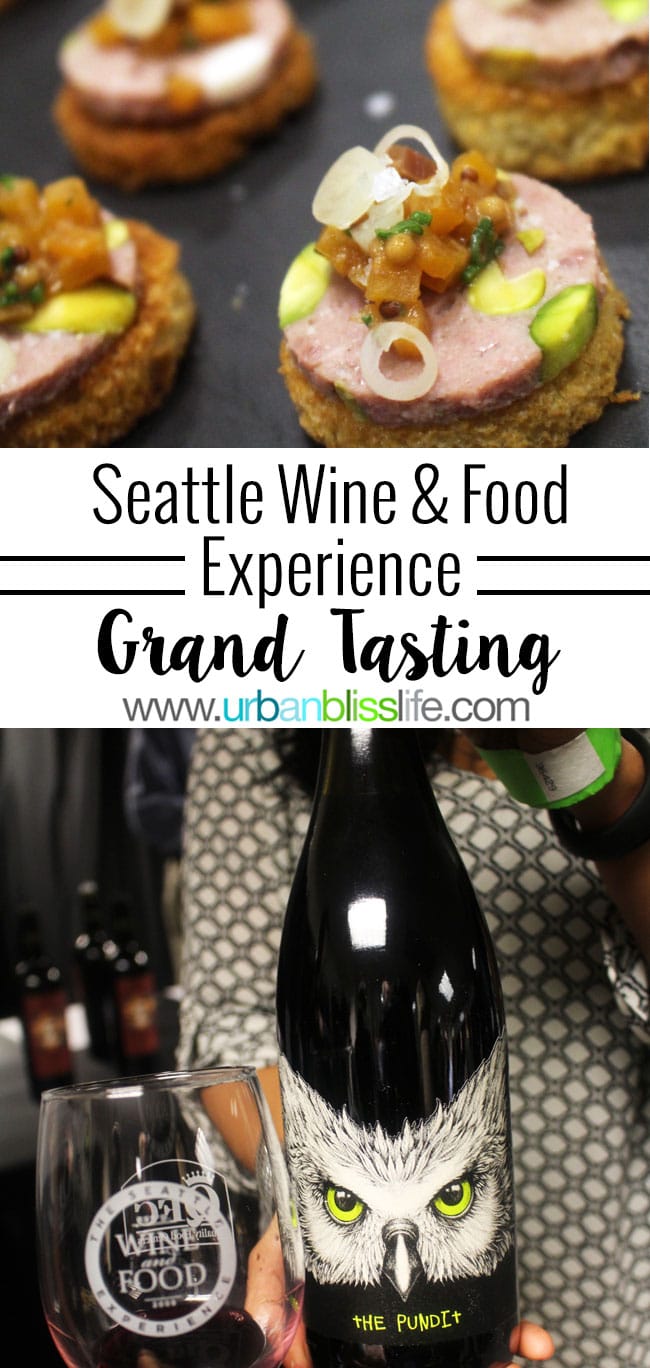 After experiencing the festive Pop! Bubbles & Seafood event, settling into a relaxing night's sleep at the Maxwell Hotel, and fueling up on a large, divine breakfast at Toulouse Petit (full restaurant review post coming soon), I geared up for the main event of the weekend: the Seattle Wine & Food Experience Grand Tasting.
Jump to:
Grand tasting
You can read all about the main details of the weekend's events in my Seattle Wine & Food Experience preview post. In essence, it's a deluxe showcase of Pacific Northwest wine, spirits, cider, beer, food, and lifestyle brands. It's an excellent place to sample so many top notch businesses under one roof, in a fun and interactive atmosphere.
I enjoyed several absolutely delicious bites by some of Seattle's best restaurants, bakeries, cooking schools, and caterers. There were impressive booth displays at this food and beverage festival, making it a feast for the eyes as well as the taste buds and tummy. They were honestly all so gorgeous, such beautiful pieces of art, that I snapped a LOT of photos.
So without further ado, here's a look at some of the highlights of the 2016 Seattle Wine and Food Experience Grand Tasting event, which was held February 21, 2016 at the Seattle Center Exhibition Hall.
Washington wines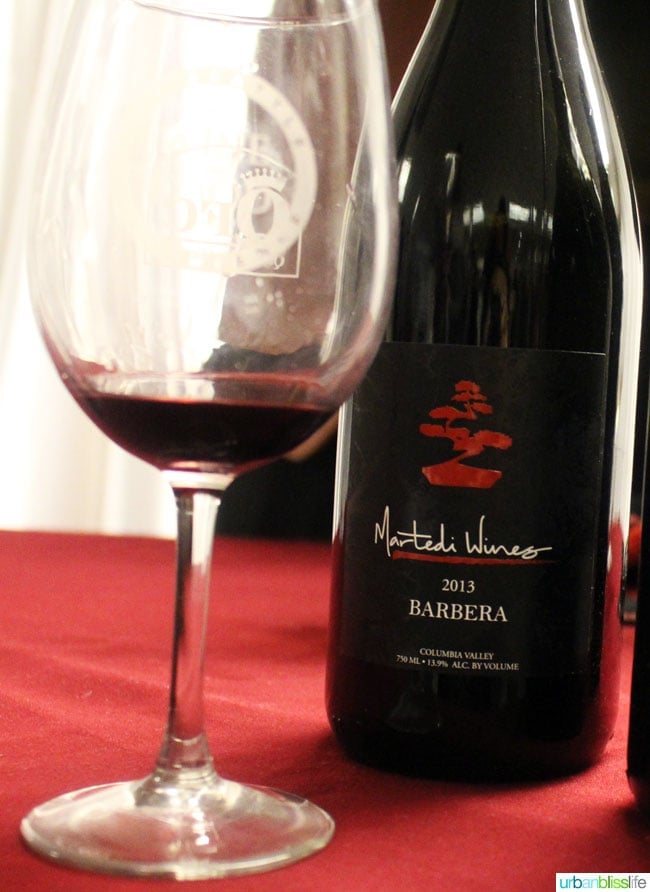 From top to bottom: Martedi Winery // Rainier Wine (makers of Portlandia wine) // Anew wines // The Pundit by Chateau Ste Michelle
Oregon wines
The Seattle Wine and Food Experience featured wines from all over the globe, with separate areas for Oregon wines, Washington wines, and International wines. Here's a look at some of my favorite Oregon wines that were represented at the Grand Tasting.
From top to bottom: Serra Vineyards // Scott Paul Wines // Dobbes Family Estate // Le Cadeau //
California wines
Klinker Brick Winery (keep in mind there were many more California wineries; this is just the one photo from this category that made the cut!)
International wines
There were a few international brands, but I truly enjoyed chatting with Jeff Peda, the Northwest Regional Manager of Blends, Inc. Blends' family of wine estates includes wines from various countries, such as Argentina and Uruguay. The Cleaver red blend featured above is from California.
Spirits and ciders
Bend Distillery & Crater Lake Spirits makes amazing flavored vodka, and this was my first time trying the Hazelnut Espresso. Wow! It was a lot to take in a straight shot, but I could definitely see using this in many, MANY cocktails. It's on my list to get and use in a future Mixology Monday post!
Hendrick's Gin always has an incredible display at any event, and this was no different. I took video, and may share it later, but they brought with them a fabulous steampunk-esque self-mixing cocktail contraption.
The food
I wish I had the space to go into great detail of each of these dishes, because I have strong opinions on all of them (mostly good!). If you have questions about specific ones, feel free to leave them in the comments and I will try to answer them. For the sake of space, here's a look at each dish and its ingredients. I like to say that we eat with our eyes first, and at first bite, just looking at these photos, you get a really excellent sense of just how delicious they are!
If you read this blog regularly, then you KNOW I fell in love as soon as I saw this dish: Coho salmon, farro risotto (oh how I love farro!!), Sorrel, and King Crab Mousse, by Celebrity Cruises. Celebrity cruises had an awesome lounge set up where you could watch their master mixologist mix up signature cocktails for guests, enter to win an Alaska cruise, or just lounge and enjoy the salmon.
One of my favorites of the event: filet mignon Au Porto-Angus beef filet stuffed with buttermilk blue affinée with a veal demi and port reduction, by Carousel French Cuisine.
Lamb pastrami on a pretzel crisp with sauerkraut mustard, but Trellis Restaurant.
"Beat Bobby Flay" Bibimbap: spicy ahi tuna poke with shredded lettuce, cucumber, radish kimchi, radish sprouts and gochujang sauce, by Chinoise Cafe.
Nicky Farms goat Mortadella by Novelty Hill-Januik. This was one of my favorite dishes in terms of presentation, creativity, and taste. (I might have had two...).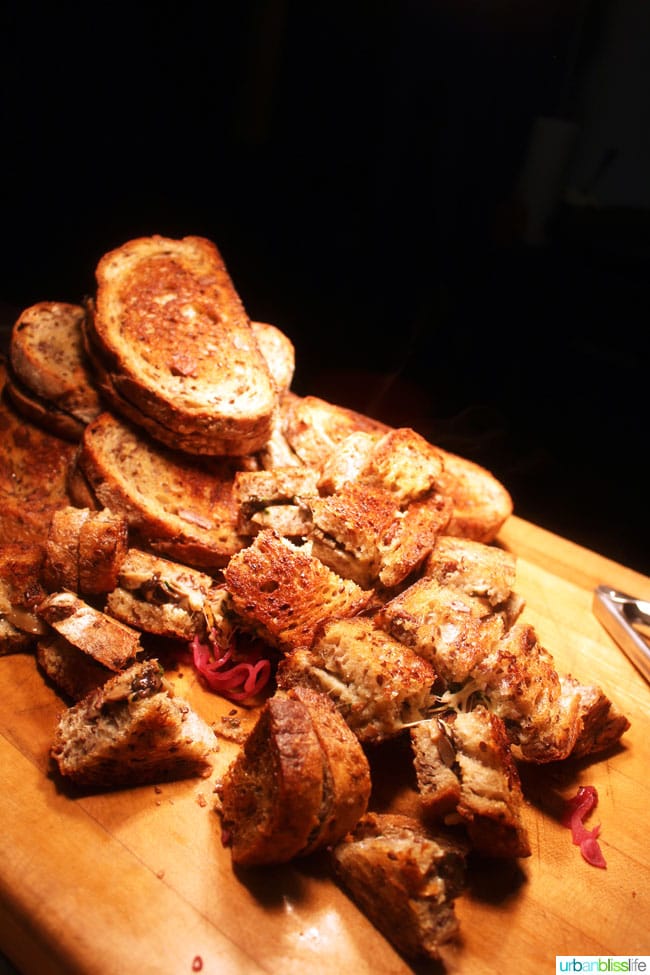 Roasted Mushrooms on Dahlia Bakery Pecan-Flax Bread with Pickled Shallots, by The Dahlia Lounge.
Soy & ginger braised lamb with sesame sticky rice cake and lemongrass curry aioli, by Frolick!
Roasted white chocolate panna cotta with strawberry rosé gelee, by South Seattle College Culinary and Pastry & Baking Arts
The Seattle Canning Company was on hand with their various products, and impeccable branding all around.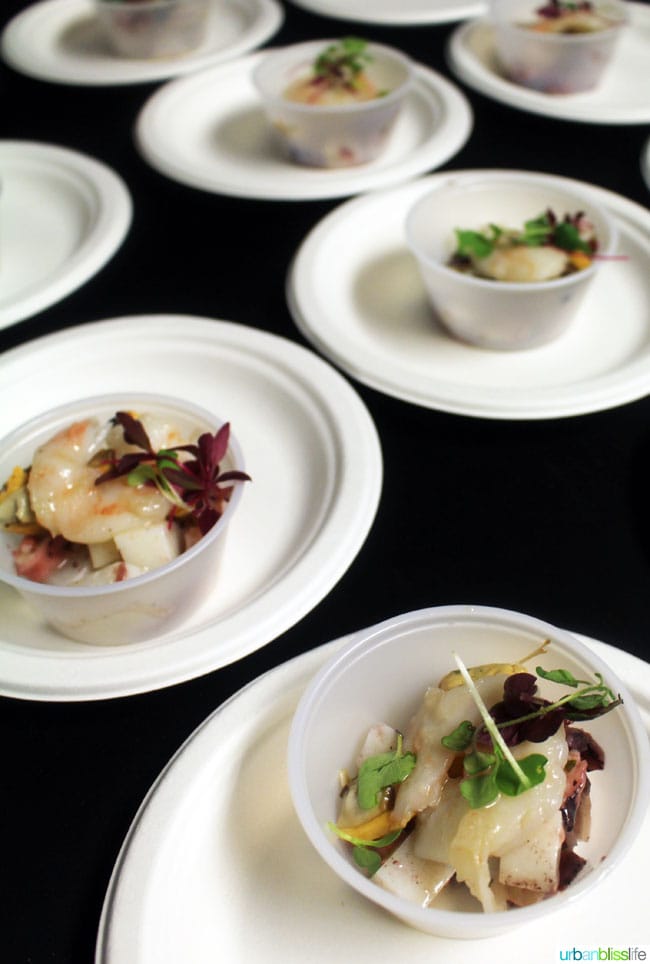 Insalata Di Mare by Blue Sardina
Mozarella and tomato bruschetta by Mama Stortini's. I loved this bruschetta so much.
Seared rare venison sirloin, red wine braised salsify, and grains of paradise, by Lark.
Finally, a bevvy of sweet treats from Gelatiamo (pictured left), and donuts from Top Pot Doughnuts
Etc.
Many exhibitors had fun interactive features and my favorite by far was meeting the founder of Tim's Chips. We got a photo together (I'll post that soon on Twitter, Instagram, and/or Facebook), and he was there signing bags of chips so I got a signed bag for my kids! Yakima Valley was the featured wine region, and in addition to all of the wineries and restaurants featured in the photos below, there were some incredible beer and cider companies represented here as well. One of my favorites was brand new to the cider scene: Flatbed Cider. I hope to be writing more about their cider in a separate post soon!
Why go?
If you are reading this, then you made it this far through all of the photos, and my rambling. High five!
I know there were a lot of photos, and I thank you for bearing with me. But, imagine all of the DELICIOUS beauty that you did not see, which I had to cut. There's a lot missing here, because I don't have room for every awesome find from this event. So that means you will need to check it out for yourself next year!
If you're a food or wine/beer/spirits lover in the Pacific Northwest, this is the event for you. You would love chatting with the winemakers and principles of many of the wineries, with the chefs and restaurant owners. It's a very inviting atmosphere; I knew maybe one or two people, and not very well, and I found everyone there so warm and welcoming, and eager to chat. There were so many interesting people to meet and incredible business stories to be shared here; it's like speed dating between consumers and food & beverage companies. I left with so much valuable information, a ton of business cards, and lots of great memories.
Be sure to click on the links for the above mentioned businesses to learn more about their food and beverage companies. To learn more about the Seattle Wine & Food Experience, please visit their website.
Which wine or dish featured above would you be interested in trying the most?
I attended the Seattle Wine and Food Experience Grand Tasting and the Pop! Bubbles & Seafood event as a media guest. As always, all opinions and photos are my own. I only write about products, places, experiences, events that I personally enjoy and believe you will, too!