Located within walking distance from the Space Needle and other Seattle attractions, The Maxwell Hotel Seattle offers travelers a luxurious, vibrant boutique experience with modern amenities and chic comfort.
Jump to:
Maxwell Hotel Seattle
Recently, I took a road trip up to Washington to attend the Seattle Wine and Food Experience, and had the pleasure of staying at the Maxwell Hotel Seattle.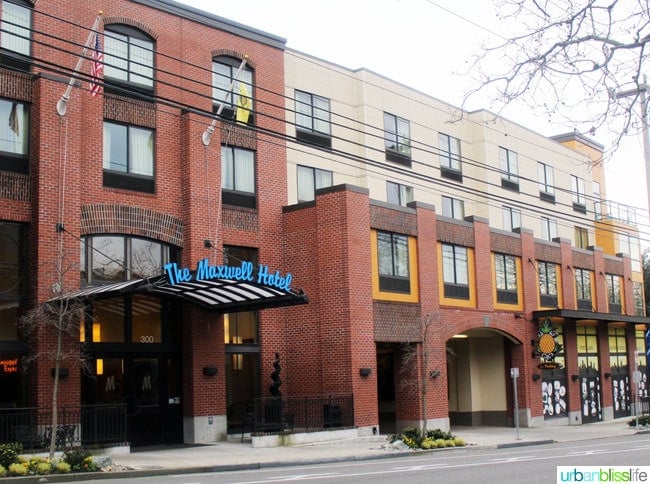 The Maxwell Hotel Seattle is located in the Queen Anne district, just two blocks away from the Seattle Space Needle, Seattle Center, Children's Museum, EMP Museum, and Chihuly Garden and Glass. The hotel offers a complimentary shuttle to most Seattle attractions for hotel guests, and there is a private guest parking garage below the hotel; parking is $20 + tax per night.
As part of the Pineapple Hospitality group, it is one of four Pineapple Hospitality hotels in Seattle. The company also owns hotels in Portland, OR, San Diego, CA, and San Francisco, CA.
As soon as you enter the lobby, you are immersed in the hotel's modern vibe, with vibrant colors, luxurious fabrics, and quirky decor. There's no shortage of comfortable seating anywhere in this hotel.
Guests are treated to fresh coffee and pineapple cupcakes during an afternoon reception in the lobby each day.
Rooms
The Maxwell Hotel Seattle offers a variety of rooms and suites suitable for single travelers, groups, and families. Rates range from approximately $160 to $300 per night, depending on mid-week versus weekend stays, as well as room size and season.
I was treated to a stay in the Prima Donna Suite, which sleeps up to six people thanks to two king beds and a sleeper sofa. The beds at the Maxwell Hotel are extremely comfortable. I could have lounged in those beds all day long.
Each room offers complimentary WiFi, a mini fridge, in-room coffee maker, hair dryer, large golf umbrellas to fight the Seattle rain during your stay, microwave, in-room safe, large flat screen television with cable, and more.

The Prima Donna Suite also includes a spacious bathroom with jetted tub and large, walk-in shower.
My favorite part of the Prima Donna Suite was this beautiful sitting area. It felt so relaxing and spacious - a great place to put my feet up after a long day of touristing and trade show pacing.
And, during the day, I had a great view of the world famous Seattle Space Needle from the sitting area.
The decor at Maxwell Hotel is modern, hip, and luxurious. Regardless of the room or suite you choose, you're sure to feel like you're being pampered with a great escape from everyday life.
This suite would have been spacious enough for my whole family and our dog, with lots of extra room to spare. My kids would have LOVED this hotel! And, I know our dog would have appreciated the extra space and not being crammed into a small room.
Family and dog friendly
Speaking of dogs, the Maxwell Hotel Seattle is a dog-friendly hotel. I absolutely adore the fact that they allow up to two dogs without weight restrictions (our dog is 65 pounds, so we're always looking for spaces like this!). Upon arrival, your furry family member receives a dog bed, treats, water bowl, and you get some doggy waste bags to use during your stay.

You also have the opportunity to "adopt" a stuffed furry companion to take home with you. For $25, I adopted this adorable fellow, whose given name was Fluffy, but whom my kids have renamed Pineapple. Quite a fitting name! Proceeds from all fluffy adoptions go toward the local humane society.
In addition to being a great place to bring your furry companion, it's also a fantastic family-friendly hotel. There were lots of kids of all ages and families of all sizes roaming the halls and the lobby throughout my stay at the Maxwell Hotel.
The swimming pool is small but extremely kid-friendly. Like the rest of the hotel, it's bright and colorful, with lots of lounge chairs and tables surrounding the pool.
There are adorable yellow bikes for adults and a couple of kid bikes available for use, complimentary to guests staying at the Maxwell Hotel.
Art
Everywhere you go throughout the Maxwell Hotel, your eyes are treated to artistic touches. The floor above is perhaps my favorite functional art piece, and it greeted me each time I went to catch the elevator on my floor.
Elsewhere, you'll find comfortable seating areas flanked by unique works of art throughout the entire hotel.
And if you are here for business, there are large meeting spaces and smaller, more intimate public gathering areas where you can check your email, or just catch up on the latest game while waiting for your next event or meeting to start.
Dining
As far as dining options go within the Maxwell Hotel, there's the Pineapple Espresso bar (pictured in the lobby photos above), where you can grab some quick snacks and coffees, waters, juices.
There's also The Rock Wood Fired Kitchen, which is a full-service restaurant serving up tasty burgers, pastas, and classic pub fare.

Or you can grab a quick drink or bite to eat at the Pineapple Bar between 3:30 - 9:00pm, located adjacent to the main lobby.
Wrap up
Although I only stayed one night at the Maxwell Hotel Seattle, I truly enjoyed my stay and all of the amenities the hotel offers. The rooms are beautiful, comfortable, and the entire hotel is a marvelous work of art. The staff is extremely helpful and friendly. I can't wait to bring my whole family back here to stay the next time we are in Seattle! I know that they would all love it, especially my daughter, who takes careful note of the little details and touches in hotels; she would surely love how the Maxwell Hotel leaves no detail unnoticed... they really have gone the extra mile to ensure your stay is relaxing, restful, and that you feel pampered.
The location is absolutely perfect for families who want to visit Seattle's main attractions but not stay right in the busy, loud bustle of downtown Seattle. You can park your car in the private guest garage and then take the complimentary shuttle downtown if you don't feel like walking. However, it's so easy to walk to most of the main family-friendly attractions, and there are plenty of great markets and restaurants within walking distance as well. I can't wait to share with you my brunch experience at nearby Toulouse Petit.
Stay
300 Roy Street
Seattle, Washington, United States
Reservations: 877-298-9728
TheMaxwellHotel.com
Have you ever stayed at a Pineapple Hospitality hotel on the West Coast? What do you think of the hotel decor and amenities?
Many thanks to the Maxwell Hotel for the complimentary stay and for your staff's incredible hospitality. As always, all opinions and photos are my own. I only write about places, products, experiences, events, and services that I personally enjoy and believe you will as well!