Sun Basket meal kit delivery service focuses on organic ingredients and easy, delicious recipes that you can cook at home.
I love going out to eat, and I love cooking at home. But there are those days when I, like everyone else, feel totally uninspired. I want a delicious gourmet meal, but I don't have the ingredients on hand and I'm just at a loss for what to cook.
Meal Kit Delivery Services
I had heard of several meal kit delivery service options available. You can't miss them: there are so many these days. But the one that really caught my eye was Sun Basket. They claim to offer all organic ingredients, with healthy, easy to prepare meals that are developed by their on-staff chefs.
Easy to prepare is KEY for me, folks. I've got two kids in elementary school, two busy businesses, and a house that still, for some odd reason in this day and age, does not clean itself. So I can't do complicated, fancy meals that my lovely friends who aren't married with kids can do.
So I decided to give Sun Basket a spin. Here's a look at what you get, how it really worked for us, and my thoughts on the experience, recipes, and food.
How the Sun Basket Meal Kit Delivery Service Works
STEP ONE: Choose your meals. The first step is to go to Sun Basket and select three meals for 2, 4, or 6 people. Their menu changes each week and ingredients are always in-season, certified organic, and sustainably sourced.
This is a big deal for me, as I know how challenging it must be for a company to be able to provide these quality ingredients on a regular basis at a price point that the masses can agree is fair.
STEP TWO: Order your meals for delivery. Sun Basket can deliver meals to your home or office. Since ingredients are perishable, I suggest you make sure you have your food delivered on a day when you will definitely be able to open and refrigerate the ingredients that day.
How are Sun Basket meals packaged?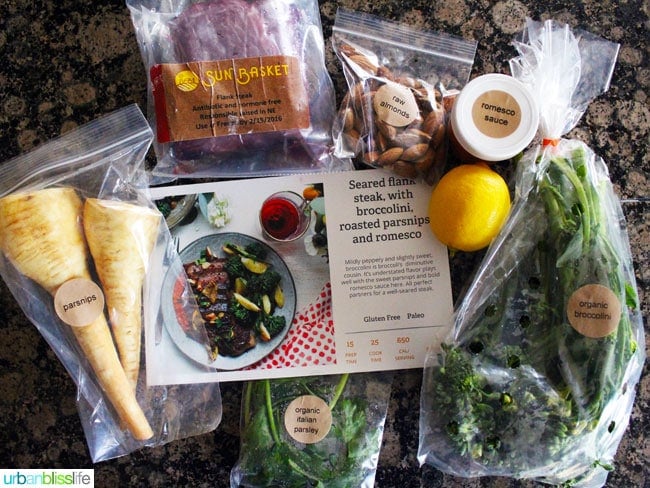 Each meal is packaged neatly within one paper bag, save for the meats, which are packaged at the bottom between extra ice packs. I love how each ingredient is labeled and portioned out for you according to the recipe. You never have to think for even a second about how much of each ingredient to put in.
Sun Basket Recipe Cards
Each meal comes with a recipe card with a beautiful photo so you know what your meal should look like. It also comes with a description of the dish, a listing of whether it fits the Paleo, Gluten-Free, and/or Vegetarian meal, prep time, cook time, calories, and servings.
On the back of each recipe card, you'll find a list of ingredients from your basket along with ingredients you'll need to add on your own from home. Don't worry: I never had to run out and buy a single thing for these meals; it's usually just salt, pepper, olive oil, which most of us already have at home anyway.
Finally, each recipe card includes the directions on the back. As a bonus: if you accidentally spill liquid on the recipe card and can't read, oh, say for example, how many cups of water you are supposed to add to the soup (as I did...oops!), each card also lists the specific URL for that recipe online so you can always check out the recipe online. THANK YOU, Sun Basket, for doing that!
What is the cost of Sun Basket?
Each meal costs just $11.49 per serving, which in my opinion, is a STEAL. Being someone with various food intolerances, I love that they offer several appetizing Paleo, Gluten-Free, and Vegetarian options.
How long does it take to prepare Sun Basket meals?
Each Sun Basket meal is supposed to only take about 30 minutes to prepare, and are nutritionist-approved recipes that come in at 500-800 calories per serving.
What I tried
For my review, I chose the following three meals to order and cook from Sun Basket:
Seared flank steak with broccolini, roasted parsnips, and romesco.
Calabrian wedding soup
Seared albacore tuna, green beans, soft cooked egg, herb vinaigrette
Seared flank steak
This was the first meal I cooked from Sun Basket, and it was my absolute favorite of the three. My husband liked it as well, but the tuna dish was his favorite.
Here's what I loved about it:
I learned to love parsnips. I saw those parsnips and was pretty skeptical, but boy they roasted up so nicely with the lemon and were a delicious accompaniment to this meal!
The directions were easy to follow.
The lemon-almond relish was SUCH a creative and perfectly paired addition to this meal. I am absolutely making this for other dishes in the future.
I would never have put these flavors together on my own, and I absolutely loved it. Now, I cook for work, so I'm always trying to come up with new and exciting recipes, and the parsnips with broccolini and the addition of the romesco sauce created a beautiful dish full of complementary flavors and textures. LOVED this meal!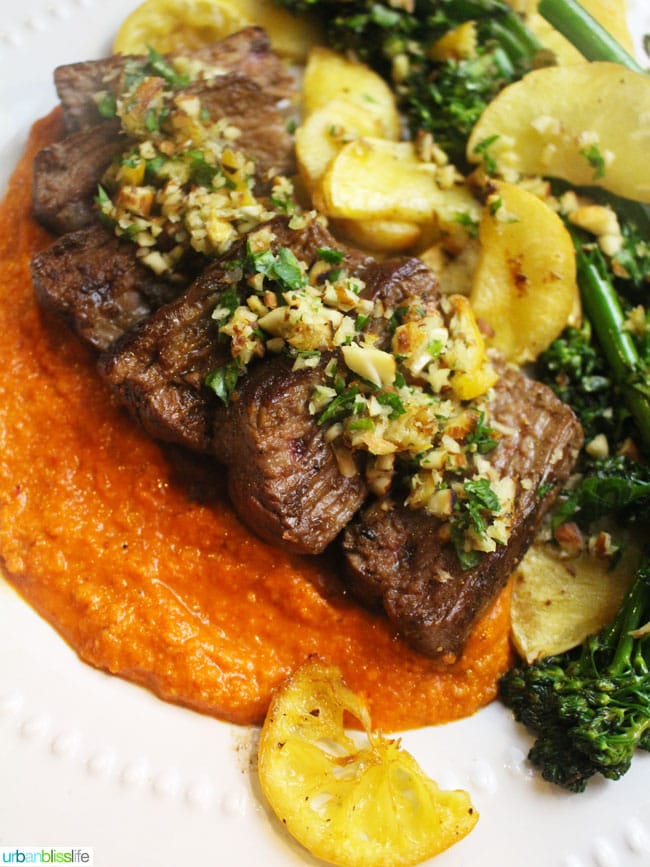 Other things to note:
1. It took me longer than 15 minutes of prep and 25 minutes of cooking time. It took me about an hour and 15 minutes from start to finish, but I always shave off the time I take in making notes and taking photos, so in total it likely took me about 15 minutes of prep and 40 minutes of cook time. That's still not a very long time, but I just want to note that, as fast as I was working, it wasn't done in 25 minutes.
2. The romesco sauce almost seemed like an after-thought. We weren't told to heat it up, so I plated it cold and placed the flank steak on top (like the picture they provided) but I think it would have been better heated up. That's the only odd thing that stood out for me and my husband in terms of the meal itself; otherwise, it was delicious!
Calabrian wedding soup

Our second meal was the Calabrian Wedding Soup, which was delicious as well and actually made about 4 servings instead of two. I had enough for lunch leftovers the next two days!
I personally like that you still do the cooking and meat prep (like making the meatballs).
Seared albacore tuna
Our third and final meal that we made with our Sun Basket delivery was my husband's favorite: the Seared Albacore Tuna with green beans, egg, and herb vinaigrette. Personally, I overcooked the tuna, so some parts were delicious while others were just overdone. That's one thing you need to keep in mind with any meal kit delivery: you are still the home cook, so a lot of the final product is on you.
Do I recommend Sun Basket Meal Kit Delivery Service?
I was very happy with our Sun Basket meal kit delivery. The recipes were creative and the ingredients were super fresh. I love how they are all certified organic & sustainably sourced, the directions were easy to follow, and the final dishes were delicious.
Even if you cook all the time like I do, you can still find new ingredients to love. And, you'll learn new ways to put them all together, thanks to these Sun Basket Meal Kit Delivery service meals. That made me so happy and EXCITED to cook!
Another bonus is how the company's commitment to sustainability extends to their packaging. You can actually return all of the packaging (including ice packs!) to Sun Basket after you are done.
It's so easy to order online, and I really love that you can skip a week if you want/need to, and you can cancel at any time.
Would I use Sun Basket again? You betcha!
Thanks to Sun Basket for providing me with this first box of three meals for two people to try for free. No other compensation was given for this post. As always, all opinions and photos are my own. I only write about products, experiences, events, and services I personally enjoy and believe you will as well! I definitely recommend Sun Basket!!