Over the next few weeks, we'll be exploring the Yakima Wineries in Yakima Valley, the first official AVA established in Washington State. We start with a visit to AntoLin Cellars.
Washington State has established itself as a hotbed of world class wines with diverse growing regions. While Walla Walla often gets mentioned when Washington wines are discussed, a growing number of vineyards in the Yakima Valley are causing a happy stir in the industry.
Recently, I spent a few days in Yakima, Washington with other wine writers as part of the Yakima Craft Beverage Tour.
Look at us, all fresh faced and well-rested! This photo was taken at the beginning of a 2-day whirlwind tour of several wineries, breweries, and restaurants. I'm excited to show you some of my favorites from the tour, starting with our very first stop: AntoLin Cellars.
AntoLin Cellaars
Located in the town's Historic North Front Street district, in the location of the old train station, the AntoLin Cellars Tasting Room is spacious, warm, and inviting.
The main tasting room is large enough to offer visitors plenty of room to cozy up to the bar without elbowing fellow patrons, and there are also tables where you can sit back, relax, and enjoy the wine tasting experience.
Next to the main tasting room are a few side rooms where you can explore and admire the local art, or go into deep relaxation mode by planting yourself onto one of the comfortable couches.
There is also a large open warehouse-type of space in the back of the building that is often used for wine tasting events, such as live music, Paint Nites, and special events.
AntoLin wines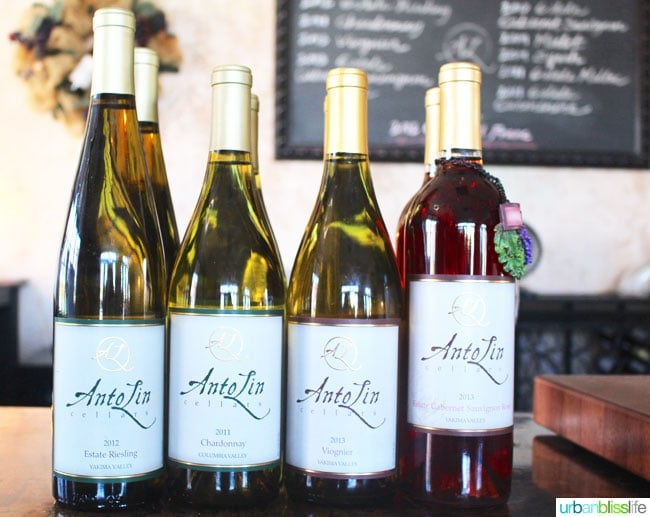 Sourced from their own 5-acre estate vineyard, Glacier, as well as other vineyards in the Yakima and Columbia Valleys, AntoLin Cellars offers a wide selection of varietals.
Currently, they make:
Riesling
Viognier
Cabernet Sauvignon
Merlot
Syrah
Chardonnay
Carmenère
Malbec
During our tasting and tour we sampled the majority of their wines, and my favorites were the Cabernet Sauvignon Rosé, the Estate Malbec ($25), and, surprisingly, the Riesling ($13.50).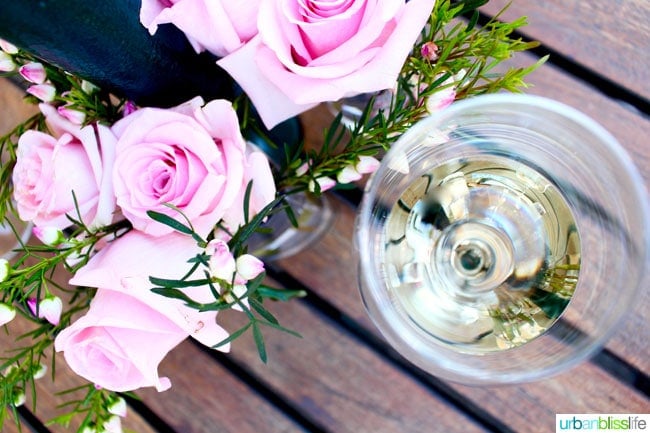 I am not normally a fan of Rieslings, whether they are dry or sweet, but the AntoLin Riesling was lovely! Refined, elegant, and smooth, this Riesling is sourced from their estate vineyard and fermented in stainless steel. The notes of stone fruits and melon are subtle, and I loved it so much I bought a bottle to take home. It's also a steal at just $13.50 per bottle!
Pricing
One of the main differences I noticed between the wines in Yakima Valley and other Washington wines: the price.
Wines from Yakima tend to be priced lower (in some cases, much lower) than their other Washington state wine producer counterparts. There are many reasons for this, but suffice to say: if you're looking for incredible wines at amazing prices, look for Yakima Valley wines right now - before their prices go up, too!
AntoLin Cellars, like many of the wineries in Yakima, is a small, boutique producer who produces only 100-200 cases of wine per varietal each year. Quality is not at all sacrificed in the winemaking process here, and AntoLin Cellars wines are priced between $13 and 25.
Their story
AntoLin Cellars is named after its founders: Tony (Anto) and Linda (Lin) Haralson. Tony works as a pharmacist and Linda works as a nurse, and this winery is their dream come to life. Tony completed the certificate program in winemaking at the University of California at Davis, and together with Linda, planted the vineyard in 2008. They both still work in their respective industries, but enjoy being able to share their passion for wine with others and intend to keep production small and focused.
I think that passion really shines in their wines. These wines are clearly not forced for mass production schedules; they are made with great care and with such detail.
I honestly wasn't sure what to expect of Yakima Valley wines. I've long loved the wines of the Horse Heaven Hills and Tri-Cities, Walla Walla wines, and Woodinville wines. Yet this first stop on our Yakima Craft Beverage Tour was a delicious and welcoming introduction to the handcrafted quality and appeal of Yakima wines.
Visit the AntoLin Cellars Tasting Room
14 North Front St.
Yakima, WA 98901
(509) 961-8370
HOURS:
Wednesday & Thursday 3 - 8pm
Friday 1 - 9 pm
Saturday 1 - 7 pm
Sunday 12 - 4 pm
http://antolincellars.com/
More Washington wine and travel ideas
Many thanks to the Yakima Craft Beverage Tour and coordinator Jamie Peha for this complimentary wine tasting. As always, all opinions and photos are my own. I did buy a few bottles of wine at industry pricing from here to take home: the Cabernet Sauvignon Rosé, Riesling, and Estate Malbec.