Walla Walla wine country in Eastern Washington state is rich in variety, with more than 100 wineries throughout four main wine regions within the Walla Walla AVA: Downtown/North, West, East, and South. Today, we explore Waterbrook Winery, located in the Northeastern section of this wine country region.
Jump to:
🍇 Waterbrook winery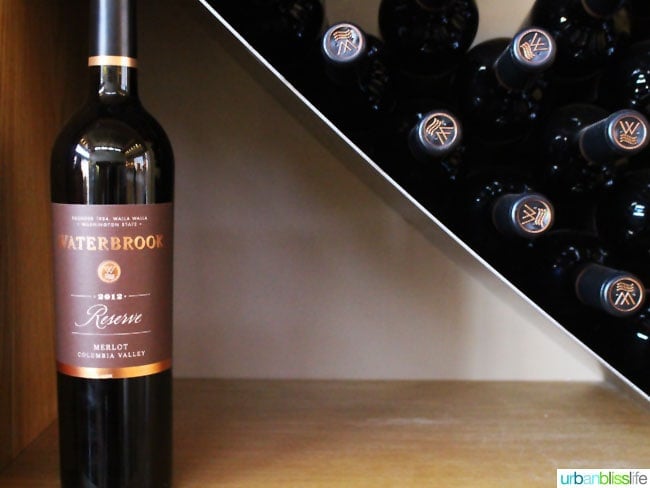 Just outside of downtown Walla Walla, Washington sits Waterbrook, one of the more established wineries in the area. Founded in 1984, Waterbrook has wide distribution throughout the United States, and chances are, at one point in your life, you've likely either had the chance to enjoy a glass of Waterbrook with dinner at a local restaurant. Or you've seen their bottles (and maybe even picked one up) at your local grocery store or wine shop.
You can't miss Waterbrook's large, beautifully constructed, modern tasting room as you head out of Walla Walla on Highway 12.
🍾 The tasting room
The expansive tasting room sits off of the main highway, but you won't notice the traffic at all as you are immersed into the Waterbrook Winery oasis. The interior has a warm, Pacific Northwest casual, comfy feel, while the outdoor space is filled with lush greenery (a stark contrast to the golden-hued surroundings of Walla Walla wheat farms) and a serene garden pond.
If you can visit Waterbrook Winery on a sunny day, you will definitely want to sit on their spacious outside patio and take in the views of Blue Mountains off in the distance.
You can also cozy up to their outdoor fireplace, which is where my girlfriends and I decided to enjoy our wine tasting at Waterbrook.
🍷 Tasting experiences
Wine tastings at Waterbrook are either $5 or $10 per person, depending on which wines you would like to try (contact Waterbrook for the current tastings); tastings are free for Club Members.
Our tasting experience began with a pour of Waterbrook's 2014 Viognier, which turned out to be one of my favorites of this tasting.
The 2014 Al's Run Viognier is a sultry white wine with dancing peach and nectarine notes up top, which simmer slowly into a smooth, honey finish. I would drink this wine with nutty salads and light appetizers before the main course, but it's also a delightful wine to enjoy on its own on a warm summer day.
At $22 per bottle, the 2014 Al's Run Viognier is a great value wine that is wonderful to serve at dinner parties or bring as a hostess gift, and a portion of the proceeds from this wine go toward the Pacific Northwest Salmon Center.
Our tasting continued with a Pinot Gris, a Sangiovese, a Cabernet Sauvignon, and a Reserve Merlot. The Reserve Merlot, pictured right up at the top of this post, has received high acclaim and each vintage has been awarded 90 points or higher over the years. The 2012 Reserve Merlot is only $25, which is an amazing value for this well-regarded wine.
We ended our Waterbrook wine tasting experience with the 2012 ICON Petite Sirah.
The 2012 ICON Reserve Petite Sirah is 100% Petite Sirah from Columbia Valley. This is a dark purple, luscious wine with rich blackberry, fig, and currant notes. It's a hearty Petite Sirah, at at $45 per bottle, it's perfect for saving for quiet nights, cozying up by the fire and sharing intimate whispers with a loved one... or trading secrets with good friends. It's dark and brooding, in an almost mischievous way.
🥗 Food options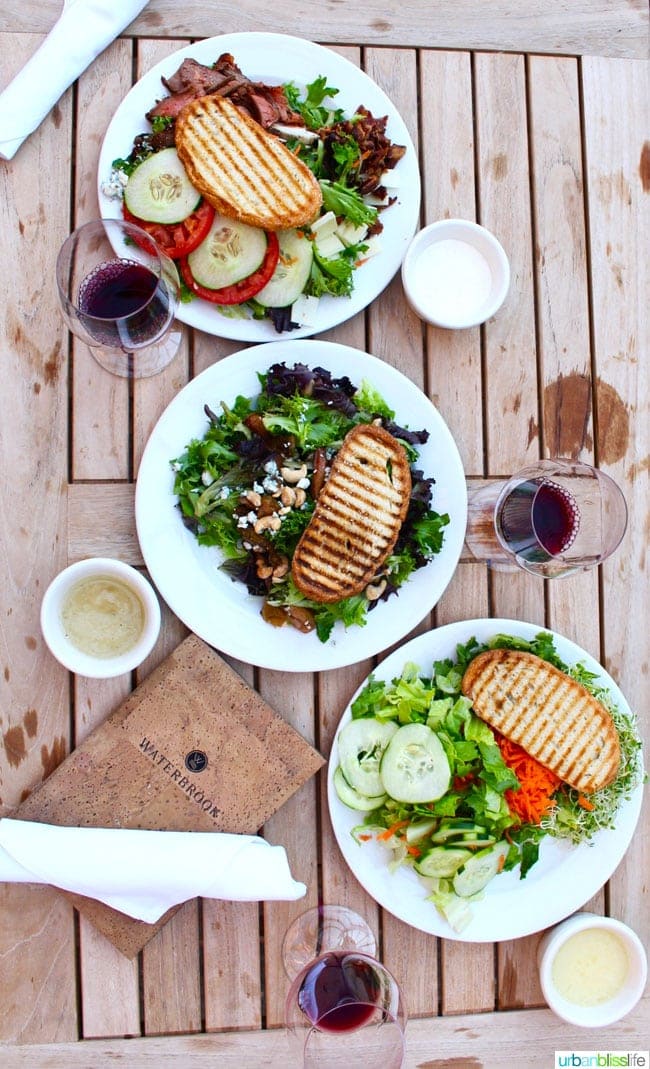 We were so fortunate to enjoy our Waterbrook Winery tasting experience with an absolutely delicious lunch catered in-house. These salads were all AMAZING, and I honestly could eat these everyday and be happy.

Wine tasting at Waterbrook can be a whole culinary experience, as they offer farm-to-table fare with daily specials produced in their in-house kitchen. You can also pick up some meats, cheeses, nuts, and other wine tasting accompaniments to go from their tasting room retail section.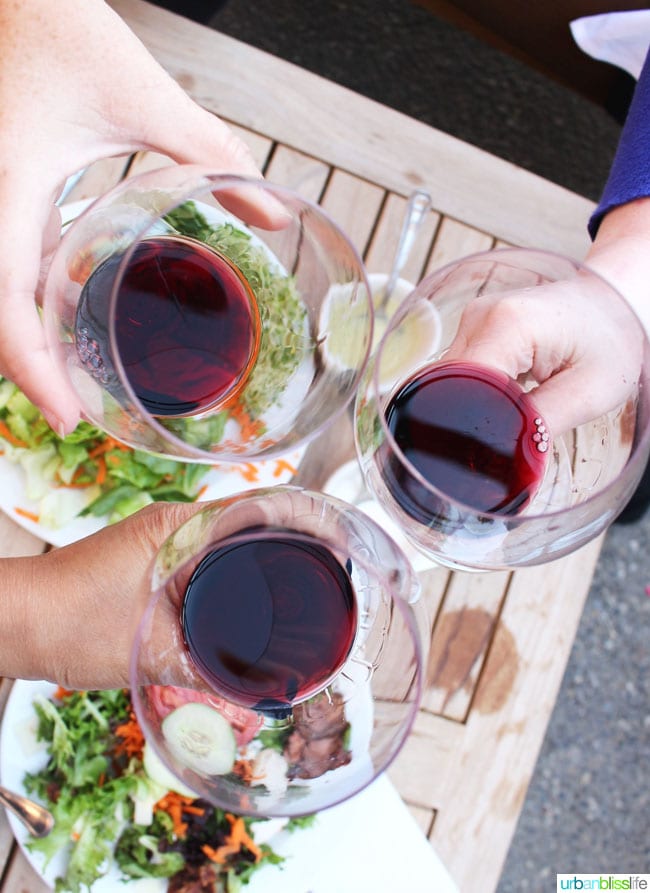 Waterbrook produces a large number of varietals and while I think some are priced higher for their value than some wine tasting individuals might be inclined to pay, I personally find the majority of them to be well-priced, and the 90+ point wines to be justly awarded.
For the record, I went home with the 2014 Al's Run Viognier and the 2012 Reserve Merlot. Both were just as lovely the second time around!
🚙 Visit Waterbrook Winery
10518 West Highway 12
Walla Walla, Washington 99362
Hours: 11 a.m. - 5 p.m. Daily
Food service: Thursday - Monday starting 11 a.m. - 4 p.m., closed Tuesday - Wednesday
509-522-1262
info@waterbrook.com
http://waterbrook.com
More wineries nearby
Where to stay nearby
Where to eat nearby
Walla Walla, Washington is definitely a foodie town. With new restaurants popping up and local culinary talent abound, there are so many great places to eat!