Wine tasting in Walla Walla? Here's a look at three Walla Walla restaurants we dined at during our last visit, in this second installment of Where to Eat in Walla Walla, Washington.
Jump to:
Walla Walla, Washington is an agriculture town, a college town, and, in recent years, a booming wine country.
For a small town, the options for dining out are quite impressive. I've already covered some of my favorite places to eat in Walla Walla - Bacon and Eggs, Whitehouse-Crawford, the Marc restaurant.
In this second installment of Where to Eat in Walla Walla, I'm covering three more hot spots that we enjoyed on our recent trip.
🍳 Maple Counter Cafe
You're going to need a hearty breakfast before you go wine tasting for the day. First stop: the Maple Counter Cafe.
The Maple Counter Cafe is the kind of cozy, slightly kitschy, fun and friendly diner that you want to find in a town like Walla Walla. It's casual and homey, with a menu that's absent of pretense and full of heart.
Owners Kory and Rachel Nagler (Rachel is in the photo above) have created a space where families can gather for classic pancakes, eggs, and bacon and a hot cup of coffee.
I enjoyed the Northwestern Eggs Benedict ($14.45). This Pacific Northwest twist on Eggs Benedict featured Wild Pacific smoked salmon on a classic English muffin with poached eggs and Hollandaise sauce, served with hashbrowns. It was delicious!
My husband enjoyed the classic Apple pancakes, and we split a side of bacon.
Breakfast is served all day here, seven days a week. Lunch fare (salads, sandwiches) is served after 11am Monday-Friday. We loved having breakfast here!
Maple Counter Cafe
209 E. Alder St
Walla Walla, WA 99362
(509)876-2527
Maple Counter Cafe website
HOURS:
Open Daily 7am-3pm.
They do not take reservations. Expect a wait on weekends, but tables turn over fairly quickly and you can enjoy a cup of coffee while you wait.
🥘 Saffron Mediterranean Kitchen
Saffron has always come highly recommended and we decided to finally dine here during our last visit to Walla Walla. We are so glad we did!
The atmosphere at Saffron Mediterranean Kitchen is warm, intimate, and romantic.
It's also kid-friendly: we were seated next to a family and observed the waitress going above and beyond to make the kids and parents feel welcome there. The kids also ate up all of their pasta!
We started with the Patatas Bravas ($9) - fingerling potatoes with saffron aioli, a drizzle of spicy tomato sauce, and chili pepper. The potatoes were flavorful, cooked perfectly, and had just enough sauce.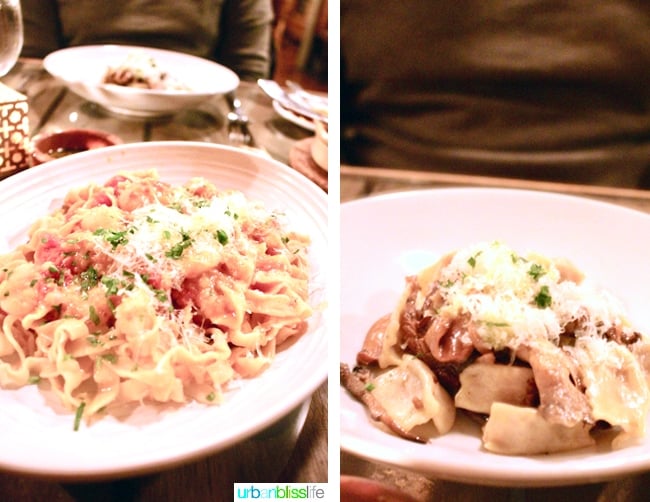 Saffron is THE place to go for fresh, delicious pasta. My photos from this dinner are terrible and don't nearly do their food justice, but trust me: they do pasta right. Each bite was cooked perfectly, seasoned and sauced just right, and they also did a fantastic job of recommending a wine that would pair well with both of our dishes.
Pasta dishes range from $25-30, while larger entrees range from $25-45. It's definitely a restaurant that is slightly above the average dinner price in this town, but it is well worth it.
We really loved Saffron. We can't wait to go back during our next trip to Walla Walla wine country! I highly recommend making a reservation to dine here during your next visit.
Saffron
125 West Alder Street
Walla Walla, Washington 99362
509.525.2122
Saffron Mediterranean Kitchen website
HOURS:
November – April 2:00 – 9:00
May – October 2:00 – 10:00, Sunday 9:00
Reservations recommended
🍝 Passatempo Taverna
One of the newer restaurants on the scene in Walla Walla is Passatempo Taverna.
It was all the buzz when we visited Walla Walla in the fall of 2016, having just recently opened in early October. I hesitated before including this restaurant in my post, because I normally don't include negative reviews on this site. However, so many others have sworn they've had amazing pasta here, and because I know every dining experience is different, I'm including them so you can decide and try for yourself.
The pasta menu changes regularly and the pasta dishes we had here were... okay. Not awful, but neither memorable nor delicious. The salad was drowning in lemon, and the salad and both of our pasta dishes were given way too heavy a hand of parmesan cheese (pre-grated onto our plates before serving, not at our table).
We did enjoy the flatbreads, which consisted of a trio of tasty breads served with olive oil.
Again, I normally don't write about a place that I don't personally love, but all of the locals we spoke with raved about Passatempo during our last visit. So much so, that I have to believe our visit was a fluke, and that the food is normally better. It's also been a few months now since they've been open.
The atmosphere is casual, family-friendly, and lively. I hear that their cocktail program is stellar, so I'd suggest giving that a go. And, I am sure their beautiful outdoor terrace area is lovely to sit in and sip some tasty Walla Walla wines during the summertime!
Passatempo
215 W Main St
Walla Walla, WA 99362
(509) 876-8822
HOURS:
Th-Sun-Mon 5pm–10pm
Fri-Sat 5pm-11pm
Passatempo website
🍷 Where to go wine tasting nearby
We have a comprehensive list of Walla Walla wineries in our Walla Walla Wine Guide to help you plan your wine tasting vacation!
🏨 Where to stay nearby
Looking for a place to stay during your travels to Walla Walla, Washington?
✈️ More travel articles