Visiting the Oregon Coast? Dine at Salishan Spa and Golf Resort's new Samphire Restaurant, which opened March 31, 2017.

Jump to:
Salishan Spa & Golf Resort
Tucked away on 250 acres of forested land along the Oregon Coast is Salishan Spa and Golf Resort. The 205 room resort was built more than 50 years ago and recently underwent a multi-million dollar renovation. The Salishan offers world class spa services, arguably some of the best golfing on the West Coast, and there are four restaurants on the property.
To round out the more casual Grill, Attic Lounge, and Sun Room, Salishan recently launched an upscale dining concept: Samphire.
Samphire
Open seven days a week for dinner only, Samphire exemplifies Oregon fine dining: gourmet food and wine in a casual atmosphere.
Serving what they call Coastal Range Cuisine, Samphire focuses on locally sourced ingredients from the Pacific ocean, nearby mountains and valleys. The menu will change quarterly, at a minimum, with fresh new selections added to the menu each night.
I recently enjoyed a sample of what Samphire has to offer at a local tasting. Here's a look at the type of meal you can expect if you dine at Samphire.
The food
Our first course was a stunner: Cured Chinook Salmon with beets, seeds, grains, crème fraîche, and spring shoots. The salmon was lightly cured for 14 hours and brightened up with some light orange zest. This dish was an explosion of beautiful textures and I could have eaten five servings. It was amazing.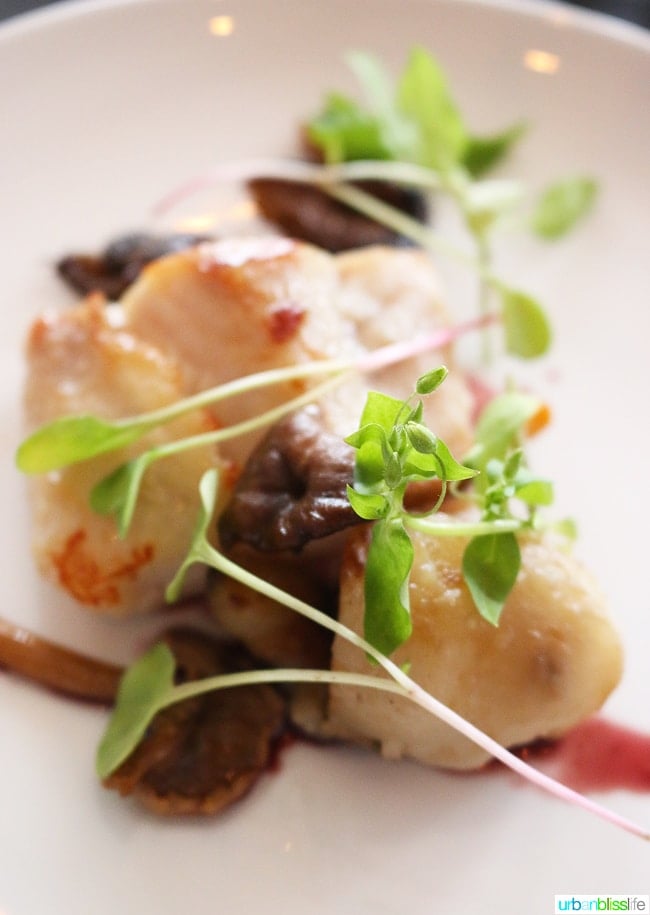 Our second course was Cold-Smoked Sturgeon with sunchokes, yellowfoot, chickweed, and pinot noir.
I've been eating sturgeon all my life, and I've never had it prepared this way before. It was delicious!
Finally, our third course during this sample dining experience was Painted Hills Striploin, served with baby leeks, black trumpet mushrooms, nettle, duck fat, and saba. A lovely balance of tender, healthy, local beef with wild greens.
Wine pairings
With a local focus on ingredients, Samphire of course also offers a nice selection of local, Pacific Northwest wines.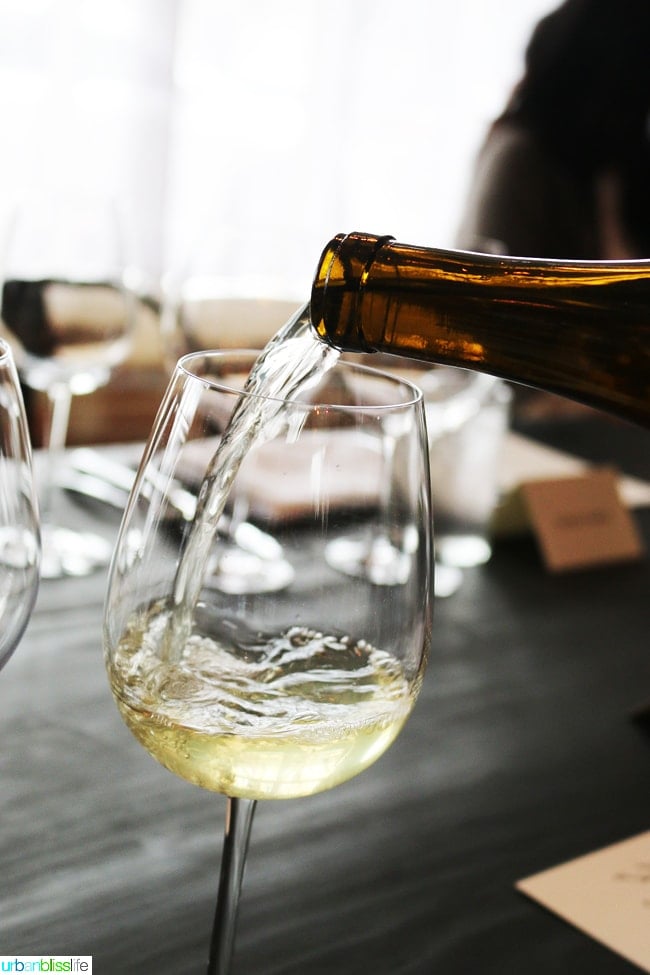 Our first course of Cured Chinook Salmon was paired with an interesting, cloudy yet crisp 2015 Big Table Farm Chardonnay from the Willamette Valley.

Our second course was paired with one of my personal favorite Oregon wines of the moment: a 2015 Hazelfern Cellars La Chenaie Vineyard Pinot Noir. This match is the perfect example of how to pair a red wine with white fish. Too often, people want to pair white fish with white wine, but the sturgeon was a hearty dish that needed to be paired up with a light-to-medium-bodied red, and this Oregon Pinot Noir rose to the occasion.
Finally, we enjoyed a 2015 Purple Hands Holstein Vineyards Pinot Noir with our third course of Painted Hills Striploin. The richness of this particular pinot matched the striploin well, and truly showed how diverse Oregon Pinot Noirs can be!
Samphire chef Andrew Garrison
At the helm of Samphire restaurant is Executive Chef Andrew Garrison, previously from the Allison Inn and Spa in the heart of Oregon's Willamette Valley Wine Country. After moving to Oregon from Minnesota a few years ago, Chef Garrison has built wonderful relationships with local food vendors along the coast and throughout the valley. He and his team work closely with the talented food artisans, farmers, fisherman, cheesemongers, winemakers and more to ensure guests are treated to the freshest ingredients at their peak. He is also working on revising the menus and guest experiences at the Salishan's other three restaurants.
Visit
7760 North Highway 101
Gleneden Beach, Oregon 97388
1-800-452-2300
reservations@salishan.com
Which course looks most tempting to you?
Thanks to Salishan and Samphire for the invitation to the sample dining experience, pictured above. As always, all opinions and photos are my own. I can't wait to visit Salishan someday and check out the full restaurant! If I do, I'll post a new review of the resort and restaurant experiences.