Walla Walla, Washington has long been home to world-class wines. But the culinary scene is also heating up. Check out my list of best places to eat below. And for more recommendations, visit Part 2 of my Walla Walla dining guide.
Good girlfriends are SO integral to a happy life, don't you think? The older we get and the older our kids get, it definitely gets harder to carve out time that works for everyone to get away for girls' weekends.
While a Vegas girls' getaway trip is über fun, it's also nice to just pile into the car and go someplace closer to home for the weekend.
Road trip!
Recently, two of my dearest girlfriends from college and I drove 3.5 hours from Portland, Oregon to Walla Walla, Washington for a wine weekend getaway. It was SO much fun, and I am so grateful for that time with my girls!
Walla Walla, Washington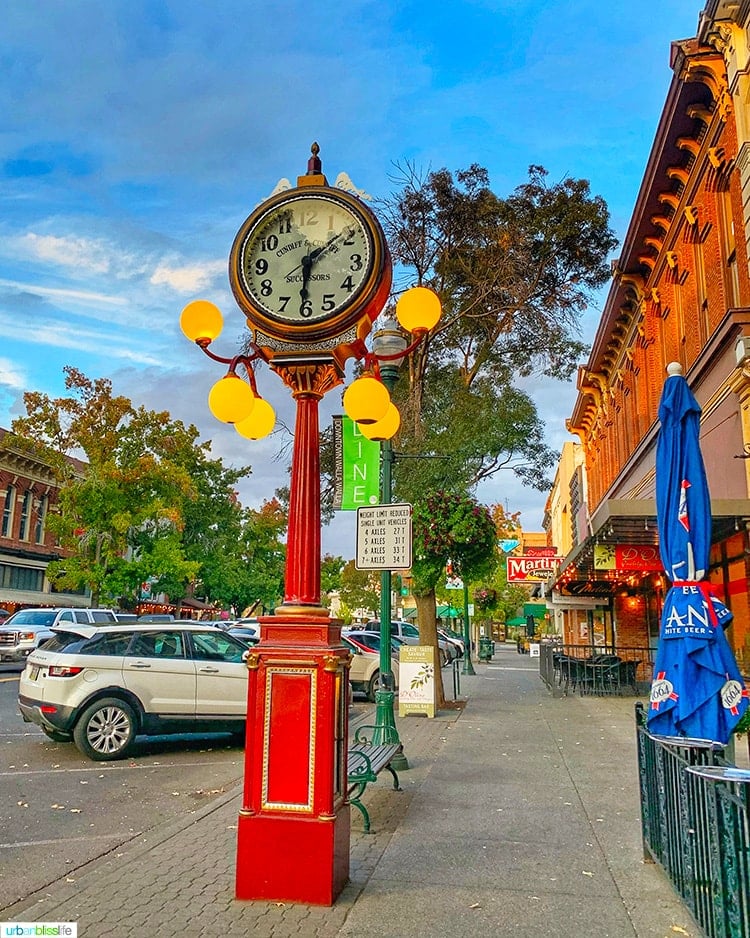 Walla Walla, Washington is a former fur trading post that is one of the most active agriculture areas in the country. Driving into Walla Walla, you pass by miles and miles of wheat crops, as well as crops of the famous Walla Walla onions. Now, this Eastern Washington town is also known for its world-class wine, with more than 100 wineries producing several different varietals.
During our visit, we enjoyed wine tasting experiences at Charles Smith wines, Va Piano, Pepper Bridge winery, and Waterbrook Winery. I'll be sharing information about the wineries in future posts. Today, I'm excited to share some of the restaurants that we enjoyed -- and I think you will enjoy them, too
Bacon & Eggs restaurant
Recently relocated to a convenient spot right in the middle of Main Street is Walla Walla's answer to the quintessential all-American cafe: Bacon and Eggs. With indoor and outdoor seating, it's a casual, down-home, slightly modern cafe that is open only for breakfast and lunch, and serves delicious classics alongside a long list of cocktails and bubbles.
On Saturdays and Sundays, the wait can be anywhere from 20 minutes to 45 minutes, depending on what time you arrive. We arrived on Sunday morning at 9:15ish and only had to wait about 20 minutes. The staff is fantastic & friendly here, which always makes waiting for a table more palatable.
The menu consists of classic cafe dishes with Pacific Northwest flare. You'll find, of course, bacon & eggs, along with a variety of benedicts, omelettes, pastries, and sandwiches. Items range from $6 to $15, with the majority of lunch items hovering in the $10-12 range, which is quite reasonable considering the amount and quality of food. Each dish my friends and I tried was delicious – and beautiful.

Salmon Lox Bagel ($12)

Crab Cakes Benedict ($15)
Go here for: breakfast/brunch with a friend, your family of 4, or small group of friends; it's not a large space and if you have more than 4 people you may be waiting a while for a table.
Dress code: Casual. Super casual.
Kid-friendly? Absolutely.
Fun fact: They serve Stumptown Coffee, for my fellow Portlanders and those across the country who have come to love PDX's beloved formerly-indie-turned-national-chain coffee shop.
Bacon and Eggs
(509) 876-4553
57 East Main
Walla Walla, WA 99362
HOURS: Thursday-Tuesday 8:30am - 3pm (closed Wednesdays)
http://www.baconandeggswallawalla.com/
Whitehouse-Crawford
After attempting unsuccessfully to dine at another restaurant, we came across Whitehouse-Crawford as an alternate dining option.
Fate must have been smiling on us, because our experience at Whitehouse-Crawford turned out to be pretty incredible, and we thanked our lucky stars that we ended up not dining at the other restaurant. Our dining experience here – from the phone call we placed inquiring about dinner, to the friendly host who greeted us, to the engaging bartender who served and entertained us, to the happy fellow diners who engaged us in lively conversation – our entire experience was warm and welcoming.
The Whitehouse-Crawford space is large and what I would describe as farmhouse-industrial. We were surrounded by large parties, including a large private party happening in the adjacent event space. The acoustics here are challenging because of the vast open space without much interior buffer to help control the sound, resulting in a loud, boisterous, party feeling –which I loved, but if you're looking for a more intimate dining experience, be sure to ask for a small table close to the bar.
We sat at the bar and had the best time. The gentlemen sitting next to us was a regular, and made excellent recommendations. We dined on expertly executed scallops with creamed corn and green beans; beef stroganoff; and chocolate cake with house made gelato.
Whitehouse-Crawford is only open for dinner, and the menu changes weekly. Each item features fresh ingredients from local farmers and purveyors, and the menu usually includes a variety of creative salads; pizza; house-made pasta options; a fish, chicken, steak, or lamb option; and 4-5 house-made dessert options.
Go here for: dinner with friends and family.
Dress code: Business casual or dressy. That said, jeans work here too.
Kid-friendly? Yes, but there is no separate kids' menu so be sure to review the menu online before going to make sure there's something your kids will eat here. When all else fails, their pizza is a good option. And if your kid is going to eat pizza, they may as well eat a house-made pie with the freshest ingredients!
Travel tip: If you're traveling here for work or if you don't have a reservation, grab a spot at the bar. It's small, but if there's space, you'll have one of the best views of the whole restaurant, you can order from the main menu, and the bartender will have some great Walla Walla suggestions for you.
Whitehouse Crawford
55 West Cherry Street
Walla Walla, WA 99362
509-525-2222
Hours: Weekdays 5 - 9pm (Closed Tuesdays; Sat & Sun 5 - 10pm
http://www.whitehousecrawford.com
Marc Restaurant
One of the most lavish dining experiences my friends and I were honored to have was at The Marc Restaurant, located within the Marcus Whitman Hotel. With high back, plush leather booths, dark wood walls, and interesting art, The Marc is a classic hotel restaurant that offers incredibly customer service and innovative dinner dishes.
Let's start off with the best dish of our entire Walla Walla travel bliss: the Marc restaurant serves what is the absolute best #1 chowder in the entire country.
I kid you not. We all agreed: we would drive 3.5 hours back to Walla Walla just to have a bowl of The Marc's Pacific Northwest Seafood Chowder ($10). This photo does not at all do justice to how fully incredible this dish is.
The Pacific Northwest Seafood Chowder has razor clams, salmon, bacon, and yukon potatoes. It's incredibly rich and creamy, and while I normally just have a small taste of dairy dishes due to my dairy intolerance, I would have happily gobbled up an entire bowl of this slightly salty, smoky chowder that is overflowing with fresh clams and salmon and happily suffered the dairy-intolerant consequences a thousand times over. I do believe one of my girlfriends uttered the words "Oh my God, I just want to bathe in this chowder."
It is THAT delicious.
But that's just the beginning. We were served up some of the most inventive dishes we had during our entire time in Walla Walla. The Marc Restaurant chefs are masters of presentation and creative flavor combinations using the freshest local ingredients. Their menu changes regularly, and many of the dishes below were on the fall menu but not currently on the winter menu. These will give you a strong visual peek, however, into the kind of magic you can expect at The Marc.
Day Boat Scallops ($17)
Coffee Seared Wild Pacific Salmon ($36)
Hungry yet?
Go here for: date night, family dinner, double date, girls' night out.
Dress code: Casual to special occasion. Like most hotel restaurants, you'll find all sorts of attire here, and it's all good. Dress up, dress down, just make sure you're dressed! :)
Kid-friendly? Yes! They have a kids menu, and families will enjoy the privacy of the high booths.
Fun fact: Did I mention that they serve the BEST CHOWDER in the United States? It bears repeating.
The Marc Restaurant
Inside the Marcus Whitman Hotel & Conference Center
(509) 525-2200
6 W Rose St
Walla Walla, WA 99362
http://marcuswhitmanhotel.com/wine-dine/the-marc-restaurant/
Our time in this beautiful agriculture-turned-wine country town was short, so while we couldn't dine at every restaurant we would have liked to have tried, we were thrilled with the incredible experiences we were able to enjoy at these establishments. Walla Walla's food scene is most definitely rising to the occasion to match its burgeoning wine industry, and I think you - and your tastebuds! - will be highly impressed with the caliber of cuisine that you will find here.
---
Have you been to Walla Walla? What's your favorite place to eat & drink there (besides the wineries, since we're covering wineries up next in future blog posts!).
---
Many thanks to The Marc Restaurant for our complementary dining experience. As always, all opinions and photos posted here are my own. This is a positive online space so I only write about places I love - and think you will love too!
Check out more best places to eat in Part 2 of my Walla Walla dining guide.