Dubbed "One of America's Great Pinot Noir Producers," by Wine Enthusiast magazine, Willamette Valley Vineyards produces a wide array of varietals.
If you've ever traveled on I-5 between California and Portland, Oregon, you've likely noticed a large vineyard on the western side of the freeway just south of the capitol city of Salem. Each time I drive by, even on a cloudy, drizzly day, it seems as though the sun is shining its rays perfectly on the entrance of Willamette Valley Vineyards, as if to guide travelers into its beautiful tasting room.
Willamette Valley Vineyards Founder Jim Bernau
Willamette Valley Vineyards was founded in 1983 by Jim Bernau, a name that holds a lot of weight in this young-by-comparison industry here in the United States. His efforts helped with the creation of the Oregon Wine Advisory Board, and accolades for him and his wines are many. But most importantly to me, and I imagine to you, too, if you're a regular reader, is that Jim Bernau is a proud Oregonian who is simply passionate about his work. No matter how large the overarching company of Willamette Valley Vineyards becomes (and it's about to get bigger), he is still committed to making incredible wines while remaining a good steward of the land, to sharing ownership of his vineyards with the people as he did from the very beginning, and to creating an accessible, enjoyable wine experience for all who visit.
I was fortunate to spend time with Jim Bernau and winery director Christine Collier recently, and from my brief two-hour encounter, I have the feeling that this smile is very telling of Jim's character.
As you can imagine from this photo, he's an animated storyteller who can spin tales of Oregon winemaking for days and he'll have you hanging on every word. I love this about Oregon winemakers and founders. Keep telling those stories, Jim; we'll keep listening!
Willamette Valley Vineyards wines
Willamette Valley Vineyards produces Oregon Pinot Noir, Merlot, Malbec, Riesling, Chardonnay, and Pinot Gris. The terroir is similar to that of Burgundy, which helps account for the heavenly Pinot Noirs that are produced by this winery.
That said, their Chardonnays are also excellent. During my most recent visit, we started with the 2013 Estate Chardonnay ($30), which was a beautiful golden, citrusy Chardonnay.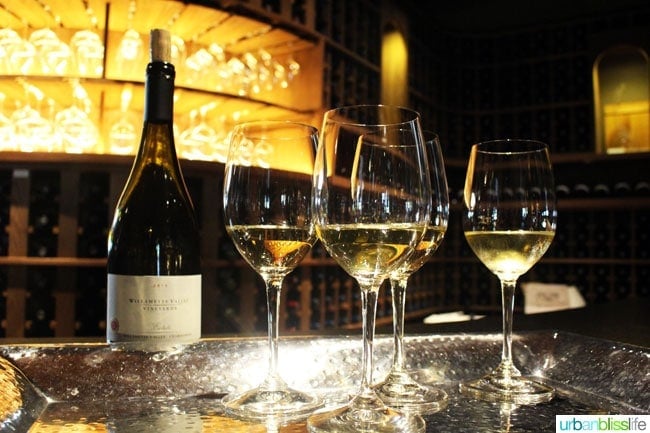 We also enjoyed several Pinot Noirs, including the 2008 Willamette Valley Vineyards O'Brien Pinot Noir (the 2012 O'Brien Pinot Noir is available for $100). 2008 was a cool and wet summer that turned into a long hot extended summer, so this Pinot is bright on the tongue compared to other Pinots. Mingling with dark fruits are subtle hints of herbs and spices. It's a lovely wine, named after Dick & Betty O'Brien, who planted the Elton Vineyards and have deep roots in Oregon wine history themselves.We also enjoyed the absolutely lush and lavish 1999 Joe Dobbes Signature Cuvee Pinot Noir. A winemaker for Willamette Valley Vineyards from 1996 to 2002, when he started his own winery, Joe Dobbes' signature cuvée from this year consists primarily of Pommard clone grapes and is a gorgeous garnet color that is bursting with dark fruit flavors. It was one of my favorites from my last visit. We also tasted the 2010 Ribbon Ridge AVA Pinot Noir, which is actually made from a collection of each of the AVAs from which Willamette Valley Vineyards gets its grapes, as well as a barrel sample from the 2014 Elton Pinot Noir. Winemaker Isabelle Meunier finished blending this wine in July and it's a really refined, graceful Pinot Noir rich in berry notes. I can't wait for the release of this wine!
Tasting bar daily pairings menu
One of the unique experiences that Willamette Valley Vineyards offers in its large tasting room is a daily pairings menu served at the Tasting Bar. Here, chef DJ MacIntyre creates delightful light dishes to complement Willamette Valley Vineyards wines.The 2013 Vintage 40 Chardonnay ($35) – which is amazing on its own, but also with my friend Julia's Butternut Squash Ravioli with Sage Cream Sauce – was paired here with a watercress, green apple, smoked onion belgian endive salad with a walnut vinaigrette. One of my favorite pairings was the 2012 Bernau Block Pinot Noir with a cedar plank roasted steelhead with chanterelle mushrooms, brussels sprouts, jalapeño-garlic bacon, and creamed corn. The fish was wonderfully seasoned and cooked to perfection and proved to be a well-matched pairing with this particular Pinot Noir. Delicious!
2012 Willamette Valley Vineyards Bernau Block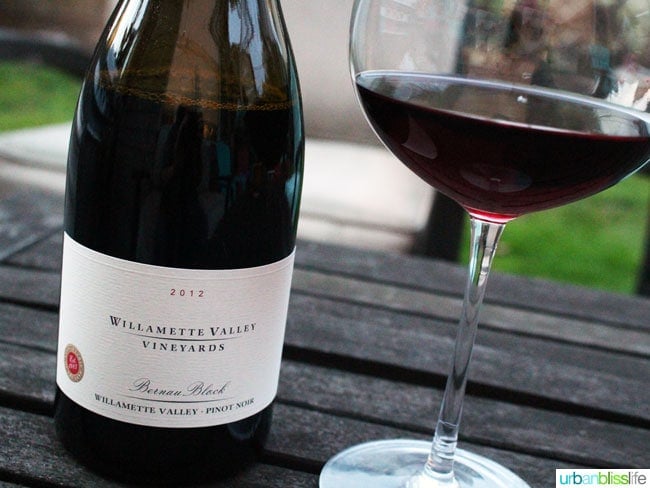 Of all of the amazing wines Willamette Valley Vineyards has to offer, my Urban Bliss Pick is the 2012 Willamette Valley Vineyards Bernau Block ($55). This Pinot Noir is sourced exclusively from the first vines that Jim Bernau planted at the estate vineyard. As you can see in the photo above, it is a rich, deep, almost violet color, and is a full-bodied Pinot Noir compared to other Pinots of the region. Others often note the minerality of this wine, but it has a bright finish and I adore the intensity of blackberry and plum notes you taste. This one's definitely a great wine to enjoy with a hearty dinner, and a fabulous wine to serve at your upcoming holiday gatherings!
Visit
I highly recommend visiting the tasting room in Salem (technically it's in Turner, just south of Salem). Go for the daily pairings menu daily, book a private event in one of their many beautiful event spaces, or enjoy one of their complementary winery tours offered at 2pm each day.
Tasting Room Hours: Open Daily 11am - 6pm
8800 Enchanted Way SE
Turner, OR 97392
503-588-9463
toll free: 1-800-344-9463
www.WVV.com