Mazda is known for its zoom zoom. The company historically produces sporty vehicles with nice interiors and sleek exteriors with performance to match. And the 2016 Mazda CX-5 Grand Touring is no different.
There are so many great road trip possibilities when you live in Portland, Oregon. Recently, I stole away with two of my dearest girlfriends for a girls' weekend getaway to Walla Walla, Washington wine country (watch for my Walla Walla wine country posts coming soon!), which is about a 3.5 - 4-hour drive from Portland.
Now, we're no longer 25-year-old kids who are happy cramming into a small car for long road trips. If we're going to get away for the weekend, we would need a vehicle that's comfortable enough for a road trip, sporty enough to handle me driving it, and roomy enough to hold all of our luggage - and wine souvenirs.
Luckily, the awesome folks at MazdaUSA hooked me up with the 2016 Mazda CX-5 to test drive at just the right time.
Interior
The 2016 Mazda CX-5 Grand Touring continues the sleek exterior (and I loved the Deep Crystal Blue color of our test vehicle) while stepping up its interior game. The Grand Touring AWD comes with beautiful interior leather trimmed sport seats in a stylish Parchment color. The seats are super comfortable, too.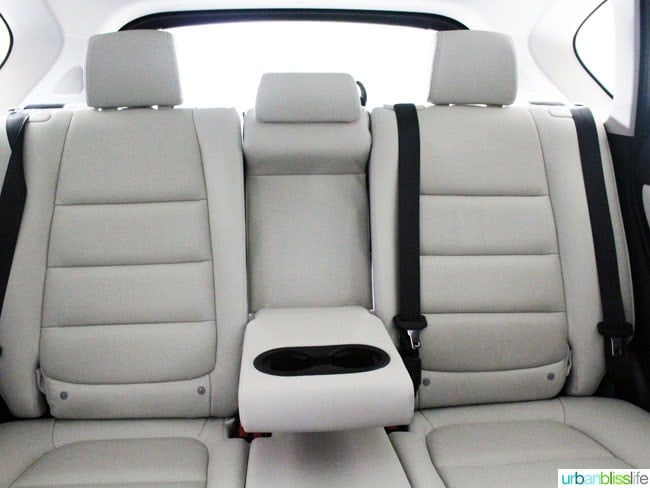 The sport seats are plush and roomy enough for my two kids and their backpacks in the backseat. You could fit three adults in the backseat...but I would not do that for long drives. The front row is just as comfortable, and come with heated seats. The driver's seat has power lumbar support and an 8-way power driver's seat, which is awesome for shortie like me. Note: Camera lens shown in the passenger seat does not come standard with these vehicles. ;)
Tech
The technology features in the 2016 Mazda CX-5 are up to speed, and I like how easily accessible they are instead of hidden or out of reach like some other vehicles. There's a 2-USB port in the front console, a 7-inch color touch screen display with rear view camera, and bluetooth hands free phone & audio.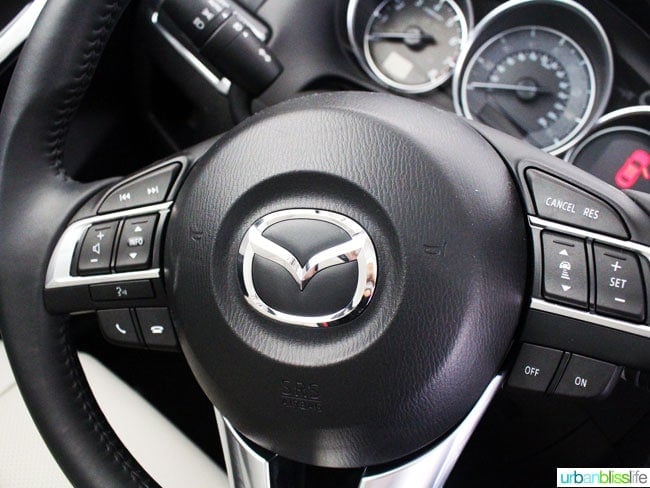 The mid-console is the only design feature that feels a little off. It took a while to figure out the audio between the touch screen and the mid-console controls, and I still can't say I understand the logic behind how things work completely, but once you set up your stations and navigation settings, I think you'll be fine.
As far as how it handles, the 2016 Mazda CX-5 Grand Touring AWD handles just as well as all of the other Mazdas I have test driven. It hugs the curves, and the SkyActive technology allows for greater performance coupled with efficiency. This vehicle reportedly gets about 25 miles per gallon in the city and 30 on the highway.
Safety
The 2016 Mazda CX-5 Grand Touring AWD has received high safety ratings, particularly for front and rear seat side crash tests. It includes one of my favorite safety features - the blind spot monitoring in the side mirrors – as well as rear cross traffic alerts and smart brake support systems.
Overall, I liked this vehicle. It handled nicely for long stretches of highway as well as stop-and-go city traffic during the test drive. There are a few quirky design choices I am not a fan of, but those are mostly cosmetic preferences; for the most part, the exterior and interior are well-designed for this class of vehicles. It would be great for young couples as well as for families with one or two kids.
The 2016 Mazda CX-5 starts around $22,000 and can go up to about $30,000 with add-on packages.
Have you ever driven a Mazda? What do you think of the new 2016 Mazda CX-5?
---
Thanks to DriveShop and MazdaUSA for providing me with this vehicle to test drive for one week. All opinions and photos are, as always, my own.