Provisions Market Hall is a garden of delicious local flavor blooming in Eugene, Oregon. The bustling new marketplace in the city's historic 5th Street Public Market is where you'll find the best local food & beverage offerings, a cafe, restaurant, and wine bar all connected.
During all of my travels with my family, the one thing we love to seek out – and sometimes happily, unexpectedly stumble upon – are the local markets. Whether open-air, tented, or housed in a brick & mortar building, these markets hold so much information and history about the local city and its community.
Recently, I was delighted to be invited by the Marché Restaurant Group to visit their latest venture, Provisions Market Hall, located in Eugene, Oregon, about two hours south of Portland. It's like a lovely mini European market in the middle of a college town.
Provisions Market Hall
Nestled in the corner of Eugene, Oregon's historic 5th Street Public Market, Provisions Market Hall opened to the public in September of 2015 and is a wonderful addition to the area's existing shops. At the 5th Street Public Market, you'll find clothing, toys, jewelry, local handmade gifts, candy stores, and more. Provisions Market Hall is situated in the lower level across from the outdoor fountain, and is attached to its sister company, the Marché & Le Bar restaurant and bar.
Local, sustainable, seasonal
Walking in from the outdoor atrium entrance, I found the inside to be much larger than it appears from the outside. Within this 10,000 square foot market, you'll find the cafe to your left; gifts and goods to your right, followed by the Blackboard Cafe and wine section, then more goods & gifts; the grocery area; and finally, a floral shop. This really is one-stop shopping at its finest.
Provisions Market Hall partners with dozens of local and Pacific Northwest food and beverage vendors to bring customers fresh, local, sustainable, and seasonal produce, cheeses, meats, seafood, and fine food items.
The cheese selection is incredible! A large amount of their seafood selection comes from locally owned Newman's Seafood Company, and meat is sourced from local farms as well as Portland-based Olympia Provisions. The produce you see above is all in-season and, again, sourced from local farms.
They also sell a large selection of beautiful cookware and kitchen items, prepared food items from local food artisans, cookbooks, and more. This is a fabulous place to find high quality, thoughtful gifts.
The wine shop offers an impressive stock of Oregon wines, in addition to a well-curated selection of California, Washington, and international wines.
If you're more into hops than grapes, Provisions Market Hall stocks plenty of Eugene-based beer and cider, as well as other Oregon beers and ciders (and some from outside of Oregon, but really, our beer & cider are the best. That's my 100% biased opinion.).
And who can resist the call of a hearth pizza oven?
Or the siren song of housemade gelato?
Not my children. They both had scoops of the housemade raspberry orange sorbet and ate up every tiny last drop of it.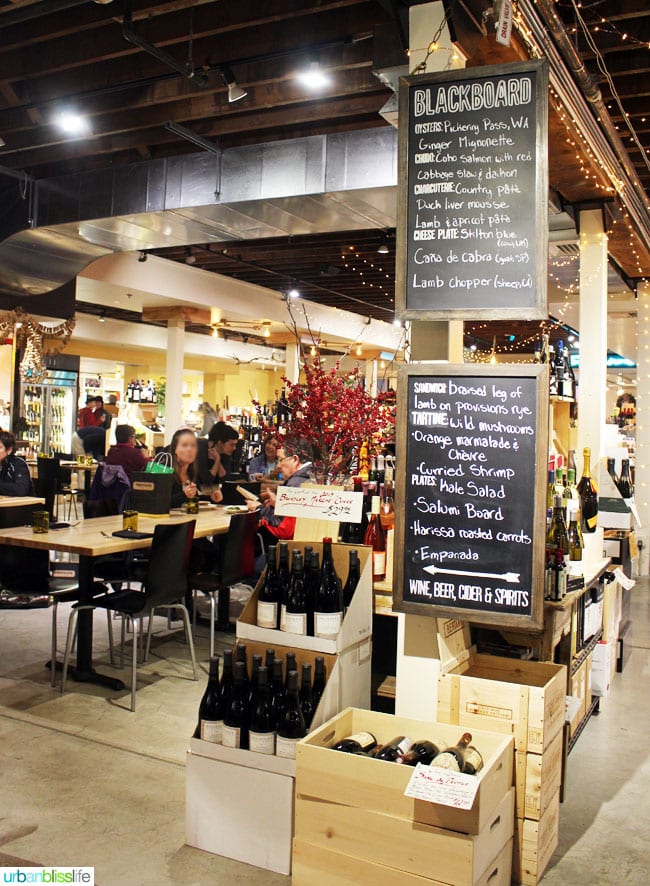 Blackboard Cafe is Provision Market Hall's in-store cafe next to the wine shop. You can enjoy a glass of wine here with some charcuterie, cheese, oysters, or sandwiches and small plates.
The café at Provisions Market Hall is connected with the artisan bakery, so all of the pastries are baked fresh each day and you have your usual selection of coffee and espresso drinks to help soak up those delicious baked goods.
These housemade macarons were so gorgeous and perfectly sculpted and displayed as a rainbow of sweet happiness.
And since you are bringing home a basket full of beautiful, artisan food and beverages, you should probably pick up a few stems of gorgeous local flowers to dress up your table as well. Provisions Market Hall really does have everything to make your culinary experience complete.
Marche Restaurant Group
Marché Restaurant Group has a long history in Eugene. The group first opened Marché restaurant in 1998; the Museum Café within the Jordan Schnitzer Museum of Art at the University of Oregon in 2005; Marché Provisions (which was sort of like a much abbreviated version of the full market hall you see today) in 2006; Le Bar in 2011; and the Route 5 NW Wine Bar in 2013. The opening of Provisions Market Hall in September 2015 allowed the group to bridge the restaurant and create an all-inclusive space to celebrate local food & drink.
Isn't the bar gorgeous? There are so many intricate design details that went into building this space, making it a cozy, welcoming atmosphere.
Visit
Provisions Market Hall is a place where you can sit and savor the time with your family or a group of good friends, as well as a place you can quickly pop into and know you will find the freshest seafood, meat, cheese, produce and quality wine or beer you can find for your dinner party that night.
My kids and I had a wonderful time visiting Provisions Market Hall, and staying at the Inn at 5th. I'll have a full review of our stay at the Inn at 5th coming up in a future Travel Tuesday post, as well as reviews of Cornucopia brewery and Hop Valley Brewery!
Provisions Market Hall
HOURS:
Sunday-Thursday 8 a.m. to 7 p.m.,
Friday & Saturday 8 a.m. to 8 p.m.
Eugene's 5th Street Public Market
296 E. 5th Ave
Eugene, OR 97401
541-743-0660
http://provisionsmarkethall.com/

What's your favorite thing from the photos/article above about Provisions Market Hall, or your favorite thing about marketplaces like this in general?
More Eugene Travel Ideas
Many thanks to the Marché Restaurant Group for the personal tour and accommodations for this visit. As always, all opinions and photos are my own, and I only write about places I think you will love as much as my family and I love!